Hinge And Bracket: Gala Evenings (UK)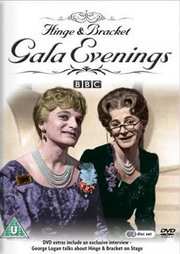 2 Disc Set
Certificate: U
Running Time: 325 mins
Retail Price: £19.99
Release Date:
Content Type: TV Series
Synopsis:
Starring George Logan and Patrick Fyffe, these inspirational cross-dressing performers enchanted audiences throughout the 70s and early 80s with their slightly catty dialogues and renditions of the works by such luminaries as Noel Coward, Ivor Novello and Gilbert & Sullivan.

This double DVD set contains the seven legendary concerts by Dr Evadne Hinge and Dame Hilda Bracket.



After many years of entertaining the inhabitants of Stackton Tressel with their Gala Concerts, Dame Hilda Bracket and Dr. Evadne Hinge were thrilled to be invited by the BBC to take their very individual style of concert performances to a wider audience. These events, recorded between 1977 and 1981 at the Royal Hall, Harrogate and the Opera House, Buxton feature the ladies with full orchestral and choral support.

The ladies perform a wide range of music from Gilbert and Sullivan to Verdi. Of course, Dr Hinge has a few pithy remarks to make, while Dame Hilda remains her usual irrepressible self.
Special Features:
DISC 1

A Gala Evening at The Royal Hall, Harrogate: 1977

A Gala Evening at The Royal Hall, Harrogate: 1978

A Gala Evening at The Opera House, Buxton: 1979

A Gala Evening at The Royal Hall, Harrogate: 1979

DISC 2

A Gala Evening at The Royal Hall, Harrogate: 1980

A Musical Evening at The Opera House, Buxton: 1981

A New Year`s Eve Party at The Opera House, Buxton: 1981