Hinge And Bracket: Gala Evenings
Introduction
Dame Evadne Hinge and Dr. Hilda Bracket made their first appearance in 1972 in front of a Dutch audience, with a dodgy microphone attached to the piano and a megaphone (of sorts) used by Dame Evadne.
By all accounts it was a disaster, and should have spelled the end of the double act that eventually became one of the most peculiar, eccentric, esoteric, but well-loved British comedy partnerships for almost 30 years, until the sad death of Patrick Fyffe in May, 2002.
The two DVDs in this set cover their seven special gala evenings, filmed in the Royal Hall, Harrogate, and Buxton Opera House between 1977 and 1982. This review only covers disc one though, as this is all I received.
Video
Well, the age of the recordings often tells, and at one point there seems to be quite a violent video problem, although I suspect this was more of a check disk, and hopefully the jumping and freezing issues I had while trying to fast-forward / rewind are not representative of the release itself.
Despite this, everything is quite watchable, but you should imagine it`s a well-used VHS rather than a brand spanking new DVD.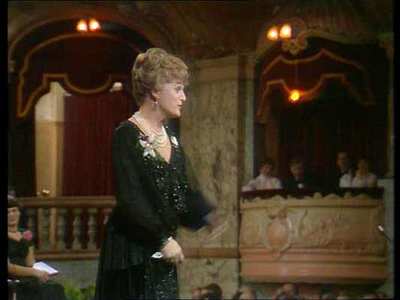 Audio
Sound is sometimes very unbalanced, dropping out severely on occasions, but again, is probably an issue with the age of the recording, although I had to use the subtitles quite often in the musical passages.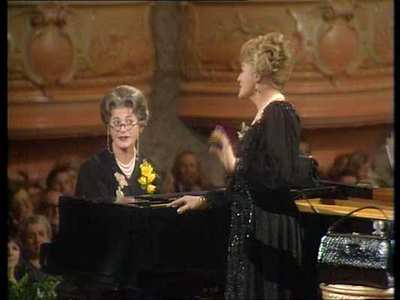 Features
Extras on disc 1 contain a shortish, but quite moving and honest little chat from 2007, in which George Logan (Dr. Hilda) covers the origins of the act and how it developed. It`s a shame that there were no interjections from Fyffe (which would have had to have been archive recordings), but all the same, is an interesting watch.
A couple of text biographies of the men behind the dresses completes the list.
Subtitles are provided in English, and are sometimes highly useful, although when the words to some of the songs are so hard to distinguish, even these trail off into ellipses.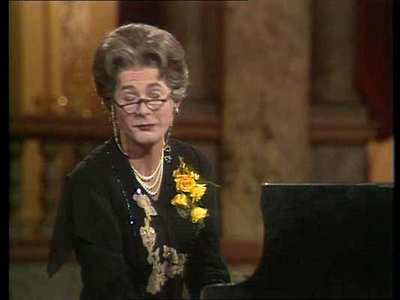 Conclusion
I`m not sure how long it took me to realise that these two characters were actually men, but I do remember the surprise when I found out. This was probably because I was young and reasonably innocent (until approximately 23 when things really took off), or more likely because Fyffe and Logan were utterly believeable as two eccentric, retro-Edwardian spinsters.
They seemed to be on TV constantly (probably on Sunday evenings, which I spent having my hair dried after a bath and eating half an apple with some form of vitamin globule forced upon me by my mum) and slowly became one of those partnerships which I found funny, but didn`t know quite why.
Seeing them again after several years is quite a revelation.
I don`t remember watching any of these `Gala` concerts specifically, but everything appears very familiar. I think it`s because, as the shows on this DVD at least prove, that a lot of the material was repeated over and over again, and it isn`t necessarily a good thing if you watch the concerts back-to-back, sadly detracting from how original and amusing the two could be in full flight.
The music itself is performed in a very amateurish fashion, which was probably the point, and can be very funny at times, but the orchestra, choir and most of the soloists are really not up to scratch and some excerpts are, quite frankly, embarrassing - notably the cut-down version of `the` Tchaikovsky Piano Concerto in Gala No.1. The audience though, laps it up (many in seriously frightening 1970s outfits) and obviously holds the two dears in high regard.
There are definite highlights though, not least being the hilarious `Liste du Vins` from the 1979 Buxton concert, and the names they come up with for any of the male soloists who are brave enough to join in are always worth a laugh - any real Tewkesbury Ptolmans out there?).
I`m assuming that the second disc of the set contains much the same material, with lyrical waxings about Ivor Novello, Noël Coward and Gilbert & Sullivan, jokes about Dame Evadne`s younger brother, some inspired bitchiness and all rounded off by a rousing chorus of `Land of Hope and Glory` (which often appears in the Last Night of the Proms soon after Elgar has been variated, you know).
I think this would be a nice set to have if you were a fan of the two, and would certainly complement their other DVD release of `Dear Ladies`, but will probably not be of interest to the wider market. Despite any disparaging remarks, I enjoyed the majority of what was in Disc 1, and hope that the full set doesn`t have the same technical issues I`ve mentioned earlier.
Nostalgia is definitely not what it used to be.