Review of WWE: Live in the UK (2 Discs)
Introduction
While UK tours are currently one of their most secure sources of income, World Wrestling Entertainment have not held a pay-per-view event on these shores since the summer of 1992, when Bret Hart and "British Bulldog" Davey Boy Smith packed 80,000 people into the old Wembley Stadium.
No doubt the will is there, but the idea of selling an afternoon pay-per-view to the United States audience isn`t a thought the company are keen on, nor is the idea of bringing a full-scale production across the water.
For now, the best that the company is prepared to do is tape the weekly Raw, Smackdown, and ECW TV shows here. And that is exactly what they did on 15th (Raw) and 16th October 2007 (Smackdown and ECW). The result is this two-DVD set, "Live in the UK".
In highlights of the three shows, on Raw, Randy Orton faced three opponents in separate matches, as he was challenged by Jeff Hardy, Ken Kennedy, and Shawn Michaels. On Smackdown, Rey Mysterio faced MVP. And on ECW, CM Punk and Kane faced Big Daddy V, John Morrison, and The Miz.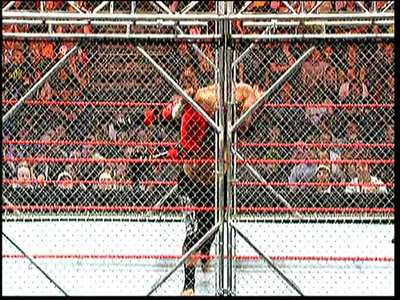 Video
Video is presented in 4:3 fullscreen PAL, and is very good for a DVD of this genre. The production values are just a shade below pay-per-view standards, but anyone who watches WWE television will know what to expect here. This is a very clean transfer, too, with only minor compression artefacts noticeable.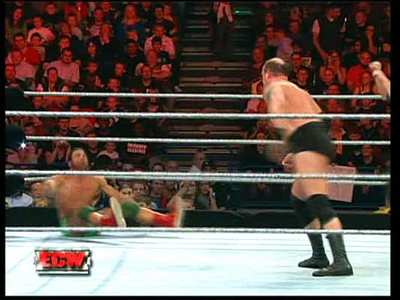 Audio
Audio is presented by Dolby Digital 2.0, and is also very good for a DVD of this genre. Everything is clear, meaning that wrestler entrance music, in-ring action, and commentary are all easily distinguishable beside the other.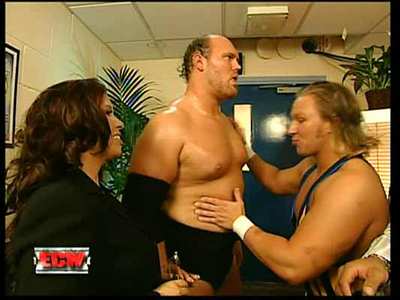 Features
Just one extra is available here, which is the John Cena vs Shawn Michaels bout from the WWE`s prior UK tour, in April 2007. This is a good match, perhaps the very best WWE bout of 2007, and is paced brilliantly, with exciting action. It was far from the best overall bout of 2007, but is worth pursuing if you have any interest in WWE wrestling whatsoever.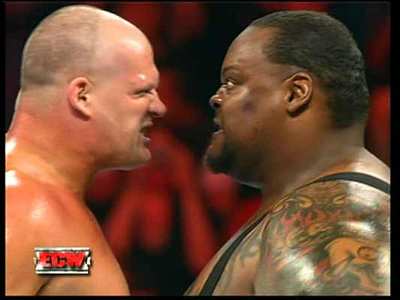 Conclusion
As aforementioned, it isn`t often that a non-PPV WWE live event is released on DVD. A compilation of TV moments, perhaps - like the upcoming Raw 15th Anniversary set - but not what is basically a week`s worth of WWE television.
In general, the reason for that is because the type of show that WWE produces on a weekly basis has little repeat-viewing value. Mostly, the TV matches are short, without satisfactory finishes, and much of the rest of the time is spent on outlandish storylines.
There isn`t much that is different about this set of television tapings. Even the matches between the company`s biggest superstars - Randy Orton`s bouts with Jeff Hardy, Ken Kennedy, and Shawn Michaels - are remarkably short, and not one of the three features a decisive conclusion. As for storylines, throughout Raw there is a ridiculous angle where Jonathan Coachman is terrorised by the Irish leprechaun, Hornswaggle. WWE claim to market to an 18-34 audience, but this angle would embarrass anyone over the age of seven.
To be fair, there is one good modern wrestling match available here, in Matt Hardy vs Finlay (the same "Fit" Finlay from the World of Sport days). MVP vs Rey Mysterio is also quite good, but is marred by another poor finish. The rest of the action, including the absolutely abysmal Great Khali vs Kane, nowhere meets that standard.
Another minus point on this release is the fact that so much of it is dominated by advertisements for the upcoming Cyber Sunday PPV. It could be argued that these were a part of the original telecasts, but watching them after the fact, they feel like un-necessary marketing for the DVD release.
Overall, "Live in the UK" features poor wrestling, and uninteresting storylines. The main feature itself has no extra footage from the Raw, Smackdown, or ECW telecasts, to make it even somewhat worth your while viewing.
Unless you want a souvenir of attending the actual live event, this is a DVD release strictly to be avoided.