Noein: To Your Other Self - Complete Series Boxset (Vol 1-5) (US)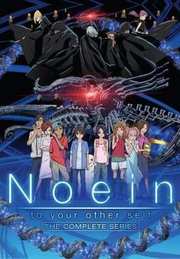 The anime Donnie Darko
Certificate: none
Running Time: 604 mins
Retail Price: $39.98
Release Date:
Content Type: TV Series
Synopsis:
Fate and destiny collide in an epic battle across space and time!

In the near future, a violent battle takes place between the dimension La`Cryma (protector of humanity) and the dimension Shangri-La, bent on the annihilation of all space-time. A group known as the Dragon Cavalry is dispatched through space and time, searching for the only thing that can stop the invasion: the Dragon`s Torque.

In the present, twelve year old Haruka and her friend Yuu, are contemplating running away from home when they meet a member of the Dragon Cavalry named Karasu (Crow). He believes that Haruka possesses the Dragon`s Torque, and claims to be Yuu from fifteen years in the future...
Special Features:
On Location with Japanese Voice Actor and Director
Image Gallery
Alternate Openings & Original Japanese Promos.

Video Tracks:
Widescreen Anamorphic 1.78:1

Audio Tracks:
Dolby Digital 5.1 English
Dolby Digital Stereo 2.0 Japanese
Dolby Digital 5.1 Japanese
Dolby Digital Stereo 2.0 English

Subtitle Tracks:
English
Spanish

Directed By:
Kazuki Akane

Starring:
Yuri Lowenthal
Crispin Freeman
Melissa Fahn
Richard Epcar
Kazuya Nakai
Fujiko Takimoto
Saeko Chiba
Haruka Kudô

Music From:
Nanase Hikaru

Director of Photography:
Ueda Masaki

Distributor:
Manga Entertainment Ltd