Review of School Rumble: Volume 1 (Starter Set)
Introduction
`Never judge a book by the cover` goes the old adage. It`s even truer that you shouldn`t judge an anime by the title; after all to Western eyes Japanese animations get some of the daftest titles out there. I`ve had the pleasure to watch shows like Samurai Champloo, Cowboy Bebop, Trigun, Detonator Orgun, Fruits Basket, Bubblegum Crisis, Full Metal Alchemist, and Riding Bean, ridiculous titles all, but more often than not concealing something of merit behind them. Yet even I occasionally fall victim to prejudging anime on the strength of a title. When I first heard of School Rumble, I instantly drew comparisons with titles like Battle Vixens and Tenjho Tenge, dreading another school-bound combat anime. But a chance visit to a library yielded volume 1 of the manga and I was instantly hooked, impatient for the UK debut of the anime. It`s a good thing that rumble wasn`t spelt `Rhumble`, or I would have turned my nose up at it completely.
School Rumble is a slapstick, laugh-packed comedy, something that the UK anime scene could always use more of in my opinion. What`s more, it`s not one of those `teenaged boy, surrounded by a harem of girls, crossed purposes, compromising situations` comedies, which should be enough to convince you to order it right now. Read on if you need more though. It`s the second year of high school for Tenma Tsukamoto, and it`s time for her to confess her feelings to model student Oji Karasuma. Unfortunately he doesn`t know she exists. Kenji Harima is a teenaged delinquent, known for his gangster tendencies, his aggressive attitude, and his motorcycle, who has up till now been a school dropout. That`s until he fell for Tenma Tsukamoto. Now he`s a full time school student, attitude and all, determined to make his feelings known to Tenma. Unfortunately she doesn`t know he exists. Let battle commence.
Revelation brings the first season of School Rumble to the UK (If this does well, there is a second season and an OVA to look forward to). The first five episodes are presented on this disc, along with some extra goodies. Incidentally, remember what I said about daft titles…
1. The New School Year! Be Still My Heart! Love Letter Mayhem! Warp Speed On A Bike!
The new school year is here, and all would be perfect if Tenma could be in the same class as Karasuma. Unfortunately, he`s transferring to another school tomorrow. Tenma has just one night to make her feelings known. She decides to write a letter. Harima is determined to be in the same class as Tenma, but he`s forgotten that he`s been held back a year. If all this can be sorted, maybe they can get to know each other. What would be more perfect than a romantic bike ride to school together?
2. Tough Test! Trapped In The Bathroom! The School Physical!
Academic skills are being tested, and an English exam is causing problems. Tenma forgets to write her name, and Harima is determined to help her pass. Later, Tenma is in the girls` toilets, while Karasuma is outside talking to a friend. As his soon to be girlfriend, Tenma can`t let him see her actually walk out of a toilet. But an opportunity for intimacy arises when the school physicals begin. Now is Tenma`s chance to find out Karasuma`s vital statistics, height, weight, blood type, phone number…
3. See and Sketch! Letter on an Arrow! Pajama Party Confessions!
It`s art class, and Tenma and Karasuma have to sketch each other. Can she do justice to his image, can she bear posing for him, and can she peek out from behind her sketchpad long enough for him to sketch her? If that doesn`t work, she can always try another love letter, but how to deliver it with the appropriate measure of passion? She can always take a leaf from Cupid`s book. If even that doesn`t work, she can always take solace in her friends, when she invites them over for a slumber party, and some advice in the matters of the heart.
4. Pigs Go Oink! Cats Go Meow! Frogs and Water Imps Go Ribbit!
Spring excursion, and it`s a chance for Tenma to sit next to Karasuma on the coach. It`s a chance for Harima to sit next to Tenma on the coach… Two seats and three people, there are nothing musical about these chairs. We also learn more about Yakumo, Tenma`s younger sister. She`s everything her sister isn`t, poised, self-assured, smart, athletic, and ever popular among the boys at school. It`s a shame she can read their minds. Then, when it`s a rainy day, Tenma sees the chance for a romantic walk home with Karasuma, sharing an umbrella.
5. Burning Hot First Love! Burning Hot Tea Party! Burning Hot Softball!
Harima`s guardian is his cousin Itoko, who also happens to be the school`s Physics teacher. Maintaining an interest in her charge, she`s determined to get the gossip on his pursuit of Tenma, and treats him to lunch. Guess who else is at the restaurant. Yakumo is invited to join the Tea Ceremony Club at school, but she has a problem, wherever she goes, would be suitor Hanai isn`t far behind, raising mayhem in whichever club they join. Can the Tea Club deal with his persistency? Finally, Hanai arranges a softball match for class 2-C. This is Tenma`s chance to impress Karasuma; only she can`t play to save her life. Then Harima steps up to the plate…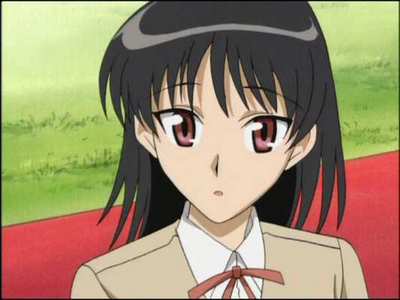 Video
It`s a 4:3 regular transfer, with no immediate problems visible. Everything is clear and sharp, there are plenty of primary colours, and I noticed no compression, or even the aliasing that usually rears its head in the credit sequences. It`s a fine transfer. The animation, as you would expect from a comedy, remains straightforward and simplistic, with pleasant character designs, and fairly non-descript artwork. It`s all very energetic, and does more than enough to get the comedy across.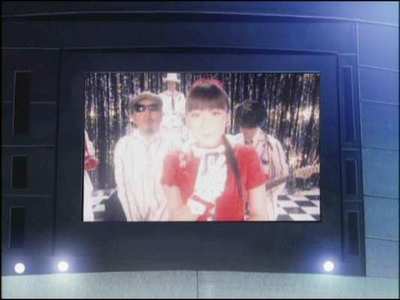 Audio
You get a choice of DD 2.0 English and Japanese, along with translated English subtitles and a signs only track. The show gets a catchy and quirky set of themes that are impossible to get out of your head once you hear them. The dialogue is clear, and the stereo sufficient for the show. Which language you choose depends on your usual preferences, but for what it`s worth, I found the show much funnier in Japanese, the timing and the flow just seemed to work better.
They killed the Harry McKenzie gag. Wee bit of a spoiler if you haven`t read the manga, but since it`s messed up in the anime, I may as well explain. In Japan, names are usually given with the family name first, given name second. So Kenji Harima becomes Harima Kenji. Now early on in the manga and the anime, when Kenji is looking to see what class he`s in, someone points out that he is in class 2-D. He`s not of course, as it is exchange student Harry McKenzie, which given a Japanese pronunciation sounds identical. Of course that doesn`t work in the English dub, which uses Western naming conventions, so there is a different punchline. It could have worked in the Japanese version, but the subtitles for once were too literal, and translated the kanji exactly, so instead of reading Harry McKenzie, which would have been funny, it just reads Harima Kenji, which makes no sense in the context of the situation. It`s the sole mistake, but I am inordinately aggrieved that the first joke in the manga that got me thinking that the series was something special, gets flubbed in the anime translation.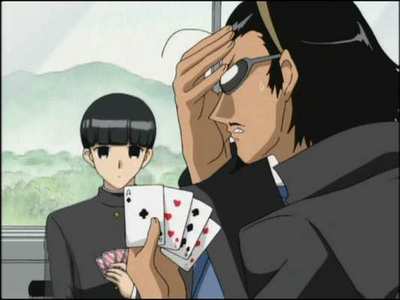 Features
The starter set turned up for review, which you can have for five extra UK pounds. You get the DVD in an Amaray case as usual, as well as a box to collect the six volumes of the series in. Before you weld your wallets shut, let me assure you that it is worth it. It`s a substantial tin box, formed in the shape of a yellow school locker. The front door has the title embossed, and a small drawing of Tenma. The box is numbered, and I get the suspicion that the locker number will be exclusive to each box (If it isn`t, it should be). The artwork on the box is really well done, and has the show`s characters prominently displayed on the sides and rear, as well as some locker graffiti style messages (including one from Harry McKenzie) that indicate some of the relationships in the show. The top of the box has a pig on the verge of exploding, while the bottom has a label with info and the barcode for the release from Revelation. Peel it off, and you`ll see the same thing for the region 1 release from Funimation, indicating where this box has originated. There are a couple of BBFC labels on the box as well, but they are easily removed. The Amaray case gets a reversible sleeve, with the inside giving a centrefold look to the front artwork.
On the disc, you get the usual extras like the Jacket Picture, the textless songs, and trailers for other Revelation releases (Moon Phase, Beck).
More substantial are two interviews, the first lasting 7 minutes with Tenma`s voice actress, Ami Koshimizu, and the second with Makino Noto, Yakumo`s voice actress lasting 8 minutes. These are pretty standard EPK stuff, with questions about the show, and their characters repeated for both actresses. It`s still useful to have.
The disc rounds off with 1½ minute of the original TV spots.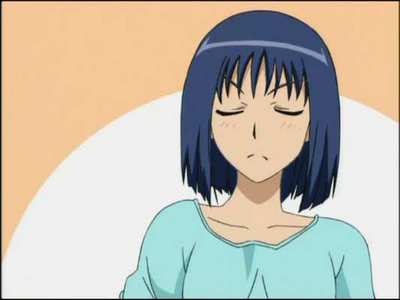 Conclusion
School Rumble is daft, superficial nonsense, and I loved every minute of it. 2008 has its first must-own anime, and the year is barely 3 weeks old. You get an idea of the tone of the show when it starts, with a little bio introducing the characters. Tenma is described as a High School student who is `kind of stupid`, Harima, a teenage delinquent who is `pretty stupid`. And the show descends into anarchic mayhem from then on.
It`s your classic love triangle. Kenji Harima is a steel-hearted, tough as bolts delinquent, complete with goatee beard, shades and motorcycle, whose heart melted when he laid eyes on Tenma Tsukamoto. She is barely aware of his existence. She has eyes only for Oji Karasuma, although being the shy retiring girl that she is, getting him to notice her is an unsolvable equation. Karasuma is the completely oblivious everyman in this story; in fact he`s even drawn that way, as a nondescript cipher of a boy, with minimal character traits. At this point he`s just the object of affection that Tenma fixates on, and inadvertently the cause of most of the show`s hilarity. Tenma chases Karasuma, Harima chases Tenma, as long as the show shall last.
It would be hard for a full series to sustain on just these three, so it`s good that there is a strong supporting cast, not least of which is Tenma`s younger sister Yakumo. Yakumo is the antithesis of Tenma, calm, collected and self-assured, and she does have an odd telepathic ability. She has her own relationship issues, when she uses her telepathy to defeat second year student, and sole member of the Aikido club Hanai, ensuring his eternal devotion by doing so. Tenma`s friends Mikoto, Akira and Eri offer more humour, and as the show develops further characters are introduced to add to the fun.
School Rumble succeeds in a large part because of its format. Each episode is broken up into three mini-stories, each of about six or seven minutes in length, remaining faithful to the manga in the process. It`s a set-up, gag, punchline payoff that keeps the laughs dense and avoids unnecessary filler. It also makes it feel as if you are getting more value for your anime pound, as in essence you get fifteen mini-sketches on this disc. It all works perfectly given the tone of the show and the pace of the comedy. It also means that when there is the odd duffer of a sketch, or some humour that doesn`t translate as well, it doesn`t impact so strongly, as it will usually be sandwiched between two comic gems.
I`m a cynic me, getting a chuckle out of me requires Guantanamo levels of persuasion, and what passes for humour on British screens usually sends me into the darkest of depressions, that such a revered comic nation has come to such a dismal state. Reviewing comedy just makes it worse, as the flow of the show is broken whenever you press pause to take a few notes, or rewind to check for an audio or video glitch. Yet watching this I was laughing out loud, I was holding my stomach. I was out of breath. It hurt! This is the funniest thing I have seen this year (I know it`s only been a fortnight, but that doesn`t sound as impressive). If slapstick, goofy humour is right up your alley, then School Rumble is essential. Actually, I`d defy anyone not to be entertained by this.