HhhH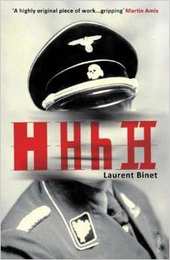 The story of the assassination of the Blond Beast...
Authors:
Laurent Binet

Retail Price (Hardback): Retail Price (Softback):
£6.29
Retail Price (Ebook):
£3.99
ISBN:
0099555646
First Published:
03/01/2013
Description:
Two men have been enlisted to kill the head of the Gestapo.

This is Operation Anthropoid, Prague, 1942: two Czechoslovakian parachutists sent on a daring mission by London to assassinate Reinhard Heydrich - chief of the Nazi secret services, 'the hangman of Prague', 'the blond beast', 'the most dangerous man in the Third Reich'.
Publishers:
Vintage