Mad World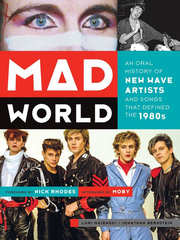 An Oral History of New Wave Artists and Songs That Defined the 1980s
Authors:
Lori Majewski
Jonathan Bernstein

Retail Price (Hardback): Retail Price (Softback):
£11.86
Retail Price (Ebook):
£8.54
ISBN:
B00JKSQ1D8
First Published:
15/04/2014
Related Websites:
http://madworldbook.com/

Description:
Mad World is a highly entertaining oral history that celebrates the New Wave music phenomenon of the 1980s via new interviews with 35 of the most notable artists of the period.

Each chapter begins with a discussion of their most popular song, but leads to stories of their history and place in the scene, ultimately painting a vivid picture of this colorful, idiosyncratic time.

Mixtape suggestions, fashion sidebars, and quotes from famous contemporary admirers help fill out the fun.
Publishers:
Abrams Image