The Siege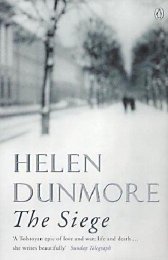 Authors:
Helen Dunmore

Retail Price (Hardback):
£16.99
Retail Price (Softback): Retail Price (Ebook): ISBN:
978-0141000732
First Published:
Description:
Leningrad, September 1941. German tanks surround the city, imprisoning those who live there. The besieged people of Leningrad face shells, starvation, and the Russian winter. Interweaving two love affairs in two generations, THE SIEGE draws us deep into the Levin's family struggle to stay alive during this terrible winter. It is a story about war and the wounds it inflicts on people's lives. It is also a lyrical and deeply moving celebration of love, life and survival. 
Publishers:
Penguin Books