Nine Dragons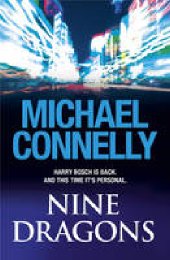 Authors:
Michael Connelly

Retail Price (Hardback):
£18.99
Retail Price (Softback): Retail Price (Ebook): ISBN:
9780752875873
First Published:
2009
Description:
What it says on the cover:
One thing you can say for the Triads: they know the importance of family.
And they're about to teach Harry Bosch a lesson.

When Detective Harry Bosch catches the case of a gunned-down liquor =-store owner in downtown LA, it looks like a slam-dunk. The eldery Chinese man's customers included plenty of gangbangers, and it just seemed like one day his luck ran out.

But in his last desperate seconds of his life, My Li had left a clue to his assailant's identity. A clue that leads Harry into another world - a parallel criminal universe alongside the one he knows so well: the world of the Triads.

What he doesn't know is that the Triads have already entered his life, in the most personal way possible. Suddenly he's no longer simply fighting to bring the old man's killer to justice; he's got just twenty-four hours to save the most precious thing in his life. His daughter.

First line:
From across the aisle Harry Bosch looked into his partner's cubicle and watched him conduct his daily ritual of straightening the corners on his stack of files, clearing the paperwork from the centre of his desk and finally placing the rinsed-out coffee cup in a desk drawer.
Publishers:
Orion Books