Hiyama: Vol.2: Devils Within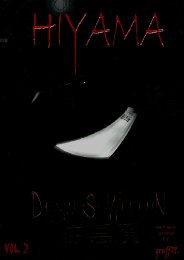 A grim look at Britain's gang-dominated future...
Authors:
Gruff79

Retail Price (Hardback): Retail Price (Softback):
£7.99
Retail Price (Ebook): ISBN:
978-0955808838
First Published:
2009
Related Websites:
http://www.tabella.co.uk

Description:
The year 2021, gangs and criminals dominate the country, the police forces of Britain have no control of law and order, corruption is rife and crime is everywhere.

Two years earlier one of the most powerful and violent gangs in the country was massacred by Mei Hiyama with the help of Assistant Commissioner John Torrent, and although no gang has taken over where Conner's left off, Mei decides to start work with John again.

Over the course of three months a new crime wave sees dozens of children being snatched off the streets of London. While Mei waits for John and his team to try to find out who is behind the kidnappings, the Hiyama's lives are once again turned upside down as Mei's daughter is taken. Distraught and hysterical, Mei's rage takes on a life of its own as she sets out to find Bee, and whomever took her.
Publishers:
Tabella Publishing LLP