Halliwell's - The Movies That Matter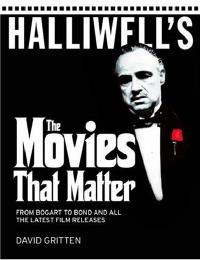 From Bogart to Bond and all the latest film releases
Authors:
David Gritten

Retail Price (Hardback): Retail Price (Softback):
£18.99
Retail Price (Ebook): ISBN:
978-0007271061
First Published:
20/10/2008
Description:
Halliwell's - The Movies that Matter is a new version of the classic and highly acclaimed Halliwell's film guide. Smaller and more accessible than its predecessors it's still packed with information on nearly 3000 films from Bogart to Bond and all the latest film releases. They are the movies that have stood out over seven decades of film-making as the most iconic and well-loved - the movies that really matter.

From the black and white classics of the pre-War years, through the golden period of the seventies and eighties to the genre-breaking films of the 21st Century all are listed with the same attention to detail as in previous guides. Each entry includes plot synopses, evaluations and Academy Award Winners and Nominees. It also features 350 new films released in the UK in the 12 months leading up to summer 2008.

As an extra bonus this year, Halliwell's editor, David Gritten, introduces a series of features on topical issues, including…

Profiles of actors Cate Blanchett and George Clooney
Films that hit the headlines in 2007/08
A new era for James Bond
The return of 3-D films
The world of the film critic
The growth of the family movie


There's even a list of the Top 10 Films By Genre as chosen by David Gritten. Among his choices are Woody Allen's Annie Hall in best comedies, Brighton Rock in the best British films section and The Blair Witch Project among the top horror movies. Everyone has their own list of Top 10 films but whatever your choices you are almost certain to find them among the selection of films in Halliwell's - The Movies That Matter.
Publishers:
HarperCollins