Review for Paprika (UK)
Introduction
Have you ever had your reach exceed your grasp? There I was, giddy as a schoolgirl at having finally climbed aboard the high definition bandwagon, and of course the first thing I did was go on a spending spree to pick up some classic titles in high definition. Alas when it came to finding time to watch them, I found review copies (as well as real life) getting in the way. It's been almost 18 months since I purchased that Blu-ray player, and of that first batch of Blu-ray discs , I still have some ten discs that haven't yet seen the inside of the player. And in the meantime, my experience with a few review titles has shown that Blu-ray isn't necessarily the panacea to all our home cinema ills, especially for my particular anime obsession. This week, I finally found the time to revisit one of the first anime titles to appear on the medium, Paprika. I was particularly eager to upgrade this DVD, as the UK release was stripped of most of the extras, which became Blu-ray exclusives here. The idea of an early anime Blu-ray gave me some pause, but Paprika was released by Sony Pictures, and Sony (as they keep on reminding us) invented the Blu-ray. If they can't get it right, who can?
The Foundation for Psychiatric Research is currently experimenting with the DC Mini, a new technology that allows users to enter the dreams of others. It's hoped that it will be a valuable tool for psychiatric treatment, but the head of the Foundation is concerned about its potential for misuse. The development isn't even complete, yet already there is an elfin superhero type figure called Paprika, who is showing up in people's dreams and helping them work out their subconscious issues. Then the worst happens, three prototype DC Minis are stolen. The researchers in charge of the project, Atsuko Chiba and Kohsaku Tokita have to solve the crimes before their project is canned. It may already be too late though, as more and more of the city's population become unhinged, and descend into a horrifying shared dream. But Atsuko's alter ego is Paprika, and she has the help of Toshimi Konakawa, a police detective who she has been helping through his nightmares.
Picture
Paprika gets a 1.85:1 widescreen transfer at 1080p resolution. It's similar to the DVD in that it is slightly windowboxed to compensate for overscan. I guess back in 2007, people were watching HD on CRT sets. Turning overscan back on, my flat panel display cropped about 10 pixels of information on the left and right sides of the screen, so I left it windowboxed and just turned the lights down.
That's the only niggle that you might have with the image quality of this disc. Otherwise it is an impeccable high definition transfer of an anime feature film, ranking up there with the best that I have seen; films like Akira and Redline. You won't find any colour banding or compression signs of the sort that can still crop up with HD anime today, and the whole effect is very filmic, clean and vibrant. There's a soft warmth to the transfer that you just don't get with purely digital creations, and I suspect that the movie was transferred from a film source. As you would expect with Blu-ray, the colour rendition by far exceeds that of the DVD, and detail levels are astounding. It makes watching the various dream sequences in the film an added treat. I have to reiterate just how refreshing it is to see the film on Blu-ray. Just compare the scene where a character explodes into a swarm of butterflies on this disc, to the same scene on DVD and you'll see just why.
The images used in this review are for illustrative purposes only, and don't reflect the quality of the Blu-ray image.
Sound
You're in for a treat if you watch the movie in the original language and your home cinema is capable of replaying it. An LPCM 5.1 Surround Japanese audio track, encoded at 48k resolution, and replaying at a constant bitrate of 4.6 Mb has the clarity and oomph to keep an appreciative grin on your face for the duration, with the full bodied surround experience that the imaginative nature of the film deserves. If you're watching the film in any other language though, you may be a little disappointed at the lossy Dolby Digital offerings. They do have a 640kb bitrate though. You can choose between English, French, German, Italian, Spanish, Czech, Japanese, and Polish voiceover. There are subtitles in more languages than you can imagine. Regular Satoshi Kon collaborator Susumu Hirasawa provides what is perhaps his best soundtrack yet, with a score that is by turns whimsical and ominous. Naturally the original language track is the way to go. I sampled the English dub and while it is certainly acceptable, I found Paprika to be a little too perky. It's odd, but there is a difference between Japanese perky and American perky, and American perky just crosses the line into cartoony and unreal.
Extras
I can't believe anime on Blu-ray used to be like this. Now it's all region locks and UPOPs and limited content (and in some cases degraded audio) to prevent reverse importation. This release of Paprika is on a Region A, B, and C disc, has all the extras, and is stuffed full of audio and subtitle options, which you can change on the fly.
The disc loads up with a nicely animated menu, and there are subtitles for the extras in English, French, German, Italian, Spanish, Dutch, and Portuguese.
The one extra that this disc has in common with the UK DVD is the audio commentary. On it, Satoshi Kon joins composer Susumu Hirasawa and associate producer Morishima to talk about the film. It's a comprehensive and detailed commentary track that covers all aspects of the film and the story, and it's well worth listening to. This isn't subtitled in Portuguese mind.
And here's what was missing from that DVD, beginning with The Making of Paprika. This lasts 30 minutes and offers a brief overview of the anime's creation, from inception, through storyboards, animation and voice recording to final release, a 3 year process compressed to half an hour. Of interest is the fact that there is input from both director Satoshi Kon, and the author of the original novel, Yasutaka Tsutsui. It turns out that he specifically sought Kon out to adapt his story when attempts to make it in live action fell flat.
Also lasting 30 minutes is A Conversation about the Dream. Here Kon and Tsutsui sit down with voice actors Megumi Hayashibara (Paprika/Atsuko) and Toru Furuya (Tokita) to talk about the film, and dreams in general.
The Art of Fantasy lasts 12 minutes and discusses the difficulty of animating dreams, and how the film addressed this through colour selection and mood.
The Dream CG World lasts 15 minutes, and shows how CG was applied to the film in a way that kept it invisible and understated. This is where things get technical, and predictably this was where my attention began to drift.
All four of these featurettes are presented in 480i SD resolution.
In HD are the storyboard comparisons, 3 in total looking at the Parade Scene, The Ruins Scene, and the Skin Slitting Scene. You have four options in each, to examine the Storyboard comparisons, the Original Drawings vs. Character Paintings, the Original Drawings alone, or the Character Paintings Alone. Each offers around a minute of footage.
There are trailers on this disc for two other anime releases from Sony Pictures, Tokyo Godfathers and Tekkonkinkreet. Both trailers are in HD. And to my consternation, I can't find any evidence that Tokyo Godfathers was ever released on Blu-ray.
Conclusion
Paprika is an entertaining, visually inventive and fast paced sci-fi thriller. The story is intriguing, that of technology that allows people to share dreams spiralling out of control, and the characters are well written and complex, just as in the other Satoshi Kon films. It's another example of human nature coming into conflict with the utterly bizarre and mind warping, and the result on screen is absolutely fabulous and mesmerising. And it's as close as Satoshi Kon has yet come to a misfire. Of course coming from a director of his calibre, even a misfire is a must see movie, and Paprika is certainly memorable and noteworthy. It just lacks a little something.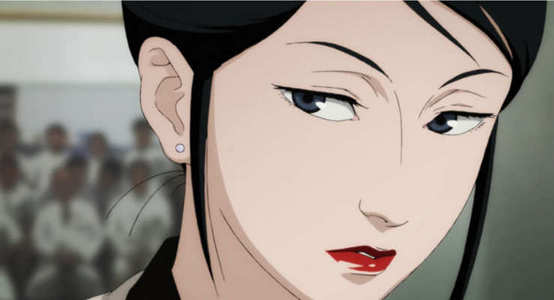 The problem is immediately apparent. All his other films are set firmly in the real world, and then he begins to play on our perceptions, and those of the characters, the world slowly drifts out of kilter, things aren't as they are supposed to be, and it's a hell of a ride just trying to figure out what is going on. Paprika strips away that ambiguity by instantly setting the story in a future world where dreams are technologically accessible. From the first moment, we expect the bizarre to occur, it's part of this world and fundamental to the story. We're not seeing the real world knocked out of whack; this is how this future world is supposed to be.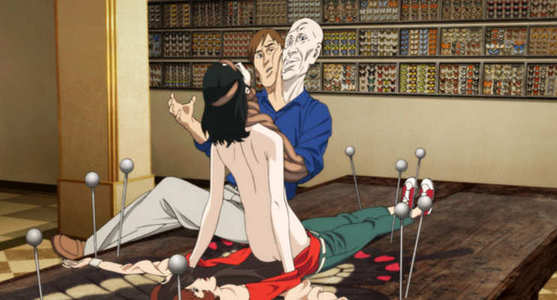 With the bizarre now commonplace, it becomes hard for the film to surprise and shock us. It's also a tad tired in that it uses familiar tropes to signify its dreams. We begin with a circus theme, along with obligatory creepy clown, and then we segue into a montage of movie sequences. It looks absolutely stunning, but they are rather clichéd when it comes to dream sequences. The mystery is intriguing, and I enjoyed the way it had to be solved from within the dreams instead of in the real world, but when the culprit appeared and announced his intention to dissolve the world into his own, personal shared dream, again it all seemed as if it had been done before.
That's what I wrote when I first reviewed Paprika on DVD back four years ago. And I have to admit that most of those criticisms are still valid today. The difference is that I've since watched the film on more than one occasion, and most recently on this Blu-ray, and I have to say that it has improved vastly in my estimation. It is a film that definitely grows with repeated exposure, and I find more and more to value with each viewing. Once you get past the visual impact, and the dream machine maguffin, it becomes easier to appreciate just how well the plot is put together, and how carefully the story is crafted. I also find that I enjoy the characters a lot more, and watching Atsuko and Tokita's relationship develop makes the film a livelier experience. In retrospect it's also much more rewarding to see Konakawa's arc develop. Paprika works on subtle levels that aren't apparent on first viewing. I have to admit that watching it on Blu-ray didn't hurt either.
In my estimation, Paprika has gone from being a minor misfire to being up there with the rest of Satoshi Kon's brief filmography. Once again I'm reminded of just how much of a tragic loss to the anime world his premature passing was. I still hope that Studio Madhouse can return to and complete his final film. It's also a little disappointing that of his entire back catalogue; only Paprika is available in the West in high definition. That's something that ought to be remedied.