Vacancy (UK)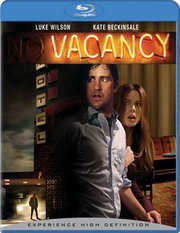 How can you escape... if they can see everything?
Certificate: 18
Running Time: 85 mins
Retail Price: £24.99
Release Date:
Content Type: Movie
Synopsis:
When David (Luke Wilson) and Amy Fox`s (Kate Beckinsale) car breaks down in the middle of nowhere, they are forced to spend the night at the only motel around, with only the TV to entertain them... until they discover that the low-budget slasher movies they`re watching were all filmed in the very room they`re sitting in. With hidden cameras now aimed at them... trapping them in rooms, crawlspaces, underground tunnels... and filming their every move, David and Amy must struggle to get out alive before whomever is watching them can finish their latest masterpiece.
Special Features:
Alternate Opening Sequence
Checking In: The Cast & Crew of Vacancy
Deleted Scene
Mason`s Video Picks: Extended Snuff Films.

Video Tracks:
Widescreen Anamorphic 2.40:1

Audio Tracks:
Dolby Digital 5.1 English
Dolby Digital 5.1 Czech
Dolby Digital 5.1 Hungarian

Subtitle Tracks:
English
Dutch

Directed By:
Nimrod Antal

Written By:
Mark L. Smith

Starring:
Ethan Embry
Frank Whaley
Luke Wilson
Kate Beckinsale

Distributor:
Sony Pictures