Review of Vacancy
Introduction
I`ll admit I`m not the most cinema-savvy guy, with my general idea of what`s on at the movies coming by word of mouth or seeing the odd TV spot, but upon catching the ad for the `Vacancy` DVD on the box, I was convinced it was a direct-to-video film being released to capitalise on the box office release of John Cusack`s `1408`, both of which involving traveller lodgings and a spot of horror. Had I known Kate Beckinsale and the other, non-Owen, Wilson brother were in it... I probably still would`ve assumed it was a DTV release. Looks like I was wrong, as `Vacancy` opened in theaters back in June.
Beckinsale and Wilson star as an unhappily married couple whose car conks it in the middle of the California desert, in the middle of the night of all the cursed hours. They head for a local travel stop where they had previously received motor assistance from mechanic Ethan Embry, but find only the slightly odd motel manager Frank Whaley. Shacking up in a room for the night, they get anything but a pleasant night`s sleep as they discover a gruesome collection of snuff videotapes under the TV, all of them seemingly filmed in the very room they`re staying in.
Gross.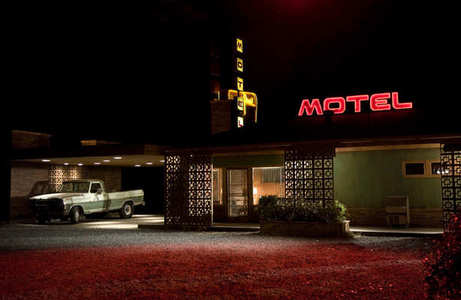 Video
`Vacancy` is a 2007 film, and features very little (if any) use of filters or special effects, and the majority of the film`s action takes place at night. Therefore, it should be an ideal candidate to test a high definition transfer of a film that`s, visually speaking, quite unremarkable. As presented on this Blu-ray Disc, `Vacancy` looks great, perhaps faring better than a big-budget, effects laden peer. Its anamorphic 2.40:1 is razor-sharp, with very deep blacks and shadows, and the lighting is naturally hued, skin tones are warm, colours are rich, textures are smooth and spotless and unless you press your nose up against the screen, you`re unlikely to pick out any grain or film flaws. Superb.
* Viewed on a 32" 1366 x 768 panel at 720p
* The screenshots featured here are for illustrative purposes only. They were not taken from the Blu-ray source, and as such, the images are not representative of the quality of the disc.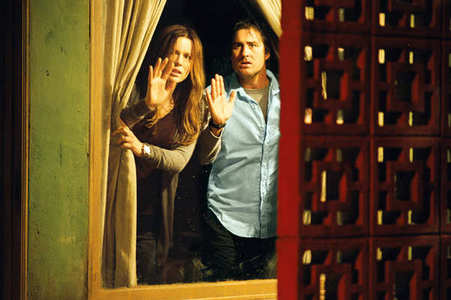 Audio
High Definition audio comes in the form of a PCM 5.1 track, but alas on my receiver it`s downmixed and chucked out as Pro-Logic II, so I`m unqualified to tackle the uncompressed multi-channel. For those of us stuck in the relative `dark ages` of compressed audio, the disc also carries a standard Dolby Digital 5.1 in English, English Descriptive, Hungarian, Czech and Polish. The standard 5.1 tracks are solid, although `Vacancy` isn`t a particularly sound heavy film, with little music and no real attempt to channel spot effects as effectively as you`d like in a tense thriller, especially one set in such a closed environment where well implemented sounds can add to the atmosphere. The voiceover work on the foreign language tracks is good though, and the descriptive audio - where a well-spoken gent acts as a narrator - is clearly very useful for those with sight problems.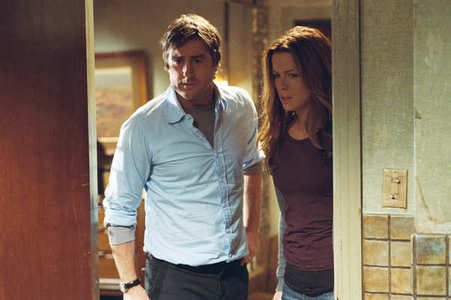 Features
Not a lot, I`m afraid:
The Cast and Crew of Vacancy: A standard EPK features which covers all the usual bases, sections of it presented in HD, most of it in SD.
Alternate Opening Sequence: Now, this is actually quite interesting. A fairly expensive-looking scene (at least in terms of the rest of the film) would have started with the aftermath of the film`s events, then taken us back several hours to juxtapose the chaos and tranquillity at both ends of the film`s `timeline`. However, it`s obviously been shelved; probably for giving too much away. Presented in SD.
Mason`s Snuff Picks: Several of the `snuff` films made for use within the feature are presented here. Viewing them outside the context of the film`s plot, they come across as overly-staged and pantomime-ish, and I`d be surprised if anyone made it past the first one.
Deleted Scene: A fairly pointless scene involving a raccoon that is bookended by footage that made the cut, so at least you know where it would have taken place. Presented in an SD workprint format that looks horrific.
There`s also an HD trailer for `Spider-Man 3`, which, despite its massive budget, looked significantly ropier than `Vacancy` in high definition. But then, it`s just a trailer.
As is the norm with high definition discs, you can browse the extra features from a pop-up menu at any point while viewing the disc.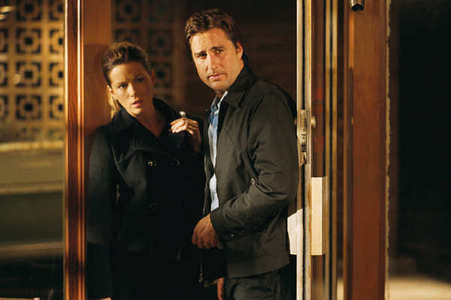 Conclusion
`Vacancy` had me cringing from the first reel; trying too hard to create suspense, some woeful dialogue, Luke Wilson`s smothered Texan accent sounding more artificial than Kate Beckinsale`s fake American accent, the askew framing and fancy camera trickery of oh-so-unfortunately-named director Nimród Antal creating a general sense of being in for an unpleasant 90 minutes. But it soon passed as everything I nitpicked at settled down, and I started to enjoy the mood of the piece. The sparsity of performers and the lighting and shadow give it an almost theatrical presence, and despite a stumble or two at the outset, the suspense is, at times, palpable. But that`s where the virtues start to tail off, as after the first act, `Vacancy` falls into the trap of being too mundane. From its deliciously creepy conceit builds an decisively average thriller, its plot as frightfully mundane as you could possibly ask for.
Anyone expecting the subject of snuff films to be anything other than a plot device will be sorely disappointed, with `Vacancy` forgoing the psychological, thematic dissection of `Hardcore` and `The Brave`. The acting too generally feels a little workmanlike. Wilson and Beckinsale, whose relationship turns out to be more complex than it first appears, sadly don`t gel as a couple, lacking in chemistry as their performances bounce off one another as if they`re each performing a monologue to a mirror, with minor exposition towards the film`s conclusion explaining their relative hostility to one another coming across as inexplicably ham-fisted. Frank Whaley, on the other hand, gives a suitably bonkers performance as the meekish motel manager, stealing all the best lines and making the film a much more interesting watch every time he`s in the frame. But it`s a tall task to think of another reason to go out of your way to catch a film that, deprived of the luridness of its subject matter, blends in all too well with hundreds of other thrillers that rest on their laurels.
But where `Vacancy` does fall victim to certain clichés, it does at least go out of its way to play on our familiarity with others, with mixed results. Overly-familiar situations common to the genre don`t always play out as you`d expect, seemingly a deliberate attempt to add a little spice into a well-worn template, a touch of post-modernism albeit without the knowing nod and wink you`d find in `Scream`. And for the most part, it works reasonably well in second guessing the way an overstimulated audience digests the formula. But by the climax, when the film has presented every cliché in the book and -- more often than not -- done the opposite of what we expect, it becomes all too easy to predict the outcomes of such scenarios; Mark L. Smith`s playful script just becomes too telegraphed for its own good, the plot`s most redeeming feature turning against itself. Despite the rather icky subject matter, `Vacancy` is as inoffensive a thriller as you`ll ever see, which is faint praise indeed.