WWE Summerslam 1992: 30th Anniversary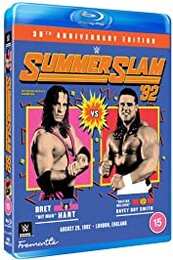 Certificate: 15
Running Time: 347 Mins
Retail Price: £9.99
Release Date: 29/08/2022
Content Type: TV Series
Synopsis:
Thirty years ago, WWE brought the biggest party of the summer to the UK!

Now, thirty years later, relive the epic classic event, remastered for the first time on DVD & Blu-ray!

Bret "Hit Man" Hart defends the Intercontinental Championship against the British Bulldog.

Shawn Michaels faces Rick Martel. Legion of Doom battle Money Inc. in tag team action.

Ultimate Warrior challenges "Macho Man" Randy Savage for the WWE Championship.

The Natural Disasters defend the WWE Tag Team Championship and more.

Featuring a host of Bonus Extras from the time, this legendary event is now available to own on DVD & Blu-ray to watch over-and-over again!
Special Features:
SPECIAL FEATURES:

WWE Summerslam 1992

The Legion of Doom vs. Money Inc.

Virgil vs. Nailz

Shawn Michaels vs. The Model Rick Martel

WWE Tag Team Championship
The Natural Disasters vs. The Beverly Brothers

Crush vs. The Repo Man

WWE Championship
Macho Man Randy Savage vs. The Ultimate Warrior

The Undertaker vs. Kamala

WWE Intercontinental Championship
Bret Hitman Hart vs. The British Bulldog Davey Boy Smith


Dark Matches
Hacksaw Jim Duggan and The Bushwhackers vs. The Nasty Boys and The Mountie
Papa Shango vs. Tito Santana
Tatanka vs. Bezerker

THE OPTION TO WATCH THE ORIGINAL 'BROADCAST VERSION' OR THE 'LIVE VERSION' AS IT HAPPENED IN WEMBLEY STADIUM ON THE DAY

NEVER SEEN BEFORE 'SUMMERSLAM COUNTDOWN SHOW' (17 mins)

WWE SUPERSTARS – AUGUST 15, 1992 (45 mins)

WWE SUPERSTARS – AUGUST 22, 1992 (45 mins)

WWE SUPERSTARS – AUGUST 29, 1992 (46 mins)

Related Websites:
https://wwedvd.co.uk/wrestling/summerslam-1992-30th-anniversary-edition-blu-ray/

Distributor:
Fremantle Home Entertainment