Review for JoJos Bizarre Adventure Set Two: Stardust Crusaders Part One (Eps 1-24)
Hot on the heels of the Manga Entertainment re-release of JoJo's Bizarre Adventures Set One (my review
here
) comes the second set, containing 24 episodes which cover the first half of the epic Stardust Crusaders story. (Set 1 adapted the first two parts of the original manga series, Phantom Blood and Battle Tendency.)
Set forty-nine years after "Battle Tendency," (I love that it's not rounded up to 50) the saga of the Joestar bloodline continues with the journey of the teenage Jotaro as he treks through the supernatural world of Stands.
But he's a Joestar and he knows it. Armed with unique fighting abilities thanks to his grandfather, Jotaro learns his mother's connection to the Joestar family's nemesis, DIO (long buried at sea) is slowly killing her. To save her and stop DIO's plans of complete Joestar eradication, Jotaro and crew set out to locate and destroy DIO.
Meeting them at every step is DIO's own Stand assassins, eager to slaughter each and every member of the Joestar crew. The multigenerational struggle against evil may be far from over, but the Joestars are more ready than ever. Let the series and the adventures commence!
The series kicks off with Jotaro in jail as the result of a school fight with four thugs and during which an 'evil spirit' seemed to overtake him. We later learn that this evil spirit is none other than 'Stand', the name given to this power, primarily because it's an apparition emanating from a person's energy which 'stands' aside that person during conflict. (Don't you just love the level of imagination and creativity that goes into manga? Literally anything goes!).
Although Jotaro's mother, Holly, is a part of the Joestar family (she's the daughter of Joseph), and she has the power of 'stand' within her, her gentle nature means that it doesn't manifest and release in the same way, nor can she control it, which means it is slowly making her dangerously ill. Jotaro and Joseph, along with Kakoin and Avdo, know that they must travel to Egypt to stop the power destroying her. But the journey won't be easy. Dio's army is afoot and in a journey reminiscent of 'Lord of the Rings' (thematically at least) the group trek ever onward towards Dio's dark and secret lair, dealing with all kinds of evil adversity on the way.
If that sounds like a fun story then be reassured it is and, in common with the previous set, there is plenty of high octane, bloody action. The characters are all a bit one-dimensional, but this series isn't about slice-of-life character subtleties. It's all action, adventure and suspense with more than a soupcon of crazed anarchy thrown in for good measure.
As this set is only the first part of the journey, you'll be anxious to see it through to its conclusion but, no need to worry, as Set 3, the concluding part of the story, is already available. I'll be posting my thoughts on that soon.
I found the series rattled by and it's the kind of show where you can watch 3-4 episodes in a row without really noticing the time pass. When our in-house anime expert, Jitendar Canth, passed the Kaze version of set one to me some time ago (he had seen the series streamed and felt once was enough, and had a sky high pile of series to review at the time), he had this to say and I guess it applies equally to Set 2. I repeat it here as it's always good to get the view of someone more immersed in the genre than I am. Not only that, it still makes me laugh.
"Hi Stuart. Hope you are well. I also hope that you have the time to review the most manliest anime ever animated, so manly it makes Fist of the North Star look like Little Women. It's so manly that the live action version has Chuck Norris playing all the roles, including the girls. It's Jojo's Bizarre Adventure of course, originally released here on a dismal DVD by Warners, but now getting a Blu-ray re-release from Kaze. Plenty of in-jokes with the character names, and a theme song from Yes. Please say yes. Kind Regards, Jitendar".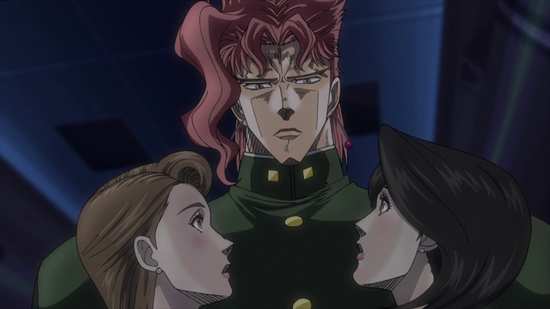 So yes, what Jitendar says has some truth still but actually there is a positive side to that if you really enjoy adventure and … well, violence, I suppose. But righteous violence and we all like a bit of that, don't we?
Audio wise, you get a choice of Japanese (with subs) or English (well, very American English!). I opted, as I tend to do, for the latter which was absolutely fine for this. Sure there are some over the top performances, but the Dick Van Dyke English accents that kicked off the previous set are gone which is probably no bad thing.
There are virtually no extras here unless you count textless opening and closing sequences, but you do get 24 episodes packed into one tidy set.
The bottom line here is that if you liked Set 1, you're going to love this new adventure. You probably wouldn't consider Set 2 without watching Set 1, and I would advise against it in any case as the back-story and an appreciation of the Joestar lineage, is certainly going to help with your enjoyment of this series. That said, be warned: if you commit to Set 2 then you are definitely going to be buying Set 3. A fun series that is slightly mad, more than slightly bad, and will leave you feeling mighty glad you persisted.