Review for Asylum
'Asylum' is as 1972 'portmanteau' film from Amicus. In common with 'The House that Dripped Blood' (my review for that
here
) and 'Tales from the Crypt', it's a film that comprises four separate stories, all tied together with a common theme.
'Asylum' is definitely in the 'psychological thriller' category, rather than out and out 'horror', and once again calls on the considerable short story writing talents of Robert Bloch ('Psycho') for its source material.
The Director of choice this time was Robert Ward Baker, who stepped over from a tenure at Hammer where he had recently turned in
'Scars of Dracula', 'The Vampire Lovers' and 'Dr.Jekyll and Sister Hyde'
. He had also been a high-profile TV Director on shows like 'The Saint', 'Randall and Hopkirk Deceased' and 'The Avengers', so had a good understanding of short-form drama. The film was produced on a tight budget and schedule, though there appeared to be no skimping on the cast which included Robert Powell, Patrick Magee, Sylvia Sims, Peter Cushing, Charlotte Rampling and Herbert Lom. However, Amicus knew that they could attract actors who were happy for the short shoot schedules with 'star billing' maintained in their own segment. A clever formula that worked for Amicus right up to their swansong, 'The Monster Club' with Vincent Price, in 1981, coincidentally also directed by Robert Ward Baker. But I digress…
In 'Asylum', the 'glue' that binds the tales is provided by one Doctor Martin (played by a handsome young Robert Powell) who turns up for a job interview at a spooky old mental asylum. His interviewer, Dr Lionel Rutherford (Patrick Magee), throws him a curious challenge; to visit four current patients to identify which is a former doctor (a Dr. Starr) who has gone from doctor to (mad) patient. Needless to say, Doctor Martin is more than happy to take the challenge up; each patient visit provides a story a piece.
Frozen Fear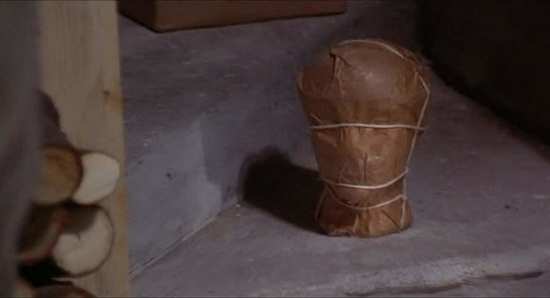 First up, behind locked doors and in the first 'room', Dr. Martin hears out the first tale. A lady (Barbara Parkins) and her lover (Richard Todd) set out to murder his wife (Sylvia Sims). That all sounds straight-forward enough until we learn that the wife is a dabbler in the dark arts. Which means, despite the fact that the couple have cut her corpse into pieces, they just won't stay dead. There are some genuinely spooky moments (the rustling sounds that precede the 'reveal' and that irresistible hand lurching out of the freezer) but the severed arm crawling along the floor towards the adulteress is a little hokey by today's standards. In fact, if you look carefully you'll spot a crew's hand clearly visible as it pushes the arm prop along.
The Weird Tailor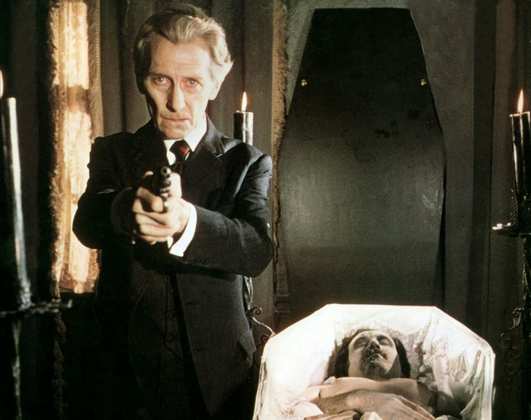 The next story is that of a Jewish tailor named Bruno, played by Barry Morse who throws himself into the role to the point that you wonder if the stereotype would be acceptable by today's standards. Despite being a master tailor, business has been poor and he and his wife are in danger of being evicted if they can't pay their rent. As if answering their prayers, they get a mysterious visitor (Peter Cushing) who asks the tailor to make a special suit out of provided material – but it is imperative that the tailor only works at night with strict instructions never to work o it in daylight hours. On the last night available, Bruno falls behind and works a little into the day. When he delivers the suit, he is told that the suit is magical and that he will have to wait to be paid. Furious, he kills the customer and brings the suit home. And then things go from bad to worse…
Lucy Comes to Stay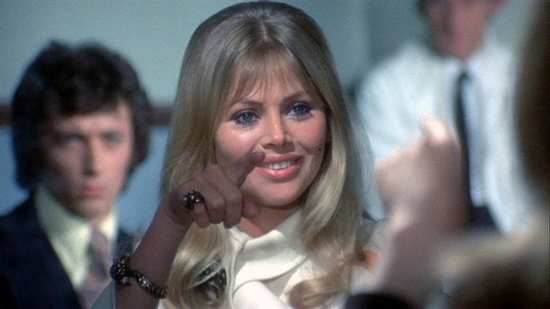 In what is perhaps the best of the tales, despite it being riddled with cliché, features an innocent seeming young lady, Barbara (Charlotte Rampling), who appears to blame all her problems (including a couple of murders) on her friend Lucy (Britt Ekland). Despite the twist being pretty obvious from the outset, the two play their respective parts brilliantly. Ekland looks gorgeous (just a year prior to her career-defining performance in 'The Wicker Man') and Rampling is her height here too.
Mannikins of Horror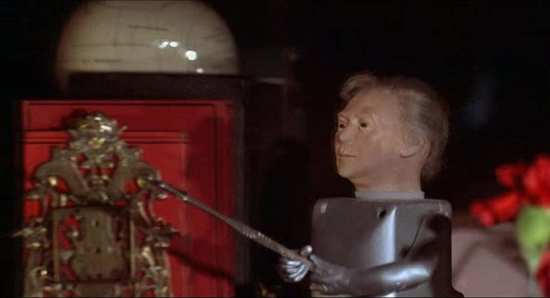 The final segment, and perhaps the most absurd, features a Dr. Byron (played as best he can by Herbert Lom) who has built miniature robots which he claims to be able to transfer his own psyche into and control their movements with his mind. Of course, his colleagues considered him mad as the idea is clearly preposterous. Or is it? Wait a minute. Is that one moving? And is it holding a knife? Despite being a bit silly it's the sort of thing that might well have inspired 'The Puppet Master' films. If you've seen those, and the stop-frame animation involved, then you'll know what to expect. Certainly not an Amicus high-point. That said, Dan Curtis's TV anthology 'Trilogy of Terror' (1975) featured a similar knife-wielding doll and terrified a generation of kids so maybe I'm being a little unfair.
Visually the set is far from sparkling high definition. It's a bit washed out and extremely grainy throughout the entire opening sequence. That may well have been how it looked originally though as grainy grading was (peculiarly in my view) quite the thing in the early seventies, perhaps signifying a gritty-realism. Whatever the case, don't expect to be knocked out by the visuals.
The disc comes packed to the gunnels with really excellent special features, many of which must have been ported from previous releases.
·
Audio Commentary
with Director Roy Ward Baker and Camera Operator Neil Binney, moderated by Marcus Hearn. Highly informative and entertaining.
·
'Two's a Company'
: A 1972 On-set BBC report featuring interviews with Producer Milton Subotsky, Director Roy Ward Baker, Actors Charlotte Rampling, James Villiers, Megs Jenkins, Art Director Tony Curtis and Production Manager Teresa Bolland
·
Screenwriter David J. Schow on Writer Robert Bloch
·
Fiona Subotsky (wife of) remembers Milton Subots
ky
·
'Inside The Fear Factory'
– a fascinating 20-minute featurette with Directors Roy Ward Baker, Freddie Francis and Producer Max J. Rosenberg
·
Theatrical Trailer
· Reversible sleeve with new artwork from the inimitable Graham Humphreys
LIMITED EDITION CONTENTS:

·
Rigid Slipcase
Featuring New Artwork by Graham Humphreys
·
40 page booklet
with new essays by Allan Bryce, Jon Towlson and Kat Ellinger
·
Reversible poster
featuring new and original artwork from the wonderful Graham Humphreys 
'Asylum' on Blu-Ray is a welcome release and well worth picking up. It may not be the best of the Amicus anthology bunch but it's a fun watch. The transfer is a little disappointing, though may reflect the original print with muted colours and grain, but the special features more than make up for any slight misgivings.