Review for The House That Dripped Blood
I've always enjoyed the series of so-called portmanteau films from Amicus where (usually) five quite separate stories are served up, often bridged by some spurious link between each. Like episodes of 'Thriller', 'The Twilight Zone' or 'Tales of the Unexpected', there is something rather pleasing about the format, especially at a time when some Hammer Horror films seemed to be running out of steam, stretching a thin plot across 90 minutes.
For Amicus, they represented an opportunity to take on bite-sized productions with an eye firmly on the budget and be able to turn them in with some predictability, somewhat like the rigours of producing weekly television shows. They could also negotiate smaller fees for well-known actors who were often on set for just a matter of days and yet who would appear in all the associated publicity materials and trailers.
Which is not to say Amicus's output looked low budget. They worked with some fine directors and cinematographers and, usually, an excellent array of top-notch acting talent. Perhaps even more importantly, they were fastidious in their choice of written material, majoring on seasoned writers like Robert Bloch (he of 'Psycho' fame) and Richard Matheson, the brilliant sci-fi novelist.
'The House that Dripped Blood' is possibly one of the best of the bunch. It has some of the best stories and a stellar cast. It came at what was arguably the height of Amicus's popularity, after 'The Torture Garden' and just prior to 'Tales from the Crypt'.
People often confuse Amicus films for Hammer, and it's actually not too surprising. Many of Hammer's core stars (Peter Cushing, Christopher Lee, Ingrid Pitt etc) are used, as well as plenty of members of the crew who took on work from both 'studios'. But Amicus were tiny when compared to Hammer. Ostensibly a US company (ran out of a 'shed' in Shepperton in the UK) it was really little more than two business owners – one of whom would look for scripts and the right talent (Milton Subotsky) and the other who would raise the money and 'produce' the films, though was rarely seen on set (Max Rosenberg).
'The House that Dripped Blood' is an anthology of four stories (rather than the usual five), all of which take place inside the same house at different times. The title, whilst sensational, is somewhat misleading as there is very little blood at all. Being a Bloch penned series, this probably fits more comfortably into the 'psychological thriller' category than standard horror.
The film was directed by jobbing TV Director, Peter Duffell (Scotland Yard, The Edgar Wallace Mysteries etc) who was seen as a 'safe pair of hands' in terms of sticking to time and budget, absolute prerequisites for Amicus.
The four separate tales are glued together by the enquiries of Detective Inspector Holloway (John Bennett) who is is investigating the disappearance of a horror film star, last seen at the house. The local estate agent, Stoker (John Bryans) tells the Inspector of many other strange happenings at the house, each comprising a separate story.
Method for Murder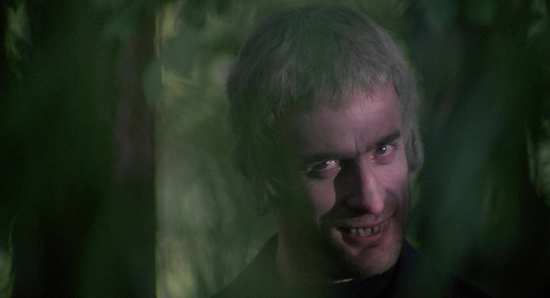 Horror writer (Denholm Elliot) is immediately drawn to the house, despite his wife's misgivings, when he notes a series of occult related books in the lounge book case. He is looking for a place to work on his latest book and has been suffering from writers' block, so the spooky house may provide the perfect inspiration. He starts to write a book about a fictional 'strangler' called Dominic (played by Tom Adams); a brute of a man with an ugly toothless face. Before long, after hearing strange sounds around the house, he starts to see his character, who has seemingly come to life. When he sees the strangler attacking his wife, he is in disbelief when she suggests it was him and not Dominic. Is he going mad? Needless to say, there is a smart twist to the plot but I wouldn't want to spoil that here. Denholm Elliott is in fine form, as is Joanna Durham as his wife.
Waxworks

Peter Cushing plays the part of a very private, lonely man who, having reached retirement, is looking for a manageable home to pursue his hobbies and interests; particularly the peace and tranquillity to listen to his beloved classical music. He also likes the walk into the local town where he discovers a wax museum with surprisingly realistic exhibits, albeit fairly horrific. The figure of Salome is a dead-ringer for a lady he used to know, and with whom he was madly in love. When the owner of the museum (Wolfe Morris hamming up the role for dear life) sees Cushing transfixed by the figure he eh gives a knowing look as Cushing pushes past him, suggesting others have been bewitched by the figures allure. When an old work colleague (Joss Ackland) turns up out the blue at his new abode, things take an even stranger turn.
Sweets to the Sweet

In an enjoyable non-Dracula role, Christopher Lee plays John Reed, a terribly serious, rather austere individual who moves into the house with his young daughter (Chloe Franks) . He seems somewhat of a disciplinarian and rather uptight about how his daughter should be cared for. When a new Tutor arrives at the house (Nyree Porter) she is aghast when he throws a baby doll that she has bought for the girl into the fire. He expressly forbids that the child should have any toys or dolls. The Governess assumes that he is an evil, over-bearing man until she also discovers that the child may not be all she seems. Her choice of reading material (about witchcraft and he occult) was somewhat surprising. And why has her Father suddenly had unexplained and agonising pains? All is not what it at first seems. (Lord of the Rings fans may enjoy seeing a shot of Lee tucking into the book at one point, years before he was to take a starring role in the film adaptation).
The Cloak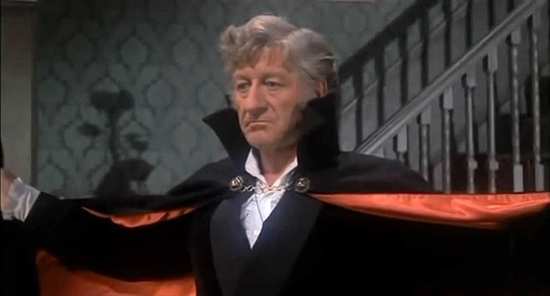 Though the last of the four stories is pure comedy it was perhaps the most enjoyable for me, for all the wrong reasons. Jon Pertwee, playing the part of a demanding, prissy horror actor, was appearing in the film during the very height of his popularity as the Third Doctor in Dr. Who. Equally popular in Children's TV at the time was Geoffrey Balydon who played 'Catweazle' and who also appears here. As if that wasn't enough, Ingrid Pitt is also cast here and is in fine comedic form, playing up her vampiric roles in Hammer Horrors. It's a joy from start to end.
Paul Henderson (Jon Pertwee) is a famous horror film actor who is about to start on a new film, which appears to be being produced on a smaller budget than ever with creaking props and inappropriate costumes. Henderson is determined not to compromise his art, so he heads off to purchase a suitable period cloak from a weird, old shop (with the shopkeeper played superbly by Bayldon). His female co-star, Carla Lynde (Ingrid Pitt) is not happy when, after donning the cape, Henderson ends up genuinely biting her neck as if in a frenzy. In fact, she is inconsolable until Henderson offers to make things up to her by inviting her back to his place for a bite. Ouch! Things don't quite go to plan.
Visually, this appears to be a decent enough transfer, albeit rather grainy at times. I assume that this is the favoured grading of the time and not a reflection of an otherwise top-notch transfer. The audio is fine (LCPM Mono as per the original movie) if unremarkable.
The disc is positively loaded with extra features and they provide not only insight to the film itself, but to Amicus as a whole. There are two audio commentaries, both of which are incredibly informative. The first is perhaps the most fun, with Director Peter Duffell and author and all-round walking encyclopaedia of horror, Jonathan Rigby. I assume this must have been ported over from a previous release as Duffell passed away in 2017 and one assumes this must have taken place before then. Having said that, this is a spooky release so who knows...
The second audio commentary, with film historian and giallo expert, Troy Howarth, whilst a little more 'academic', is very well done and packed with background that will be of interest to Amicus fans.
There are a number of video-based extras too, including an interview with Second Assistant Director Mike Higgins; a vintage featurette about the film, entitled 'A-Rated Horror Film' -featuring interviews with Director Peter Duffell and Actors Geoffrey Bayldon, Ingrid Pitt and Chloe Franks; trailers; radio spots;a stills gallery and reversible sleeve art featuring work by the inimitable Graham Humphreys, the greatest living horror illustrator (in my humble opinion!).
If you are lucky enough to pick up of the limited editions, you'll also get a rigid Slipcase, and a 40- page booklet with new essays by Allan Bryce, Jon Towlson and Kat Ellinger and a reversible poster featuring that new and original artwork from Graham Humphreys.
An top-notch release of an entertaining, if not life-changing, vintage horror film from Amicus.