Review for Kind Hearts and Coronets (70th Anniversary - 4K Restoration)
Astonishingly, June 2019 marks the 70th anniversary of the original UK release of 'Kind Hearts and Coronets', one of Ealing Studios finest comedies and quite possibly one of the greatest British films ever made. I don't think I've watched it since reviewing a restored version on DVD (via Optimum Entertainment) in 2011. I've just finished watching this superb 4K restoration on Blu-Ray and I'm happy to say that it has lost none of its sparkle and charm, as well as looking absolutely incredible.
Studio Canal seem to really get behind their restoration work and have released this as part of their Vintage Classics Collection, replete with a slew of physical extras like postcards, a film poster and a second (DVD) disc, presumably targeting an inevitably older and less tech savvy demographic. However, I feel sure this release will also help find the film an appreciative new audience who might marvel at the film's dark humour, deeply nostalgic air, superb cinematography and virtuosi acting performances from its cast. In short, this is an out and out unmissable classic. If you don't yet have it in your collection, you really need to make amends, and this edition is the smartest release yet.
Hailing from the Golden-Age of Ealing comedies (Passport to Pimlico and Whisky Galore! also turn 70 this year) 'Kind Hearts and Coronets' stars Dennis Price as the debonair yet impoverished Louis Mazzini, the would-be Duke of Chalfont whose mother was disinherited by her noble family, the D'Ascoynes, for marrying beneath her.
When her dying wish to be buried in the family crypt is refused, Louis vows to avenge his mother and work his way up the family tree, by engaging in the gentle art of murder. One by one he attempts to kill off the eight successors that stand in the way of his becoming Duke –all played by Alec Guinness in an unforgettable tour-de-force performance.
Directed by Robert Hamer (who co-wrote the screenplay with John Dighton) the film also stars a young Joan Greenwood as the husky-voiced siren Sibella and Valerie Hobson as the refined and virtuous Edith D'Ascoyne, both of whom threaten to distract Louis from his murderous quest.
The press release suggests that the film is "… a wonderfully entertaining combination of biting class satire, hilarious farce and pitch-black comedy, this story of a suave and elegant serial murderer is as sharp and funny today as ever." And I agree wholeheartedly with that.
Only Ealing (and possibly the Boulting Brothers) could possibly get away with making such a charming film about a serial killer. I'd forgotten just how good this film was and found myself enjoying every delicious moment of it.
I also found myself re-assessing the film and realising that the real star of the film isn't necessarily Alec Guinness (who does a charming if hammy selection of eight different roles) but rather the grossly under-rated Denis Price whose performance is utterly spell-binding. (There's a rather nice tribute to the man in the extra features as well …but more on that later).
It was released in 1949, a bumper year for Ealing Studios who had also taken a huge gamble with a new Director on 'Whisky Galore' which had paid off - and then some.
Based on a novel by Roy Horniman, it was swiftly re-written to remove hints of antisemitism in the original and to become a British theatrical comedy, not to be taken too seriously but with deliciously dark undertones.
The film is neatly set up to enable us to sympathise (at least to begin with) with its murderous star. Like so much post-war comedy of the period, no opportunity to knock the absurdities of a dying class system were lost, and most the gentry in the film are portrayed as pompous asses whom the world wouldn't particularly miss.
Louis Mazzini's (Price's) mum was a D'Ascoyne but she saw fit to run off with a poor but earnest opera singer and was promptly disowned by the rest of the family. When she is taken ill she is even denied her dying wish - to be buried in the family crypt. Louis vows to take revenge.
Further cruelties are wreaked upon poor Louis before he starts his killing spree in earnest. He is in love with a childhood friend, Sibella (played to perfection by Joan Greenwood) though she sees him as below her class. He is also insulted by one of the D'Ascoyne family when serving in a department store which he finds belittling and infuriating, causing him to lose his temper, along with his job. So he sets about be ridding himself of the entire family, with a clear goal in mind. To inherit the entire estate.
As he climbs the social ladder, often befriending the D'Ascoyne he is about to dispose of, he strikes up an affair with the wicked Sibella, as well as courting the wife of one of his victims, the terribly prim and proper Edith D'Ascoyne (Valerie Hobson).
It's all superbly played out and perfectly cast. Even minor characters like the executioner (Miles Malleson) are sublime. Guinness is predictably good as the eight victims, including one lady where he takes it so hammily close to music hall that it almost tilts to the absurd, but not quite. Price holds it all together beautifully as the confident charmer, never phased and singularly determined. His refined manners are even retained throughout the course of his 'last meal'.
The plots twists and turns and the slightly longer length of the film (1 hour 40 minutes) compared to standard Ealing fayre (80 minutes) whistles by.
Naturally there is a superb twist at the end of the tale which leaves the audience wondering whether he got away with it - though in the states such lack of resolution was not on, and an alternate ending was cut to make the point that he most certainly did not.
The anoraks amongst us will revel at spotting a very youthful Arthur Lowe in the last few moments of the film as a cub reporter. It's a one line blink and you'll miss it role so keep 'em peeled.
Many of the special features here are ported over from the Optimum release, though there are one or two new featurettes.
Once More with Ealing
- is a brand new featurette including interviews with filmmakers Whit Stillman, Paul King, Stephen Woolley and critic Peter Bradshaw discussing their love for Ealing and the brilliant legacy of Kind Hearts & Coronets. The interviews vary in technical quality (surprisingly as it is all recently shot) with one interview in particular sounding distant miked and somewhat echoey. It shouldn't spoil your enjoyment too much though and the overall enthusiasm for the film is positively infectious.
BFI's Introducing Ealing Studios
, a brand-new short piece featuring writer and broadcaster Matthew Sweet who fills in plenty of historic background on the workings of the studio and with a firm focus on the studio's success.
There is another ported over documentary called
'British Faces: Dennis Price'
focusing on the up and down career of Denis Price with lots of clips (including a sublime one from the Boulting Brother's later film, 'A School for Scoundrels' where Price plays an oily car sales person).
There is an informative
audio Commentary
with Ealing Studio experts Terence Davies and Peter Bradshaw along with Matthew Guinness, son of Alec.
The extras are rounded up with the
Alternate US Ending
and associated commentary; an enthusiastic
introduction to the film by film-fan, John Landis
; and
Behind the Scenes and Costume galleries.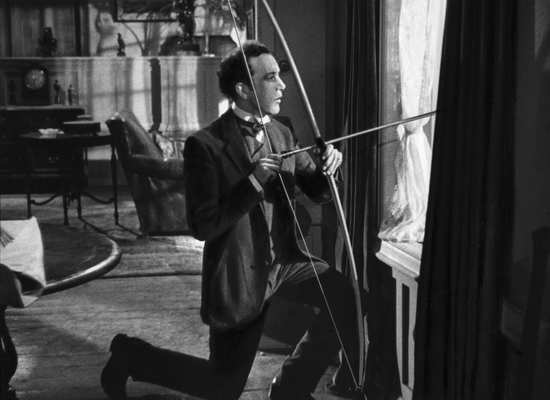 The 35mm nitrate original negative of Kind Hearts & Coronets was scanned in 4K resolution at 16bit by the BFI archive. The resulting files were sent to Silver Salt Restoration, for restoration and colour grading. Extensive manual correction was carried out on a frame by frame basis to fix large dirt debris, warping, tears, scuffs and scratches. It was colour corrected by Senior Colourist, Steve Bearman. It looks stunning.
All in all this an absolute no brainer. You simply have to buy it.