Le Crime de Monsieur Lange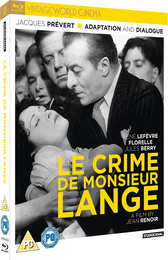 Certificate: PG
Running Time: 80 mins
Retail Price:
Release Date: 27/08/2018
Content Type: Movie
Synopsis:
A breath-taking restoration of Jean Renoir's lesser-known masterpiece, the social commentary LE CRIME DE MONSIEUR LANGE, enjoysa debut release on EST, DVD and Blu-ray.

One of Jean Renoir's earlier films, LE CRIME DE MONSIEUR LANGE is truly a hidden gem. This brand-new restoration thrusts the film into the limelight for cinephiles across the UK, showcasing the brilliance of the great French Director's social commentary, which was heavily influenced by the French political spirit of the 1930s.

Originally released in 1936, LE CRIME DE MONSIEUR LANGE preceded Renoir's critically adored La Grande Illusion (1937) and The Rules of the Game (1939), which are widely cited by critics as among the greatest films ever made.

Monsieur Lange (René Lefèvre) is a publishing house clerk who writes cheap Western novels in his spare time. When his untrustworthy, salacious boss, Batala (Jules Berry, Le Jour Se Lève) avoids his debt collectors by pretending to be dead, Lange and his co-workers take over the business themselves and thrive on the popularity of Lange's pulp stories. That is until Batala returns to demand his share of the profits. Meanwhile Lange falls deeply in love with his neighbour Valentine, portrayed gloriously by the mesmerising Florelle.

Directed and co-written by Renoir, LE CRIME DE MONSIEUR LANGE's story is adapted by another great of French cinema, Jacques Prévert (Quai des Brumes, Le Jour se Léve), and boasts a nuanced leading performance by Lefèvre.
Special Features:
Featuring a half hour featurette exploring the film's relationship with the wider political landscape in 1930s France, the release of LE CRIME DE MONSIEUR LANGE marks a great opportunity for film-lovers across the country to dig deeper into the remarkable filmography of the great Jean Renoir.

Video Tracks:
Original aspect ratio: 1.37:1 Black and White

Audio Tracks:
Mono French

Subtitle Tracks:
English

Directed By:
Jean Renoir

Written By:
Jean Renoir
Jacques Prévert
Jean Castanier

Starring:
René Lefèvre
Jules Berry
Florelle
Marcel Lévesque
Odette Talazac
Henri Guisol

Soundtrack By:
Joseph Kosma

Director of Photography:
Jean Bachelet

Editor:
Marthe Huguet

Production Designer:
Maurice Blondeau

Producer:
André Halley des Fontaines

Distributor:
Studiocanal