You Were Never Really Here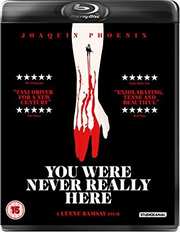 Certificate: 15
Running Time: 90 Mins
Retail Price: £14.99
Release Date: 02/07/2018
Content Type: Movie
Synopsis:
A tormented but brutal hired gun sets out to rescue a young girl from a sex ring, only to find himself weathering a storm of violent vengeance when matters go awry.

Joaquin Phoenix stars in this thriller written and directed by Lynne Ramsay. Based on the novella by Jonathan Ames, the film follows Joe (Phoenix), a former soldier and now ruthless hitman who is employed by ambitious politician Senator Votto (Alex Manette) to find his missing teenage daughter Nina (Ekaterina Samsonov) and punish those responsible for her disappearance. After discovering Nina has been lured into a notorious New York prostitution ring, Joe sets out on a dangerous rescue mission in an attempt to bring her home. The cast also includes Alessandro Nivola and Judith Roberts.

Winner at Cannes for Best Actor and Best Screenplay it is a film that begs to be watched and talked about.
Special Features:
You Were Never Really Here: 'From Book To Film'

Related Websites:
http://www.studiocanal.co.uk/AtHome

Directed By:
Lynne Ramsay

Written By:
Lynne Ramsay

Starring:
Joaquin Phoenix
Ekaterina Samsonov
Alex Manette
John Doman
Judith Roberts