Review for Red Data Girl
Introduction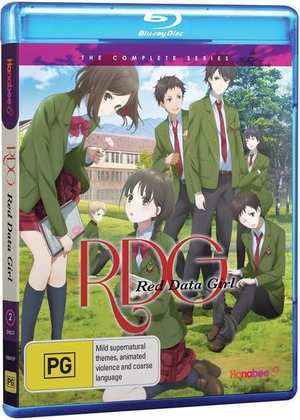 Anime production companies can quickly gain reputations with the shows that they make, the quality of the work that they do, and when it comes to production values, you'd expect distributors to do those titles justice. Take P.A. Works for example. They have built up a reputation for quality storytelling enhanced by visual excellence. They're on a par with KyoAni when it comes to eye-candy, and having watched, and bought shows like Angel Beats, Hanasaku Iroha, A Lull in the Sea, The Eccentric Family, and Shirobako, I've made certain to tune into each new title from them as it streams, or as close to simulcast as I can manage. I have also made the time, and space on my shelves to get those P.A. Works titles that I mentioned on Blu-ray, to get them looking as fine as they can.
So when Funimation licensed P.A. Works' Red Data Girl, I was fully expecting them to give it the proper, high definition treatment, so you can imagine my surprise when they released it as DVD only. Thankfully, saner heads have prevailed in Australia, where Hanabee have released Red Data Girl on the Blu-ray it deserves. You will however have to forego the Funimation extras (although given that they are Funimation audio commentaries, it makes the Hanabee release a win-win situation).
Izumiko Suzuhara has had an isolated upbringing. Her parents have been mostly absent, so she's been raised by her grandparents at a mountain shrine, and attends a local, country school. She's been told that she has a special destiny, although details have not been forthcoming, and indeed the only thing special about her seems to be her ability to destroy modern technology at a touch.
But she does indeed have a special destiny, one defined by her ability to host divine spirits, or rather one divine spirit in particular. It's a trait that attracts a lot of the wrong attention, and so it is that her estranged childhood friend Miyuki Sagara, a trainee monk is assigned as her protector. It's hate at first sight at their reunion but when the gravity of their situation becomes clear, they wind up transferring to Houjou Academy in the city. But this Tokyo school caters for a special kind of student.
12 episodes of Red Data Girl are presented across two Blu-ray discs from Hanabee. They have also released the show on DVD.
Disc 1
1. The First Transfer Student
2. The First Palm of Someone's Hand
3. My First Familiar
4. My First Roommate
5. My First Makeup
6. My First Slumber Party
7. My First Time Getting Lost
8. My First Wish
Disc 2
9. My First Debut
10. My First School Festival
11. My First Rejection
12. World Heritage Girl
Picture
Red Data Girl gets a 1.78:1 widescreen 1080p transfer. It's a fine transfer, clear and sharp throughout with strong and consistent colours. Playback is smooth, and the animation comes across without aliasing, compression or even digital banding to my eye. It's an impeccable transfer of a modern anime series. Once again, P.A. Works deliver something special when it comes to character designs, world design, and the quality and depth of the animation. While the characters are industry generic in style, they are memorable enough, and they excel in motion. The special effects for this supernatural show are also very effective, and there is that inherent prettiness to the show.
Sound
You have the choice between PCM 2.0 Stereo English and Japanese, with the choice between subtitles and a signs only track for either audio option. But the selection is locked during playback, so there's no way of turning the subtitle stream off completely. I went with the Japanese option, which was fine, the dialogue was clear, the subtitles accurately timed and free of typos. The actors suit their characters, and the action and music comes across well even with just a stereo track. I gave the dub a quick try and it was just as agreeable.
Extras
You get 2 discs in a BD Amaray, with one held on a central hinged panel. The inner sleeve offers some more character art and an episode listing.
The discs boot to an animated image slideshow menu.
Disc 2 has trailers for Little Busters!, Patema Inverted, and Girls und Panzer, and that's your lot. If you want dub commentaries and textless credits, the US DVD release is your only option.
Conclusion
Studio P.A. Works shows can be infuriating to stream from week to week, as they are just so beautiful to look at. They can be deceptively enticing, and with a week's delay you can fool yourself into thinking that they are as good as they look, as the weaknesses of a particular episode subside in your mind in the interim. When you come to watch those same shows on disc in marathon form, over the period of a few days, those blinkers fall away, and you get to see the show as it actually is. That happened to me when I re-watched Glasslip on DVD, and it's happened to me again with Red Data Girl. Actually the fall was a little worse, given that Red Data Girl was streamed to the U.K. on the euphemistically dubbed Anime on Delay service, making watching a 12 episode series a 20 week chore.
Red Data Girl when streamed was the usual P.A. Works prettiness, and it was interesting enough to watch in the moment, as continuity was left to the whim of the schedule. But something didn't seem quite right with the show, and it never really ranked among my must-have, or must-re-watch titles. It's only the benefit of a generous sale discount, and the fact that this Blu-ray is a Region B exclusive that tempted me. And having now re-watched Red Data Girl's twelve episodes in close order, I can say that it's not very good at all. In fact, it's the worst possible of all options. It's not great, and neither is it spectacularly bad in a noteworthy sense. Red Data Girl is just dull.
It shouldn't be. After all it's got all sorts of supernatural shenanigans, it's got mystery and intrigue, and it's got the kind of mutually antagonistic central pairing that should bode serious romance as the story unfolds. But Red Data Girl squanders all of this potential on wayward, slap-dash storytelling that has no strength, no narrative core to it. It's a shame as the start of the show is strong. We meet the main character, Izumiko, living in a mountain shrine in an isolated community, unaware of her destiny, her power, or what the world has in store for her. All that she wants to be is normal, and having technology simply fail at her touch is abnormal enough.
It's when it is revealed that she is the vessel for a goddess, the Himegami that things get complicated. She wants to stay in the village; her parents want her to go to school in Tokyo, and then a boy named Miyuki Sagara arrives, who is meant to be her servant. They were childhood 'friends' when Miyuki tormented her as boys are wont to do. But now that they've been reunited, it seems that he hasn't changed. It's an interesting relationship dynamic that is set up, and which does develop over the next three episodes, as Izumiko and Miyuki explore just what Izumiko is, and just what the Himegami is.
This has the potential for developing into a strong, interesting character story, but then all of a sudden, the show undertakes a genre shift, and becomes another high school anime, only this boarding school is a special one for the supernaturally afflicted teenagers. Suddenly it seems that Izumiko and Miyuki are guest stars in their own anime, which is more interested in the confrontation between triplets Mayura, Manatsu and Masumi (the latter being a ghost) and their rivalry with Onmyouji Takanayagi, as well as the usual student council shenanigans.
It's also throwing in more and more supernatural elements as the show progresses, and while the first three episodes concentrate on potential goddess Izumiko/Himegami, mountain monk Miyuki, and Izumiko's familiar Wamiya, once they get to the school, we have onmyouji mystics and their shikigami, other monks and priests, and their tame spirits, we have ninja, we have ghosts, we have time travel, we have parallel worlds and so on and so forth. It's like a cat playing with each new idea until it gets bored, unceremoniously drops it, and then moves onto the next one.
As a result, the story never really develops, the characters never grip you, and when it's all over, you're left wondering whether anything worthwhile actually happened in the show. The deflating answer is inevitable; not very much at all. Red Data Girl is boring. Red Data Girl is a show that never figured out what it wanted to be. Red Data Girl looks damned pretty on Blu-ray, but that is all you're going to get here.