Haganai NEXT: Season Two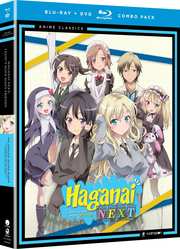 Together. Forever. Alone.
Certificate:
Running Time: 290 mins
Retail Price: $49.98
Release Date: 2016
Content Type: TV Series
Synopsis:
To: The Neighbors Club

From: Student Council Reps

Re: Club Guidelines

It has come to our attention that your club, officially formed with the goal of making friends, has been taking part in questionable behaviors on campus. We'd like to remind you that none of the following are approved club activities:


Stalking (especially taking candid photos of your peers)
Playing inappropriate video games
Watching anime involving adult themes
The creation of time machines
While we applaud your creative efforts in making a movie about intergalactic samurai robot wars, please note that the costumes do not fit our dress code. In addition, we have reports of brewing drama between Yozora and Sena regarding Kodaka including the fact that an engagement has taken place. Please fill out required paperwork if the chapel needs to be reserved.
Special Features:
Episode 7 Commentary
Episode 12 Video Commentary
Episode 11 Commentary
"Black Dragon" The Cries of the Damned
Blu-ray & DVD Spots
TV Spots
Promo Video
Textless Opening Song "Be My Friend"
Textless Closing Song "Bokura no Tsubasa"
US Trailers
Trailers

Video Tracks:
1.78:1 widesceen 1080p

Audio Tracks:
Dolby TrueHD 5.1 Surround English
Dolby TrueHD 2.0 Stereo Japanese

Subtitle Tracks:
English

Directed By:
Hisashi Saito

Written By:
Yomi Hirasaka
Tatsuhiko Urahata

Starring:
Kanae Ito
Marina Inoue
Ryohei Kimura
Kana Hanazawa
Misato Fukuen
Nozomi Yamamoto
Yuka Iguchi
Jad Saxton
Jerry Jewell
Whitney Rodgers
Alexis Tipton
Alison Viktorin
Ashleigh Domangue
Kristi Kang

Music From:
H-moT[at]kc (F.M.F)

Editor:
Syota Migiyama

Producer:
Keisuke Futami
Kentaro Iwasa
Satoshi Tanaka
Takeshi Tanaka
Takeya Kinbara
Tatsuhiro Nitta

Distributor:
Funimation