Review for Monster Hunt
Introduction
The first thing that I did after watching Monster Hunt was check the rating at the BBFC website. It's a kids' movie after all, but the problem is that what one culture considers suitable for children, often falls afoul of the BBFC or OFCOM, simply because we might think that certain content is too extreme for young minds. Take films like K-20, or the second Kitaro movie, films aimed securely at the younger demographic, but which in the UK get rated 12. Thankfully Monster Hunt gets the more family friendly PG rating in the UK, and its target audience won't be denied a chance to see it just because it has some action packed wuxia kung fu sequences, and in one scene a monster baby gets deep fried (It's just like that Spooks episode).
Manga Entertainment finished off 2017 with one of their biggest live action releases to date, with Shin Godzilla, and they actually go even bigger to start off 2018, with probably the biggest live action movie you've never heard of. Certainly I hadn't heard of Monster Hunt before the chance came up to review it, but reading up at the IMDB (so it's got to be true), it turns out that when Monster Hunt was released in 2015, it became the highest grossing Chinese film of all time, a record which lasted until 2016. With that kind of reputation, it's a film that's worthy of attention.
Long ago, humans co-existed with monsters, but following a war, the monsters were driven out, exiled to their own land. As the story begins, there has just been a civil war in the monster kingdom, and the Monster King has been overthrown. The new Monster King is tying up loose ends, which includes hunting down and killing the pregnant Monster Queen. The Queen makes it to a human village, which is how the crippled, hen-pecked village mayor Tianyin winds up pregnant with a monster egg.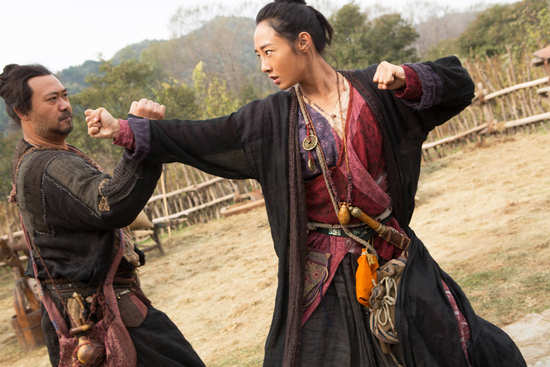 Tianyin now bears the fate of two worlds, but the corrupt merchant Qianhu Ge has come up with a new business model for the country's monster hunters, who had been down on their luck following the end of the previous war. And the only unlikely help that Tianyin has is the obnoxious Xiaolan Huo, herself a monster hunter. Her plan is to wait for the egg to hatch and sell the baby monster for a profit, but the little baby Wuba is endearingly cute, when he isn't suckling blood.
The Disc
Monster Hunt gets a 2.35:1 widescreen 1080p presentation, with the choice of PCM 2.0 or DTS-HD MA 5.1 Surround Mandarin, with optional English subtitles. It's a splendid presentation of a recent film. The image is clear and sharp, with bold, bright colours, and smooth playback. There is no problem visible with regards to compression or the like, while shadow detail is good and well defined. The audio gives an impressive surround experience, putting you in the middle of the action, making the monsters really come to life. The dialogue is clear and the subtitles are accurately timed. The fact that this is a children's film is surely emphasised by the adorable cutesy designs that the monsters get, even the big scary ones. There's also a lot of CGI put to use creating mediaeval China, its towns and cities. The sole extras on this disc are the 2 minute long trailer, and the 1½ minute long making of, which offers multilingual sound-bites from the crew.
The images in this review were kindly supplied by Manga Entertainment.
Conclusion
Monster Hunt is a delightful comic fantasy adventure that plays to children of all ages, including this particular, middle aged child. That's not something I expected when I got my first look at the monsters in this particular movie, neon, plasticky CGI creations that barely fit into their environment, and look designed to sell as much tie-in merchandise as possible. Of course the point is to make them as adorable and as cute as possible, to take the sting and the peril out of the action scenes, and to capture the childlike imagination that dwells in all of us. And then when the monsters start singing, you learn that Monster Hunt is a musical as well! This film has broad audience appeal written all over, and I have to say that it works well.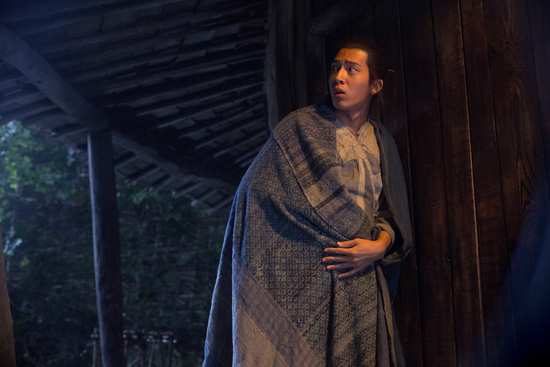 The film has a rich vein of absurdist humour running through it that appeals to the older 'children' in the audience, even as the cute monsters appeal to the actual target demographic. The hero of the piece, Tianyin is a case in point. When we meet him, he's browbeaten, hen-pecked and put to work by the elder women in the village. And then we learn that he's the village mayor. His father was a monster hunter who left him there with his grandmother, with his last words an admonition to look after the village. Tianyin's grandmother is dotty, scatterbrained, wields a rusty sword, and tries to pass on all manner of fighting lore to her lame grandson.
So he's ill prepared when a couple of monsters in human disguise enter his inn, and he's even less prepared for the monster hunter Xiaolan to walk in and unleash havoc, trying and failing to capture her prey. She has a rival monster hunter who keeps snagging her quarry, and with whom she has a constant battle of wits and one-upmanship. But nothing can prepare Tianyin for the dying Monster Queen begging him to save her child, and implanting her egg into him. Seeing her quarry taken, Xiaolan decides her next best earning opportunity is the egg, and waiting for it to hatch would yield a nice monster baby to sell. She takes advantage of Tianyin, persuades him to accompany her to the city, and so begins their journey, over which time their relationship develops, as well as comic thread about male pregnancy.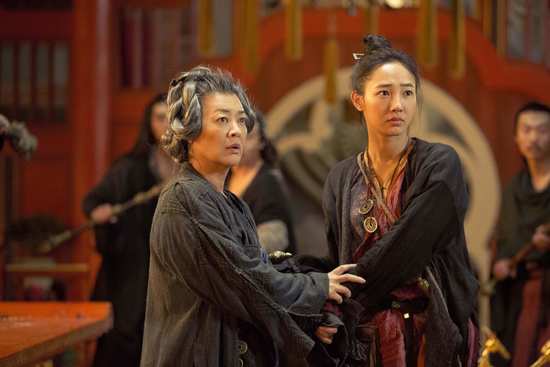 Of course Tianyin eventually 'gives birth' to Wubo, a little daikon radish of a monster who's as cute as a button, and delightfully mischievous. And as is the matter in such films, as Tianyin and Xiaolan bond with Wubo, the question becomes one of whether they will claim the reward or if they'll protect their surrogate child. Of course it's not that easy, with an evil merchant having discovered a new market, having opened a monster restaurant for select human clientele, and putting monster hunters to work to source the best ingredients. The child of the Monster King would be a special delicacy indeed.
The themes and the story are as simplistic as you would expect from a family film, but the story is put together well, the action is choreographed with the usual precision and flair applied to Wuxia cinema, and the film's sense of humour is rich and fulfilling. The only problem is that it lacks the English dub that would most benefit the target demographic in this country, but older children more accustomed to subtitles will have a blast.