The Party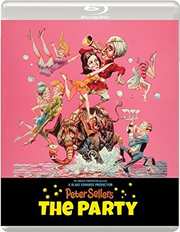 Certificate: PG
Running Time: 99 Mins
Retail Price: £11.99
Release Date: 16/10/2017
Content Type: Movie
Synopsis:
With the massive success of Breakfast at Tiffany's and The Pink Panther cementing his reputation as one of America's finest directors of comedic cinema, Blake Edwards followed them up with The Party, arguably his greatest film, and at the time one of the most experimental films ever produced by a Hollywood studio.

By a twist of fate, the clumsy but good-hearted, aspiring actor Hrundi V. Bakshi (Peter Sellers, The Pink Panther, Dr. Strangelove) is invited to attend Fred "General" Clutterbuck's big party, after having utterly ruined the set of his latest feature film. In this cozy and friendly atmosphere, drinks are flowing, food is in abundance and everybody is in high spirits. But when Bakshi accidentally has his first-ever sip of alcohol and his real identity is finally revealed; only God knows how this party is going to end up.

Serving as a series of set pieces for Seller's improvisational comedy talents, The Party developed a reputation over the years as a "cult film", but is now highly regarded as one of the best comedies of its era. Eureka Classics is proud to present the film on Blu-ray for the first time in the UK.
Special Features:
Gorgeous 1080p presentation of the film on Blu-ray
Original stereo PCM soundtrack
Optional English SDH subtitles
The Party Revolution (16 mins) - a video piece on the groundbreaking filming methods used in the films production
Inside The Party (24 mins) - A behind the scenes look at the making of the film
Blake Edwards profile
Walter Mirisch Profile
Ken Wales Profile
Original theatrical trailer

Related Websites:
https://www.eurekavideo.co.uk/classics/party

Distributor:
Eureka Entertainment Ltd