Review for Lubitsch in Berlin: The Masters of Cinema Series
Most folk (like me) will associate the name of Ernst Lubitsch as the director of Hollywood classics like the fantastic 'Heaven Can Wait' and 'The Shop Around the Corner'. But like many pre-war émigrés, especially those welcomed with open arms by US studios, he had already enjoyed a sparkling career in Germany prior to his leaving in 1923, both as an actor and as an extremely able and popular director of the silent era. Although most the films in this set, primarily feature-length works, are nearing their 100th anniversary, they're really easy to watch and a lot of fun. Indeed, the more comedic among them are pretty cheeky, even by today's standards.
This set, a Blu-ray upgrade to Eureka Masters of Cinema's previous DVD edition, contains no less than five of his films, along with an excellent feature length documentary. This isn't just an upgraded high definition transfer of that previous set, but actually upgrades a couple of the films to newly restored versions too, work undertaken since the previously released edition.
So here's what you get…
Ich Mochte Kein Mann Sein

[aka I Wouldn't Like to Be a Man]

(1918)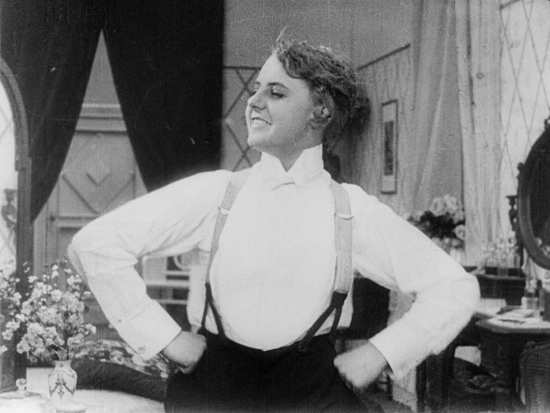 This incredibly forward looking gender bending romps was one of the first collaborations between Lubitsch and actress Ossi Oswalda who went on to appear in many of his films. She's a highly expressive actress with tons of attitude but, like many of the troupe, no great looker. Although a comedy (and it does have some laugh aloud moments) it's somewhat more than that and seems years ahead of its time in its questioning of gender stereotypes. The impish daughter of a wealthy businessman, who is somewhat prone to smoking and playing cards with the local lads, gets her comeuppance when a strict new guardian steps in. She soon gets the better of hom when she discovers him chasing girls at a local ball she has attended in the guise of a man. They have a few laughs together over lost loves and, after getting near paralytic, end up together with she revealing her true gender. Only in 20's Berlin! It's the shortest of all the films here at just about an hour and is certainly an hour well spent.
Die Puppe

[aka The Doll]

(1919)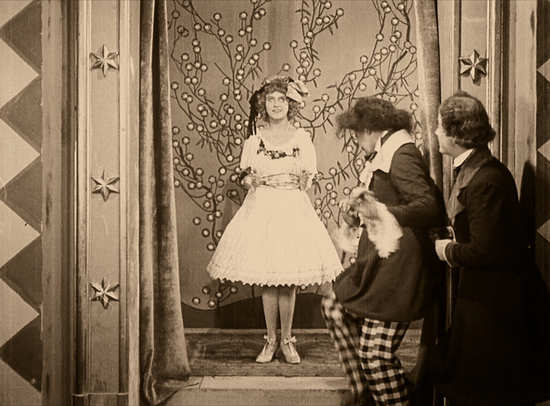 Another strangely prescient addition, despite being 100 years old, is 'The Doll' - "Four amusing acts from a toy-chest". Watched from the perspective of the 21st Century, with robots and AI becoming a present reality, the plot here doesn't seem as fanciful as perhaps it did in 1919. Once again, Lubitsch plays with hidden identity in what can probably be described as a 'sex comedy'. Ossi Oswalda is back and this time stars as both the daughter of a mechanical doll-maker and as one of his dolls, created in her image. When a wealthy baron decrees that his nephew will inherit his fortune as long as he marries, the poor young man is besieged with unwelcome offers. He retreats to a local monastery where, in order to get their hands on his loot, the monks persuade him to marry a mechanical doll. You can probably guess what happens next. The daughter steps in, pretending to be the doll, marries the nephew and all is eventually revealed. There are some very ribald moments ('As long as you oil her twice a week she'll be happy' etc) and the film, whilst a tad long, is a lot of fun.  
Die Austrenprinzessin

[aka The Oyster Princess]

(1919)

As Die Austernprinzessin, Ossi Oswalda appears yet again as a wealthy man's spoiled daughter, heiress of a global oyster empire, in search of the perfect man. Tantrum after tantrum follow, with her Father's deadpan reactions providing much of the humour. Whilst the narrative is thin, the laughs along the way are plentiful and it's way more risqué than you would imagine a film of this vintage would be. It appears that our generation didn't invent sex after all.
Sumurun (1920)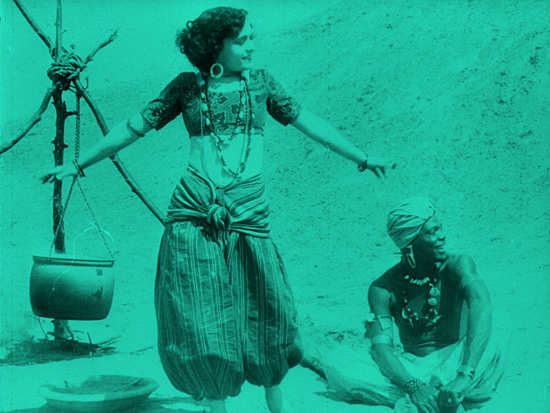 The lengthy Sumurun is a fabulously entertaining film, full of comedy, drama and the grotesque (including Lubitsch himself as a leering hunchbacked circus minstrel). It has an Arabian Nights with some of the scenes nudging the edges of Fritz Lang style epic proportions with hundreds of extras in the open-air sequences. The romantic element is strong and it's easy to imagine how potent a formula this would have been to cinema going audiences at the time – which was reflected in the enormous success of the film.
Anne Boleyn (1920)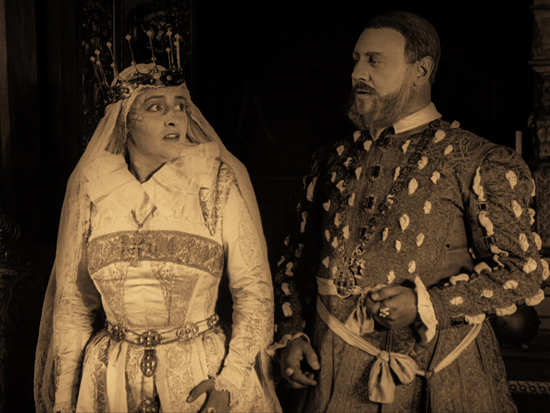 My least favourite of the collection, though just because I'm no lover of this type of historic melodrama, has Emil Jannings playing King Henry VIII in the story of Anne Boleyn's tragic rise and fall – with the inevitably tragic ending. Starting with Boleyn's arrival on British shores, it's a relatively faithful re-telling of the story and it achieves a marked sense of dread as the film moves into its final chapter. A fine film – just not quite my cup of tea, and somewhat serious after all the fun of the previous three.
Die Bergkatze

[aka The Mountain-Lion / The Wildcat]

(1921)


'Die Bergkatze' is brilliant in portraying a wild, almost lawless kingdom of Lubitsch's making. Again, the film combines plenty of comedy with high adventure and results in a wildly entertaining 90 minute feature. Pola Negri plays the wild daughter of the head of a lawless band of thieves who have been terrorising the neighbourhood. A local army outpost has been given the task of eliminating them. When a Casanova-like soldier is posted there as punishment, after hilarious scenes of his leaving his previous city with hundreds of women weeping and crowds of children waving flags saying 'Bye Dad', he is caught by the daughter as he crosses the plains and stripped of his uniform. Being the louche he is, he makes a pass at the girl, who rebuffs him immediately – clearly something new to him, and he is immediately attracted to her. For her part, she finds a photo of him in his pocket and, kissing it, hangs it on the wall of her tent, clearly now in love. What follows is a series of high farce, with the commander of the outpost determined to secure the young soldier for his own daughter, whilst the battle with the thieves rages on. Surely love would be impossible in such circumstances? I won't spoil the outcome but it won't come as any surprise!
Finally, the set includes a feature length documentary from 2006 by Robert Fischer,
'Ernst Lubitsch in Berlin: From Schönhauser Allee to Hollywood'
. Running for the best part of two hours and made up of interviews with surviving relatives and ex-collagues, as well as copious cutaway footage from his many films and archive photography. It tells the tale of the hyper-active son of a Jewish tailor, living Belin and who got the actor's bug – despite his somewhat unusual appearance. It then traces his move into directing, from the silent era In Berlin to the USA into the early talkies, where Lubitsch really came into his own. Well worth watching but probably not until you've watched all the films in this set. To be fair, it's positioned as the last film in the set.
There are exclusive scores for each of the silent features, which all work extremely well, as well as a tasty booklet with notes on all six films by film writers like David Cairns (who I always enjoy on audio commentaries when he does them), Anna Thorngate, and Ignatiy Vishnevetsky
'Lubistch in Berlin' on Blu-Ray really is a top notch set and well worth picking up.
If, like me, you already have the DVD set, it's probably not worth a double-dip though there is definitely a noticeable uplift in quality, which you would expect. If you haven't got that, and are interested in silent era films, then this set is highly recommended. Who knew that 100-year old films could be this much fun?