Review for The Endless Summer
Somebody somewhere (on the extra features in this set) hit the nail on the head when they suggested that the immense popularity of 'The Endless Summer' can be put down to the fact that you really don't need to be a surfer to appreciate it. It's a beautifully shot film which not only has lots of immensely entertaining surf footage (of the 'how the hell do they stay upright' variety) but it reflects a highly appealing, alternate lifestyle where the only important things are man and nature.
Bruce Brown had already made a number of surfing documentaries by the time he got to this career peaking feature ('Slippery When Wet'). Frustrated by the sudden glut of teen surf movies in the early 1960's he was determined to capture the essence of this fast-emerging sport, as well as some of its finest participants. The Californian scene, along with Hawaii, had been pretty well covered; not only by Brown but by other young film-makers too. As an adept surfer himself, Brown knew that if he was to make the definitive film then it would have to involve a voyage of discovery in areas not covered by his nearest competitors.
So he had the idea of chasing the sun around the world in an 'Endless Summer' of surfing fun. Getting some sponsorship from local surf-board manufacturers he invited fellow surfers and local surf heroes, Mike Hynson and Robert August along for a year long trip to find the perfect wave. He would join in but would also film, edit, narrate and release the film.
'Endless Summer' has a period charm (shot in 1964 though not released until two years later), somewhat like a classic travelogue, albeit supported with some of the greatest surf footage shot to this very day. Some of its narration, particularly whilst in Africa, is a bit condescending in part but these were different times, and for the most part it remains good spirited fun.
It kicks off with about ten minutes of classic footage shot in California and Hawaii before diving into the real narrative, with the start of their year long trip – kicking off in West Africa. These were times long before Trip Advisor and much of the film is about discovery – random searches for good surf and a complete lack of knowledge about what might lie below the surface of any area surfed, adding to the excitement and tension throughout. Although there is almost no native audio (it's mainly music and Browns' narration) there is always enough going on to sustain interest. Even the most hardened critic would have to admit that some of the footage, set against beautiful setting suns, is just beautiful.
From West Africa, the journey takes them South to Lagos and then on to thousands of miles of beaches in South Africa, where they were able to do some of their finest surfing.
Australia provides some of the biggest thrills with beaches festooned with sharks anf good looking girls in the skimpiest bikinis – much to the obvious delight of Brown in his narration. 'Endless Summer' may be about surfing but it's also the ultimate road trip with room for romance and adventure along the way.
For surfer fans, there is plenty of technical narration too with Brown talking through a variety fo techniques and styles along the way.
The music is supplied by 'The Sandals', a pulled together collective specialising in laid-back surf instrumental as well as Ultra-Lounge style Tiki music and romantic African percussion – heady stuff and oh-so 60's; you'll love it!
Mike and Robert prove to be brilliant company, never passing up any opportunity to surf and their golden-tanned presence throughout is one of the film's most endearing features.
The Blu-Ray transfer is impressive, certainly much better than any edition I have seen to date, though was all shot on 16mm Technicolor, not 35mm, so don't expect super high definition. The print used is in remarkably good shape too, with little sign of wear and tear.
Extra features are well worth a look, although there is always something spooky about fast-forwarding 50+ years and seeing both the director and one of the principal surfers, Mike, looking like old men – which of course they now are. It's a reminder though of just how old the film is and a credit to it that it remains so enjoyable and lauded by surf fans to this day.
Here is a complete list of what you can look forward to in the way of extra features – including a career spanning 60-minute plus feature on Bruce Brown's surf movies. Most the below are pretty straight-forward contemporary interview pieces, though there are also some deleted scenes.
·
Introduction by Bruce Brown
·
The Endless Summer Revisited
·
Directing The Endless Summer New interviews With Bruce Brown and Dana Brown
·
Producing The Endless Summer - New interview With Bob Bagley
·
Surfing The Endless Summer - New Interview With Mike Hynson
·
Bruce Brown Timeline
·
Artwork From Around The World
·
Limited Edition Exclusive 4 Production Stills Postcards
·
Dual Format features both Blu-ray and DVD presentations of the film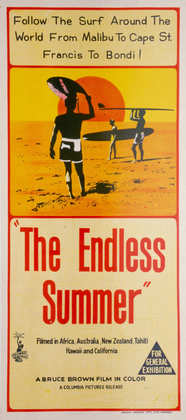 Everyone should see 'The Endless Summer' at least once. It's a fantastic documentary and a thoroughly enjoyable way to pass 90 minutes. For some, it has proven to be completely life-changing. Whatever the case, this splendid edition is well worth picking up and, of you're quick, you might even get one of the limited edition dual-format box sets with limited edition postcards. Recommended.