Review for Stalker (The Criterion Collection)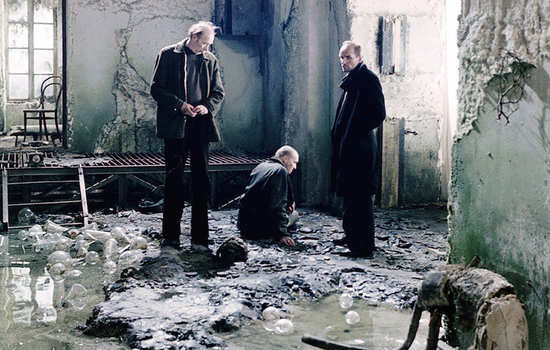 'Stalker' is an absolutely stunning film. I can say that again as I have now seen it twice in the space of about six months (when Artificial Eye released it in the UK). However, this is the first time I have seen in HD as the previous edition I viewed was a DVD, although a Blu-Ray was also available but not sent. I don't know how that edition compares with this suffice to say that this is a really top-notch transfer. That said, I suspect it may come from the same source as Artificial Eye's version so probably not worth a double-dip. Indeed, many of the extra features have been released on other Tarkovsky Criterion releases (Solaris) with just one 30-minute addition, filmed exclusively by Criterion for this release, which is quite excellent. But more on that later.
Watching the film again, I concur with my original opinion that this really is a great film. In fact, I enjoyed it even more a second time, and have adjusted my appraisal upward by a point as a result, to a perfect 10. What follows is pretty much a review ported over from my previous submission six months or so ago, with an update regarding extra features.
How I've managed to miss Director Andrei Tarkovsky's work until now is a complete mystery to me. Maybe I've subconsciously avoided his films, imagining them to be too 'difficult' or too Russian. I guess I hadn't realised what a stunning auteur the man is. Since watching 'Stalker', which blew me away, I've managed to watch another of his films and have every intention of tracking down as many as I can lay my hands on. (Note: I've also seen
Solaris
finally since penning this review, which was fantastic too). For me it feels like when you discover an unbelievably great band and you want to track down their entire back catalogue. To say I was impressed would be a gross understatement. By any yardstick you care to use, 'Stalker' is simply a great film. If you love great films, you have to see it.
'Stalker' (1979) was Winner of the Prize of the Ecumenical Jury at the Cannes Film Festival, that year and caused something of a sensation. Was it an art-film? Was it a dystopian sci-fi? Was it merely socio-political drama? Obviously it was all three and much besides.
When it started, in dark blue hues of cloudy blue and full frame (more or less), I wondered if it had been shot on video. Only later did it occur to me that, despite it's very low budget, it was probably 16mm. Yet despite this, or maybe because of it to some degree, it was so perfectly reflective of the mood of its subject matter. Long, lingering shots cleverly lit, perfectly composed as well as hopelessly ambitious, yet wonderfully executed, long tracking and crane shots where focus pulling must have been nightmare, reflecting the dark and foreboding, restless and nightmarish atmosphere of the film.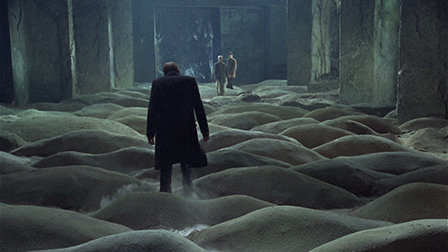 The film starts with some very depressing scenes when a man tells his clearly long-suffering wife (and their young daughter) that he has to leave again – to visit 'the zone'. As a self-confessed 'Stalker', this strange, haunted man (Aleksandr Kajdanovsky) just can't seem to shake off his need to re-visit a highly guarded, forbidden zone in his home country. Not only that, he's not alone. An alcoholic writer (Anatoli Solonitsyn) also feels compelled to take a trip – as does an unnamed Professor (Nikolai Grinko).
Meeting in a bar that would not look out of place in David Lynch's 'Eraserhead', they set off together – stepping into a highly guarded world that could be a that of some dystopian future, or perhaps just communist Russia. There is nothing that clearly gives the era away. 
Dodging many guards, they make their way through a barbed wire protected gateway and beyond, using a small rail carriage for the bulk of their journey, literally dodging bullets as they pass into the forbidden zone.
It seems that many years ago, a giant meteor fell to earth and its radiation killed off all life in the vicinity. Scientists were sent in to investigate, but they too never returned. So the army sealed off the whole area. Then the rumours started; Aliens had landed and there was now a place where people could go ('The Room') to get their wishes granted.
But something is driving this trio beyond rumour and superstition. They are each seeking some sort of genuine enlightenment on the human condition.
Although penning a summary of the narrative in this way does accurately represent the film in some regards, it does no service to its brilliance in other regards. It has a special, nightmarish ambience that needs to be seen and which defies description. Using a combination of perfectly framed and often moving shots, Tarkovsky brilliant mixes in music and ambient effects to create a truly unsettling experience. The film runs for almost three hours and yet, even mid-way through a ten minute reflective sequence, it never feels slow or tough to watch.
Lots of visual, almost painterly effects are used where images are completely de-saturated and flashes of autumnal sunlight break through the gloom as the camera tracks over a series of objects partially submerged in a stream for example. Utterly beautiful in some ways, and yet unsettling and dark too.
Presented in an aspect ratio of 1.34:1, which is virtually full-screen, image quality is really excellent and has made me re-assess the notion that it might have been shot on 16mm (as stated earlier in the review ported over from a previous release).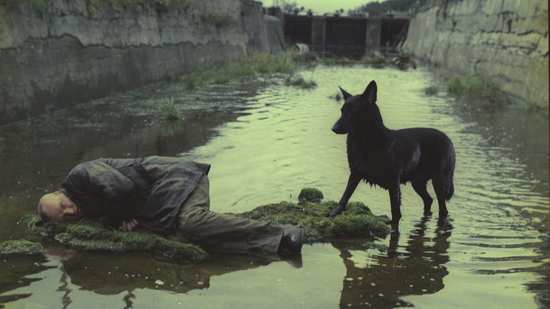 Extra features are really excellent, though some mirror those already released on Criterion's 'Solaris' – though, to be fair, as these are archival, why not?
There is a brand-new interview with Geoff Dyer, author of Zona: A Book About a Film About a Journey to a Room, which runs for almost 30 minutes, giving a highly personal account of his experience watching and enjoying Tarkovsky's work with the focus squarely on 'Stalker' which he has seen and enjoyed many, many times. His love for the work is utterly infectious and made me want to put the film on again, though I may wait a month or two for that.
Also included are 2002 interviews with cinematographer Alexander Knyazhinsky, set designer Rashit Safiullin, and composer Eduard Artemyev, all of whom share their unique experiences of working with Tarkosvsky, who, despite his general 'coldness' and seriousness, they all admire so absolutely. Things are topped off with a printed essay by critic Mark Le Fanu on the inner sleeve.
Highly, highly recommended and a film which will definitely get a second airing in my home at some point this year. (Update - It did!)