One-Eyed Jacks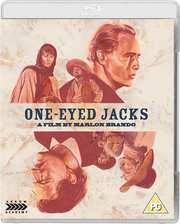 The motion picture that starts its own tradition of greatness.
Certificate: PG
Running Time: 141 mins
Retail Price: £24.99
Release Date: 2017
Content Type: Movie
Synopsis:
One-Eyed Jacks is a film with a troubled history. It was almost the feature debut of emerging television director Sam Peckinpah, who penned the original draft screenplay, and it was almost the only Western to be directed by Stanley Kubrick before he too left the project. The eventual director was Marlon Brando, stepping behind the camera for the first and only time.

Brando is Rio, a bank-robber who is double-crossed by his friend and mentor, Dad (Karl Malden). Rio is imprisoned for his role in the crime, but escapes with thoughts of revenge. He tracks down Dad only to find that, during those years spent behind bars, Dad has used his ill-gotten wealth to become the sheriff of Monterey...

A strange, baroque Western, One-Eyed Jacks met with bewilderment by critics and audiences upon release, but slowly developed a cult following despite a succession of below-par masters. Now, thanks to an outstanding new 4K restoration from Martin Scorsese's The Film Foundation, audiences can finally see the film as intended once again and recognise the masterpiece it always was.
Special Features:
Brand new audio commentary by Stephen Prince, author of Savage Cinema: Sam Peckinpah and the Rise of Ultraviolent Movies, recorded exclusively for this release.
Introduction by Martin Scorsese.
Marlon Brando: The Wild One, Paul Joyce s 1996 documentary on the actor, featuring interviews with Dennis Hopper, Shelley Winters, Martin Sheen and Anthony Hopkins.
Additional, previously unseen interview material from Marlon Brando: The Wild One with Francis Ford Coppola and Arthur Penn.
Theatrical trailer.
Reversible sleeve featuring original and newly commissioned artwork by Jacob Phillips.
FIRST PRESSING ONLY: Illustrated collector s booklet containing new writing on the film by Jason Wood and Filippo Ulivieri, Karl Malden on Marlon Brando, Paul Joyce on Marlon Brando: The Wild One and an excerpt from Stefan Kanfer s Somebody: The Reckless Life and Remarkable Career of Marlon Brando.

Video Tracks:
1.85:1 widescreen 1080p

Audio Tracks:
PCM 1.0 Mono English

Subtitle Tracks:
English

Directed By:
Marlon Brando

Written By:
Guy Trosper
Calder Willingham
Charles Neider

Starring:
Marlon Brando
Karl Malden
Katy Jurado
Ben Johnson
Slim Pickens
Larry Duran
Sam Gilman

Music From:
Hugo Friedhofer

Director of Photography:
Charles Lang

Editor:
Archie Marshek

Costume Designer:
Yvonne Wood

Producer:
Frank P. Rosenberg

Executive Producer:
Georges Glass
Walter Seltzer

Distributor:
Arrow Academy