Review for Mobile Suit Zeta Gundam Part 2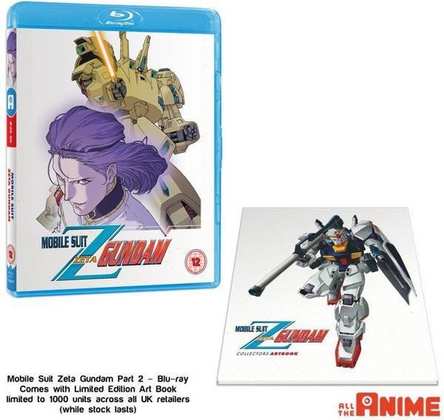 Have you ever walked into a cinema half-way through a film? I have and it's often remarkably easy to pick up what's going on. That's the experience I had joining 'Mobile Suit Zeta Gundam' at the half-way point with this Blu-Ray edition of the second-half of the series containing episode 26 all the way up to final episode 50. When resident anime expert, Jitendar Canth, confessed that his review pile was about to topple and invited me to pick this one up, I did so with open arms. After all, I'd enjoyed this series' predecessor immensely, condensed into three 'movies' (review
here
), with its fun stories, its epic scope and, perhaps best of all, its retro looking animation style.
Well, I'm pleased to say that, all that positivity remains pretty much intact on this sequel which was made five years after the previous series ended.
'Mobile Suit Zeta Gundam' was a 1985 TV series, the second installment in the Gundam franchise, and a sequel to the original Mobile Suit Gundam. Like that series, between 2005 and 2006, the series was condensed into a so-called movie trilogy, Mobile Suit Zeta Gundam: A New Translation.
The series is set eight years after the end of the first series (Universal Century 0087) and follows the AEUG (a rebel group called Anti-Earth Union Group) as they try and defeat the Titans, an elite force of the Earth Federation who have been tasked with hunting down Zeon remnants – which they do with ruthless vigour.
The story focuses on Kamille Bidan, a teenage civilian and occasional amateur mobile suit pilot whose parents work for the Earth Federation and the Titans. He is what is termed a 'new type' who has a natural psychic affinity with the armour suit.
From what I can glean about the first half of the series, it starts out being very much a sequel to the original series. So lots of the same characters popping up. But by the time you arrive at episode 26 (my entry point) there are lots of new characters aboard, as well as some complex plot twists and relationships that don't immediately make sense without the bridging episodes. But the great news is that, in the unlikely event you should choose to view the series from the half-way point, that almost every episode has some kind of self-contained action story which makes them hugely enjoyable regardless.
NOTE: OPENING SEQUENCE FOR ILLUSTRATION ONLY. NOT TAKEN FROM THIS BLU-RAY RELEASE
Having said that, as a result, the whole is actually not that much greater than the sum of its parts as one battle blurs to the next. But then who said this had to be anything more than lots of mecha fun, teenage tantrums and romance? Oh – and death. Lots of it. Including lots of characters very close to Kamille's heart. Though it may look like another 'Battle of the Planets' or 'Robotech' in its animation style, it ends up being much darker than that.
Things move along apace with lots of heavy character development and anything but normal relationships. To begin with, the first five or six episodes deliver plenty of action without really moving the story on a jot, but soon things tighten up and there is much to enjoy beyond explosions and mecha-on-mecha battling action.
I guess with anime, killing off characters isn't as painful to the cast as real-film, as many of seem to meet their end before the series is through. That makes for a slightly depressing air throughout (the near hopeless atmosphere reminded me of the Battlestar Galactica reboot – but don't ask me why), slightly odd for a teenage cartoon TV series. I won't spoil the ending here, suffice to say it may not be what you were expecting or had hoped for.
Kamille is the one constant and is consistently at the heart of very drama. He is consistently trying to help others like the brainwashed Rosamia or emotionally screwed-up Reccoa. There are moments when I thought the series was tipping towards some quite excellent gender equality, but this is consistently let down as one 'strong woman' after another turns out to be a delicate, emotionally unstable being after all. Oh well. This was the eighties.
There are tons of superb, almost Transformers-like suits of armour and weaponry throughout. I feel slightly guilty about enjoying all that stuff as much as I do but it's a lot of fun. There are suits which look almost insect like and suits that are just plain massive and which look utterly indestructible. So why aren't our armies using these today? I guess our Generals just haven't had time to watch this magnificent series.
Despite some simple animation (a little less so than its predecessor perhaps which was occasionally 'Pugwash' like in its simplicity), the series looks great on Blu-Ray and thankfully, is presented in its original 4:3 aspect ratio, so nothing of the original is lost.
One irritant is that the discs default to Japanese audio with French subtitles, which is curious, so if, like me, you want the English dub or even English subs, you have to do a set up first.
Apparently, the set comes with a limited-edition artwork booklet so if you hurry you might be able to snap one up.
I enjoyed 'Mobile Suite Zeta Gundam' very much, albeit only in the second half of its 50-episode run. In fact, so much that I added Part 1 to my wants list on Amazon so I daresay I'll be revisiting it one day. It has all the fun retro atmosphere of late seventies, early eighties anime (Battle of the Planets, Robotech etc) but also packs a much more serious, darker side that only becomes apparent when you get a number of episodes under your belt. For fans of Mecha action, you won't be disappointed. There are moments here that are like the (original animated) Transformers on acid, if you can imagine such a thing, and they are a lot of fun. The series, at 50 episodes, may seem a little longer than it needs to be, but overall, it's a really enjoyable slice of easy entertainment. Image quality is excellent here, as is the English dub (once you find it) so it has much to recommend it.