WWE: Wrestlemania Monday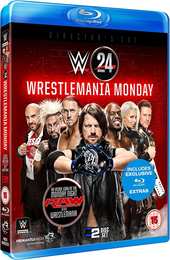 Certificate: 15
Running Time:
Retail Price: £23.99
Release Date: 03/04/2017
Content Type: TV Series
Synopsis:
The RAW after WrestleMania has become one of the most anticipated nights in sports entertainment. New Superstars emerge, familiar faces return, and the WWE Universe feels the fallout from The Showcase of the Immortals.

For the first time ever, get a behind-the-scenes look and follow both WWE Superstars and spectators alike as they experience one of WWE s most exciting events of the year.

Features 14 Matches and 11 Memorable Moments.

Blu-ray also includes 5 Bonus matches and 2 further Memorable Moments.
Special Features:
Matches and Extras

1995
WWE Women's Championship
Alundra Blayze vs. Bull Nakano

1995
Sid Betrays Shawn Michaels

1996
Mankind vs. Bob 'Spark Plug' Holly

1998
The Easy Way or The Hard Way

1998
X-Pac Returns and Joins D-Generation X

2000
European Championship
Chris Jericho vs. Eddie Guerrero

2002
nWo Betrays Hulk Hogan

2002
The Next Big Thing

2003
Eric Bischoff Fires Stone Cold Steve Austin... Again!

2003
World Tag Team Championship
Lance Storm and CHief Morley vs. Dudley Boyz vs. RVD and Kane

2003
Goldberg Debuts in WWE

2005
Intercontinental Championship
Shelton Benjamin vs. Chris Jericho vs. Christian

2007
Battle Royal for World Tag Team Championship

2008
Ric Flair's Retirement Speech

2009
Lumberjack Match for Unified Tag Team Championship
The Miz and Morrison vs. Carlito and Primo Colon

2011
The Rock Challenges John Cena

2012
Brock Lesnar's WWE Return

2013
World Heavyweight Championship
Alberto Del Rio vs. Dolph Ziggler

2013
Kofi Kingston vs. Fandango

2014
Ultimate Warrior's Final WWE Appearance

2014
WWE Divas Championship
AJ Lee vs. Paige

2015
Intercontinental Championship
Daniel Bryan vs. Dolph Ziggler

2015
United States Championship
John Cena vs. Dean Ambrose

2016
Intercontinental Championship
Zack Ryder vs. The Miz

2016
Fatal 4-Way for Number 1 Contender of WWE World Heavyweight Championship
AJ Styles vs. Chris Jericho vs. Kevin Owens vs. Cesaro


Blu-ray Exclusives:
1998
The Rock and Faarooq vs. Ken Shamrock and Steve Blackman

2006
World Tag Team Championship
Big Show and Kane vs. Spirit Squad

2009
Jeff hardy, CM Punk, Rey Mysterio, John Cena and Ricky 'The Dragon' Steamboat vs. Chris Jericho, Kane, Matt Hardy, Big Show and Edge.

2010
Shawn Michaels Retirement Speech

2013
Intercontinental Championship
The Miz vs. Wade Barrett

2014
Rusev vs. Zack Ryder

2016
Enzo and Big cass Debut in WWE

Related Websites:
https://www.wwedvd.co.uk/wrestlemania-monday-order-p-12348.html?osCsid=d0e33e729f429c26340f910feed0244d

Distributor:
Fremantle Home Entertainment