WWE- Diamond Dallas Page DDP Positively Living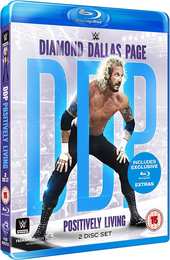 Certificate: 15
Running Time:
Retail Price: £23.99
Release Date: 27/03/2017
Content Type: TV Series
Synopsis:
Bang Bang!

Take a look at the career of 2017 WWE Hall of Famer Diamond Dallas Page. How he came into the business, finally entering the ring at the age of 35 when most Superstars' careers are ending and went on to become one of the most successful and popular stars of WCW.

See his rise through the ranks facing the likes of Macho Man Randy Savage, Sting, Goldberg and Ric Flair. His time in the WWE and also his innovative workout plan DDP Yoga which has gone on to be a worldwide phenomenon helping the likes of Scott Hall, Mick Foley, Jake Roberts and Chris Jericho.

This two disk Bluray looks at his best matches and moments from one of the most positive guys to ever step foot in the ring.

Bang!
Special Features:
Stories:
The Shore Town
Dallas' Girls
Jay Leno
Goldberg
Emotional Gravity
Giving Back The Money
Malone's Mom
Getting in Touch
Train Hopping
Don't Mess With Sally
High Stakes
DDP Tryout Reel

Matches:
World Championship Wrestling – 1991
The Diamond Exchange vs. Brian Lee & Chris Sullivan

Starrcade – 1991
Diamond Dallas Page & Mike Graham vs. Jushin Liger & Bill Kazmaier

World Championship Wrestling – 1992
Diamond Dallas Page & Cactus Jack vs. Dustin Rhodes & Barry Windham

WCW Saturday Night – 1992
Diamond Dallas Page, Vinnie Vegas, & Johnny Flamingo vs. Marcus Bagwell, Brad Armstrong, & Johnny B. Badd

Spring Stampede – 1994
Diamond Dallas Page vs. Johnny B. Badd

Starrcade – 1996 United States Championship Match
Diamond Dallas Page vs. Eddie Guerrero

Nitro – 1997
Diamond Dallas Page vs. Mark Starr

Spring Stampede – 1997
Diamond Dallas Page vs. Randy Savage

Nitro – 1997
Diamond Dallas Page vs. Hollywood Hulk Hogan

Starrcade – 1997 United States Championship Match
Diamond Dallas Page vs. Curt Hennig

Nitro – 1998 United States Championship Match
Diamond Dallas Page vs. Chris Jericho

Spring Stampede – 1998 Raven's Rules Match for the United States Championship
Diamond Dallas Page vs. Raven

Bash at the Beach – 1998
Diamond Dallas Page & Karl Malone vs. Hollywood Hulk Hogan & Dennis Rodman

Road Wild – 1998
Diamond Dallas Page & Jay Leno vs. Hollywood Hulk Hogan & Eric Bischoff

Halloween Havoc – 1998 WCW World Heavyweight Championship Match
Diamond Dallas Page vs. Goldberg

Nitro – 1998 United States Championship Match
Diamond Dallas Page vs. Bret Hart

Spring Stampede – 1999 Four Corners Match for the WCW World Heavyweight Championship
Diamond Dallas Page vs. Hollywood Hulk Hogan vs. Ric Flair vs. Sting

Nitro – 1999 WCW World Heavyweight Championship Match
Diamond Dallas Page vs. Sting

Nitro – 1999 No Disqualification Match for the WCW World Heavyweight Championship
Diamond Dallas Page vs. Kevin Nash vs. Goldberg vs. Sting

Nitro – 1999 WCW World Tag Team Title Match
Diamond Dallas Page & Bam Bam Bigelow vs. Raven & Saturn

WrestleMania X8 – 2002 WWE European Championship Match
Diamond Dallas Page vs. Christian

Blu-Ray Exclusives

Fall Brawl –1995 WCW Television Title Match
Diamond Dallas Page vs. The Renegade

Slamboree – 1996 Battlebowl Match
Diamond Dallas Page vs. The Barbarian vs. Earl Robert Eaton vs. Ice Train vs. Scott Norton vs. Rocco Rock vs. Johnny Grunge vs. Dick Slater

World War 3 – 1998 United States Championship Match
Diamond Dallas Page vs. Bret Hart

Starrcade – 1998
Diamond Dallas Page vs. The Giant

Nitro – 2000 Steel Cage Match for the WCW World Heavyweight Championship
Diamond Dallas Page vs. Jeff Jarrett

Raw – 2001 Diamond Dallas Page's WWE Debut The Stalker is Revealed

Related Websites:
https://www.wwedvd.co.uk/diamond-dallas-page-positively-living-order-p-12294.html?osCsid=a00f4a975064197907eef40777be6c35

Distributor:
Fremantle Home Entertainment