WWE: The True Story of The Royal Rumble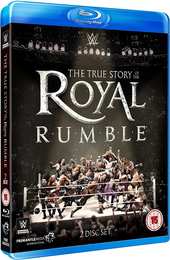 Certificate: 15
Running Time: 504 Mins
Retail Price: £20.99
Release Date: 05/12/2016
Content Type: TV Series
Synopsis:
For nearly 30 years, both WWE Superstars and WWE Universe Members alike begin their Road to WrestleMania at Royal Rumble! An over-the-top-rope free-for-all battle where the winner is given a one-way ticket to the Showcase of the Immortals.

For the first time ever, WWE brings you behind-the-scenes to get the unique story of the monumental January event from those who created it and the Superstars who have competed in the Royal Rumble match.

Get all the history, get all the stories, and learn The True Story of The Royal Rumble!
Special Features:
Matches:

1988 Royal Rumble Match

The Rockers vs. The Orient Express (1991)

WWE Championship
Ultimate Warrior vs. Sgt. Slaughter (1991)

1994 Royal Rumble Match

WWE Championship
Sycho Sid vs. Shawn Michaels (1997)

Tazz vs. Kurt Angle (2000)

2001 Royal Rumble

2007 Royal Rumble

WWE Championship
CM Punk vs. The Rock (2013)

WWE Divas Championship
Charlotte vs. Becky Lynch (2016)

Extra Segments:
Devil Hair
Pamela Anderson
Mae Young
Ric Flair's Return
Batista Zipper
Women in the Rumble

Blu-Ray Exclusives
Royal Rumble Pre-Show for Number 1/Number 30 Spot
Duke 'The Dumpster' Droese vs. Hunter Hearst Helmsley (1996)

Smackdown 15 Man Royal Rumble Number 1 Contender Match (2004)

Raw Royal Rumble Number 1 Contender Match (2011)

Booker T interviews Shawn Michaels

Related Websites:
https://www.wwedvd.co.uk

Distributor:
Fremantle Home Entertainment