Howling II: Your Sister is a Werewolf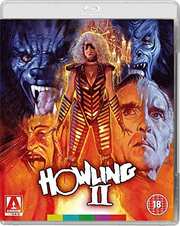 Certificate: 15
Running Time: 87 Mins
Retail Price:
Release Date: 14/11/2016
Content Type: Movie
Synopsis:
IT S NOT OVER YET.

How do you follow up a film as iconic as Joe Dante s seminal werewolf epic The Howling? With a star turn from horror legend Christopher Lee and a leather-clad Sybil Danning (The Red Queen Kills Seven Times), Howling II is more than up to the challenge!

After a young woman dies in violent circumstances, her brother is approached by a stranger (Lee) who reveals that she was in fact a werewolf. The brother s initial skepticism is quickly diffused when he encounters the fanged beasts first-hand. Now the pair, joined by a plucky journalist, must travel to Transylvania to destroy werewolf queen Stirba (Danning), and rid the world of lycanthropes once and for all.

Helmed by director Philippe Mora (Mad Dog Morgan, The Beast Within), who would go on to direct the equally barmy follow-up Howling III: The Marsupials, Howling II is a campy horror extravaganza featuring killer dwarves, werewolf orgies and 80s punk rock galore!
Special Features:
SPECIAL EDITION CONTENTS

Brand new digital transfer
High Definition Blu-ray (1080p) presentation
Original Uncompressed Mono PCM audio
Optional English subtitles for the deaf and hard of hearing
Audio commentary with director Philippe Mora
Audio commentary with composer Steve Parsons and editor Charles Bornstein
Leading Man an interview with actor Reb Brown
Queen Of The Werewolves an interview with actress Sybil Danning
A Monkey Phase interviews with special make-up effects artists Steve Johnson and Scott Wheeler
Behind-the-Scenes Footage
Alternate Opening and Alternate Ending
Still Gallery
Theatrical Trailer
Reversible sleeve featuring original and newly commissioned artwork by Graham Humphreys
FIRST PRESSING ONLY: Collector s booklet featuring new writing on the film by Michael Blyth

Related Websites:
http://www.arrowfilms.co.uk/category/horror/

Directed By:
Phillippe Mora

Starring:
Christopher Lee
Sybil Danning
Annie McEnroe
Reb Brown