Review for Beyond The Boundary: Complete Season Collection
Introduction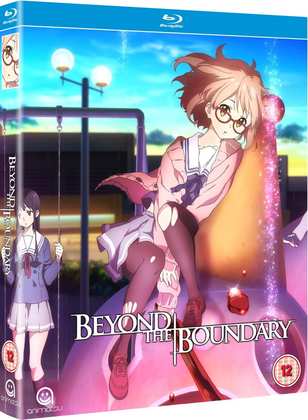 There's something to be said for the act of ownership. Even for someone like me, who invests in the viewing experience first and foremost, I have been known to go a little googly-eyed at nifty packaging. There's something visceral about peeling off cellophane, cracking open an Amaray case, popping out the discs. If you're lucky, you get some nice cover art, something special on the inside, maybe some nice disc label art. It all adds to the viewing experience in subtle ways. This is why I prefer to own my anime on disc, rather than stream it online. As a reviewer, I rarely get to appreciate the packaging, as distributors usually send the check discs alone, silver or with plain white labels. When they're even harder pressed for time, they might just burn off a few DVD-Rs, which when I get them, usually go straight into the bin, as they certainly aren't close to the final retail product. I might make an exception if it's a title that I'm interested in, which is what happened in January when Animatsu sent out screeners for Beyond the Boundary. I always worry whether my opinion for a title has been affected by the medium on which I watch it, so I'm now revisiting Beyond the Boundary on a retail copy of the Blu-ray. It shouldn't get much better than this...
Akihito Kanbara is a high school boy who usually opts for self-interest and expediency, which is why it's a little out of character for him to go up to the school roof to talk Mirai Kuriyama out of killing herself, although her red spectacles play into Akihito's favourite fetish. She repays him by stabbing him through the heart, and that's the start of an interesting relationship. The spirit world and the real world exist side by side, although the average person has no idea of this. It's down to the Spirit World Warriors, those people who can see and interact with the Spirit World, to use their powers and keep malicious Yomu in check.
Akihito Kanbara is half yomu, his mother is a Spirit World Warrior, his father a yomu, and as a result, he's immortal, which helps when you've been stabbed though the heart. Mirai Kuriyama is the sole survivor of a clan of Spirit Warriors, although it's a clan that was hated and shunned for its cursed blood. She can use her blood to literally form the sword that she fights with, although she's spent most of her life trying to hide from her heritage. Now, she's got reason to fight the Yomu, not least to earn enough to put food on her plate, but she's an absolute beginner, and given that Akihito is immortal, that makes him perfect to practice on. The two might be misfits and oddballs in their spirit world society, but their lives are about to get a lot more complicated, given that certain people are interested in Mirai's curse, and Akihito's immortality.
12 episodes of Beyond the Boundary are presented across 2 discs from Animatsu. The show is also available on DVD.
Disc 1
1. Carmine
2. Ultramarine
3. Moonlight Purple
4. Bitter Orange
5. Chartreuse Light
6. Shocking Pink
7. Color of Clouds
8. Calming Gold
9. Silver Bamboo
Disc 2
10. White World
11. Black World
12. Gray World
Picture
This is definitely the way to watch Beyond the Boundary. Kyoto Animation's exquisite artwork is best served with a high definition transfer, and the 1.78:1 widescreen 1080p presentation it gets here is solid and consistent. The image is clear and sharp throughout, detail levels are excellent, the colours are magnificent, and digital banding is kept to a minimum, even though this is a show that abounds with darker scenes, and the shifts of light and shade that tend to invoke such issues with anime on Blu-ray. Kyoto Animation's particular forte is character animation, and Beyond the Boundary is top tier work from them, really bringing across the drama and humour in the story in the way that the characters are brought to life, both in the larger, emphatic moments, and the quieter more nuanced scenes.
One small issue is a video glitch in episode 2 at around 15:35, where a small block of the image from one frame persists for a few frames despite the motion of the characters behind it. It's actually not immediately noticeable, despite being in the dead centre of the screen.
Sound
You have the choice between DTS-HD MA 2.0 Stereo English and Japanese, with subtitles and signs, locked during playback. The original language track is very much the way to go here, with some great voice actor performances really creating memorable characters. The action comes across well via the stereo, and Beyond the Boundary gets some nice music too, particularly the theme songs. The subtitles are timed accurately and are free of typos. I gave the dub a quick try, and found it to be one from Sentai's unbearable period.
Extras
You get two Blu-ray discs presented in an Amaray style case. The sleeve is reversible, with one side getting the disc blurb on the rear, the other an episode listing, and the choice of two cover arts (one without BBFC and distributor logos). The discs present their content with static menus, there's a translated English credit reel after each episode. Disc 1 autoplays with a trailer for No Game, No Life.
Disc 2 gets 2:58 of Japanese Promos. It also gets the Beyond the Boundary Idol Trial! –They Who Judge You Even Though They Waver– net animations. There are five in total, a total run time of 40:34 minutes (including translated credit reels), where certain members of the cast are put on trial for their character flaws by a panel of chibi popstar judges, that pronounce their verdicts with a song.
You also get the textless credits, and trailers for No Game, No Life, Atelier Escha & Logy ~Alchemists of the Dusk Sky~, The Familiar of Zero F, and Magical Warfare.
Still no OVA!
Conclusion
This is my third time watching Beyond the Boundary, and my opinion of it has changed yet again. The first time I watched it on streaming, and I was partaking of the KyoAni prettiness on a weekly basis without thinking too deeply about the story and the characters. When I watched the DVD-R review discs, my opinion was less than complimentary, really taking issue with its story and its characters, and I wound up thinking that its aesthetic aspects were its only saving grace. Now that I've watched it on Blu-ray, I have a lot more time for Beyond the Boundary, and I have to say that I really got into the story a lot more. Beyond the Boundary has improved in my opinion, and it's not just the change in disc media that warrants it.
The flaws are still there (read my review of the DVD to see my complaints in detail), although this time around I had a lot more time for KyoAni's blending of supernatural action mystery with slice of life comedy drama, and I certainly appreciated the characters a lot more. The Hiroomi Mitsuki sibling relationship is still otaku-baiting creepy, made all the more so for being in such a high production value show, and the ending is still unearned, just a bit of magic to make it a happy ending where all indications were otherwise.
Beyond the Boundary really is two stories. You have relationship that develops between Mirai and Akihito in the foreground, and a big conspiracy regarding the Spirit World Warriors unfurling in the background. It's the latter which is poorly realised; it feels as if you're only getting half of that story, and most of it through exposition. The problems arise where the two story arcs overlap, as both Mirai and Akihito's circumstances are tied into that conspiracy.
But if you focus on the Akihito and Mirai storyline, only taking the other arc where it impinges on their relationship, then Beyond the Boundary is a lot more rewarding. The characters are well-realised after all, despite Mirai conforming to the 'cute girls doing cute things' stereotype, and it is very easy to get invested in their relationship. Beyond the Boundary gets that aspect of its story right after all, and in the end, it's all about Mirai and Akihito. You want these two to get together after all their trials, and it's enough to make you forgive that ass-pull of a happy ending.
And it does have that fantastic episode 6. I like Beyond the Boundary a lot more than I dislike it, and it's certainly getting better with repeat viewings. I'm nudging the score up, and making my recommendation a little less tentative. And it's not just because I watched it on Blu-ray instead of DVD-R.