Review for In a Lonely Place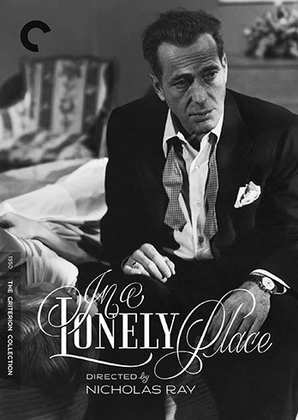 'In a Lonely Place' (1950) is a strange film. It's a powerful but dark narrative that, despite its film noir look and feel, is also something of a pot-boiling melodrama. It's also a curio for Bogey fans as the great man is playing a character that is both typical in some regards, and yet fractured and flawed in others, apparently a more authentic reflection of the man himself.
Whatever your thoughts on the film (and it's a good film) there is no denying that this Criterion Blu-Ray is a thing of beauty. The picture quality is simply stunning, reflecting a Hollywood of yesteryear in glorious, deep contrast monochrome – just the way I like it.
Humphrey Bogart plays Rix, an opinionated, cynical and somewhat grouchy Hollywood screenwriter who has a propensity to take a swing at anyone who he disagrees with him. Despite that, his talent prevails and he is still in demand by the very studios he has come to hate.
Just at the point that he decides to do something different and special he gets writer's block and turns to drink as a result. He invites a hat-check girl from his club back to his place for a drink as she has read the book that he has agreed to write a screenplay to and so he figures it would be quicker if she just told him the story. After she leaves she's brutally murdered not far from his house.
Rix, being the last person to see her, becomes suspect number one and his cavalier, cold manner with the police does nothing for his case.
When police question his new neighbour, the impossibly glamorous Laurel Gray (Gloria Grahamme) she confirms that she saw the murdered girl leave Rix's place unharmed.
As the investigation progresses, and the older Rix is put together with the much younger Gray, the mutual attraction is too much and the two fall hopelessly in love. But is Rix who he appears to be? Are his occasional acts of violence proof that he is the killer after all? Even Gray starts to have her doubts.
It's a great story well told, the screenplay penned by director Nicholas Ray. His marriage to Gloria Grahamme was falling apart during the shooting of the film, making it a frighteningly accurate mirroring of real-life, casting a dark and sombre mood across the film, perfectly in keeping with its plot.
The characters are all full of ambiguity – who is decent and who is not? The plot twists and turns again and again and the films ending, whilst hardly a happy one, feels right.
The film is beautifully presented in its original full-screen aspect ratio (1.33:1) and looks incredible with its 1080P 2K transfer from the original negatives. Audio is good too with a single uncompressed mono soundtrack.
As a Criterion release, it comes with a range of excellent contextual features. It seems that every film they issue is a cinematic masterclass in its own right for those who enjoy such things – like me.
First up is an excellent archival documentary (I'm a Stranger Here Myself – 41 Mins) about director and screenwriter Nicholas Ray who, after releasing this film to great critical acclaim, pretty much left the studio system in favour or working in almost commune like conditions with young film students.
Also included is a 2015 video interview (15 minutes) with Vincent Curcio, author of 'Suicide Blonde: The Life of Gloria Grahame' who discussed the lady and her life and, in particular, her relationship with Nicholas Ray.
An archival featurette, 'In a Lonely Place": Revisited shows director Curtis Hanson (L.A. Confidential) re-tracing the locations and settings of the film, as well as discussing the film's impact.
A really nice addition to the set is an archival, hour long radio show from 1948, 'Suspense, Episode 287' which is an adaptation of Dorothy B. Hughes' original novel 'In a Lonely Place', starring Robert Montgomery and Lurene Tuttle.
A feature-length commentary is provided by film academic, Dana Polan, author of the BFI Film Classics monograph on 'In a Lonely Place', so well placed to provide an excellent and informative commentary exploring every aspect of the film, from a technical and creative perspective.
Although my check disc didn't come with the video insert, it features Imogen Sara Smith's essay "An Epitaph for Love". (She being the author of 'In Lonely Places: Film Noir Beyond the City and Buster Keaton: The Persistence of Comedy').
Not only is 'In a Lonely Place' a damned good and entertaining film by any standards, this splendid edition is a veritable film lover's masterclass. Roll on more Criterions in the UK. I love 'em!