Review for Zero Boys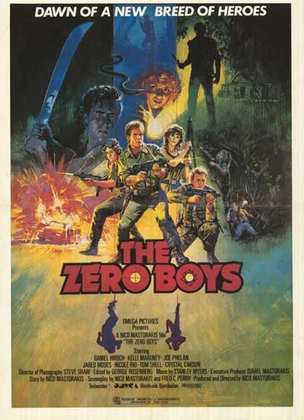 If you love 80's slasher movies then you may well love this. After all, it's pretty much the same story, done in much the same way, with the same kind of actors with the same kind of dialogue and music as just about all the rest. There's very little about this that stands out other than, perhaps, the style of torturous violence perpetrated on the unwitting gang of post-teens and the fact that it seems to start out as one movie (a kind of post-apocalyptic Rambo meets Spaghetti Western) before dropping into a 'business as usual' slasher.
From cult director Nico Mastorakis, the man behind such eclectic offerings as the controversial Island of Death and the Oliver Reed-starring actioner Hired to Kill, comes 'The Zero Boys', as formulaic a movie as just about any I've seen and pretty nasty too.
For a group of young friends, a weekend of survival games in the wilderness turns into a genuine battle of life and death when one of their number turns up dead. Finding themselves hunted by a bloodthirsty band of maniac's intent on slaughtering them one-by-one, the self-styled "Zero Boys" must now play their war games for real.
Starring the delightful 'girl next door' Kelli Maroney (Night of the Comet, Chopping Mall) and featuring an early score from the legendary Hans Zimmer (Inception, The Dark Knight Trilogy), The Zero Boys mixes action, survival and all-out slasher movie elements in a thrilling horror yarn that falls somewhere between Friday the 13th and Deliverance.
After the so-called Zero Boys celebrate a 'paintball' style game victory over a rival gang (claiming their prize in the form of the surly girlfriend of the rival gang's leader played by Maroney), they hear a scream from the nearby woods. They take a look and, finding an empty house, decide to rest up and party. Only it seems that a man with an axe (played by Martin Sheen's brother, Joe Esetvez) might have other ideas.
That's when the torture, terror and mind-games begin with the killer(s) leaving videos of previous victims playing just to spook the fresh victims too. Luckily the Zero Boys are packing some heat and know a few tricks about survival too. Let the cat and mouse games begin.
Kelli Maroney was something of a b-movie queen but, unlike 'Night of the Comet', does no nudity here despite many 'almost' moments. Despite having all the right ingredients for a formulaic movie, none of the characters are very sympathetic which means you don't care as much as you should about what happens to them.
The film is also notable for including a very early Hans Zimmer score which is probably a cut above the norm, albeit remaining fairly unremarkable.
As you would expect, despite this being a relatively obscure movie, Arrow have pulled out the stops with special features.
Perhaps the most bizarre of these is a contemporary piece that sees director interviewing himself. I kid you not – a joke that runs a bit thin after nearly thirty minutes.
There's also a commentary from the film's big love interest, Kelli Maroney, well- moderated by Fangoria editor, Chris Alexander.
Also included is an 8-minute interview with Keli Maroney recalling her time on the movie and her battle against the Director's insistence on nudity – which she won! Also included are an interview with Nicole Rio and a couple of music videos featuring the work of Hans Zimmer, plus a trailer, a booklet (with some interesting contextual content) and a stills gallery.
The film looks great too – as good as you possibly expect an 80's low budget film to ever look.
Overall, this is one that Arrow completists will want for sure, as well as those who remember the film from back in the day. Others might want to take a brief