Review for Bride of Re-Animator
The surprising but deserved success of Stuart Gordon's hit horror-comedy Re-animator meant that a sequel was too great a temptation to resist. Whilst based on a series of H.P. Lovecraft stories, there was a gentle dotted line between those and Mary Shelly's 'Frankenstein' and Universal had seen fit to give his monster a bride - so why not re-animate that idea here?
The crew had no real idea of the extremes that Stuart Gordon and his special effects crew would go to in the first of the series but, as stated on one of the extras here, everyone went in with eyes wide open for the sequel which is a full tilt blood bath of a movie - as well as maintaining much of the tongue-in-cheek humour of the original.
As a result, 'Bride of Re-animator' is a lot of fun, if losing out to the original only inasmuch as it's not the original - so more of a case of, well, more of the same.
Gordon was unable to direct the sequel so Brian Yuzna (Society, Return of the Living Dead 3) took over, working very closely to Gordon's original in terms of tone, approach, cast and crew. Even the title sequence is a chip off the old block, as is its score.
With special effects master Screaming Mad George (the man behind the infamous "shunting" sequence in Society) on hand to contribute a host of characteristically weird and wonderful creations – including zombified bats and a one-eyed finger spider – Bride of re-animator is a worthy successor to Gordon's original cult classic.
Kicking off eight months after Re-Animator (1985) ended, doctors Herbert West (Jeffrey Combs) and Dan Cain (Bruce Abbott) return from serving on the frontline in the Peruvian civil war, where for a while they were able to continue their diabolic experiments with the injured and the dead - until they get discovered and end up returning to Miskatonic University Hospital in Arkham, Massachusetts.
Once back, it's pretty much business as usual. Back in Cain's basement they continue their experiments on re-animating body parts, mainly stolen from the hospital morgue. On a visit, West comes across the heart of Dan's fiancé and decides to reanimate her as a way of persuading his friend to continue to help in his experiments.
Meanwhile, the very laid back police lieutenant, Leslie Chapman (Claude Earl Jones) is carrying on his investigation into the so-called zombie-fuelled "Miskatonic Massacre". Cue the evil Dr. Hill, (well, his re-animated head anyway) who is back to wreak revenge and claim all the scientific glory as his own. Things get very messy indeed.
It's a lot of fun but despite plenty of bloody effects, somehow seems a little lack-lustre after the original but that may be nothing more than over-familiarity. This is just more of the same.
It certainly gets an excellent transfer with a flawless high definition 2K transfer. You even get the R-rated version too though why you'd watch that in favour of the original is anyone's guess - but for completists that may have seen it that way on release, it may be valued.
The 3 disc special edition also comes packed with contextual extras, including some great making of featureettes, interviews with cast and crew, audio commentaries and a really top-notch booklet. It's a nice pack which will be welcomed by fans of the movie.
I don't know whether it was just a publicity gift for reviewers but my check-discs turned up (albeit with no packaging as they tend to do) but with a really nice green goo filled hypodermic pen. Very cool.
If you enjoyed 'Re-animator', and already upgraded to the blu-ray edition of that, then you might find this release a lot of fun and want to add it to your collection too.
Here's a complete list of the features
DIRECTOR-APPROVED 3-DISC LIMITED EDITION CONTENTS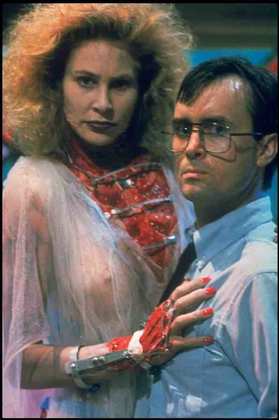 •Brand new 2K restorations of the Unrated and R-rated versions of the film, approved by director Brian Yuzna
•High Definition Blu-ray (1080p) and Standard Definition DVD presentations
•Original Stereo 2.0 audio (uncompressed PCM on the Blu-ray)
•Optional English subtitles for the deaf and hard of hearing
•Newly commissioned artwork by Gary Pullin
•Limited Edition Collector's Booklet
•Limited Edition Packaging to be revealed 
DISCS 1 & 2 – BLU-RAY/DVD – UNRATED VERSION
•Brand new 2K restoration of the Unrated version
•Brand new audio commentary with Brian Yuzna
•Audio Commentary with Brian Yuzna, star Jeffrey Combs, visual effects supervisor Tom
•Rainone and the effects team including John Buechler, Mike Deak, Bob Kurtzman, Howard Berger and Screaming Mad George
•Audio Commentary with stars Jeffrey Combs and Bruce Abbott
•Brian Yuzna Remembers Bride of Re-animator – brand new featurette in which the director looks back at the making of the first Re-animator sequel
•Splatter Masters: The Special Effects Artists of Bride of Re-animator – Brand new FX featurette with a wealth of behind-the-scenes footage and interviews with Robert Kurtzman of KNB, Screaming Mad George, Tony Doublin and John Buechler
•Getting Ahead in Horror – archive making-of featurette
•Deleted Scenes
DISC 3 – BLU-RAY – R-RATED VERSION
•Brand new 2K restoration of the R-rated version