Beyond the Valley of the Dolls and The Seven Minutes Blu-ray and DVD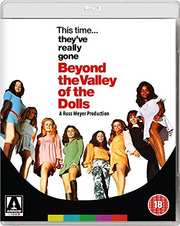 Certificate: 18
Running Time: 225 Mins
Retail Price: £21.76
Release Date: 18/01/2016
Content Type: Movie
Synopsis:
When Easy Rider rewrote the box-office rulebook in 1969, Hollywood scrambled to catch up - and 20th Century Fox noticed that one particular independent filmmaker was seeing impressive returns from tiny investments. So what would happen if he was given a decent budget and the run of a Hollywood studio and told to make the ultimate Russ Meyer film?

Well, this is the result: an initially X-rated cult camp classic about an all-female rock band trying to parlay Midwestern success into a Hollywood contract with the aid of a hefty inheritance. But will they be able to maintain their trademark apple-pie wholesomeness under their new manager, the notorious Ronnie 'Z-Man' Barzell? Take a wild guess.

Co-scripted by film critic Roger Ebert, Beyond the Valley of the Dolls is a merciless satire of Hollywood and the music business, a no-holds-barred psychedelic thrill-ride that gleefully stirs sex, drugs, rock'n'roll, fashion, lesbianism, transvestism and Nazis into one of the most riotously unhinged mainstream films ever made. This special edition also includes the rarely-seen The Seven Minutes (1971), Russ Meyer's Hollywood swansong, an adaptation of Irving Wallace's polemical novel about the absurdities of American obscenity laws.
Special Features:
SPECIAL EDITION CONTENTS:

◾Limited Edition collection of both of Russ Meyer s Hollywood films (3000 copies)
◾High Definition Blu-ray (1080p) presentation of Beyond the Valley of the Dolls
◾Standard Definition DVD presentation of The Seven Minutes
◾Optional English subtitles for the deaf and hard of hearing for both films
◾Original mono audio (uncompressed PCM on the Blu-ray)
◾Two commentaries on Beyond the Valley of the Dolls by co-screenwriter Roger Ebert and actors Erica Gavin, John LaZar, Cynthia Myers, Harrison Page and Dolly Read
◾Introduction to Beyond the Valley of the Dolls by John LaZar
◾Above, Beneath and Beyond the Valley: The Making of a Musical-Horror-Sex-Comedy
◾Look On Up at the Bottom, with composer Stu Phillips and three members of the Carrie Nations discussing the film's music
◾The Best of Beyond, favourite moments selected by cast and crew members
◾Sex, Drugs, Music & Murder: Signs of the Time, Baby!, a look at the late 1960s culture that spawned Beyond the Valley of the Dolls
◾Casey & Roxanne: The Love Scene, discussed by participants Erica Gavin and Cynthia Myers
◾Screen tests for Michael Blodgett, Cynthia Myers, Harrison Page, Marcia McBroom
◾High Definition photo galleries
◾Multiple trailers
◾Reversible sleeve featuring two original artworks
◾Booklet featuring new writing on the film by critic Kat Ellinger

Related Websites:
http://www.arrowfilms.co.uk/beyond-the-valley-of-the-dolls-the-seven-minutes-blu-ray-dvd-limited-edition/

Directed By:
Russ Meyer

Written By:
Russ Meyer
Roger Ebert

Starring:
Erica Gavin
John LaZar
Cynthia Myers
Harrison Page
Dolly Read