Review for What Have You Done To Solange?
'What Have You Done to Solange?' is actually a lot more fun than I thought it might be. Although it has all the hall-marks of classic Italian Giallo (a black gloved killer is killing young ladies), its twisted storyline, excellent score and UK location footage all add up to a great film that is marvellously entertaining.
Directed by Massimo Dallamano, cinematographer on both A Fistful of Dollars and For a Few Dollars More, 'Solange' was notably the debut feature of actress Camille Keaton (I Spit on Your Grave), and features a really top-notch score (recently released on vinyl if you're interested) from Ennio Morricone.
Loosely based on a short story by Edgar Wallace, the film can be seen as both a classic Italian slasher, as well as something of a whodunit, which will leave you guessing until the end. In truth, you'll be left guessing what the title of the film is about until about an hour in as well, but that's all part of the film's charm.
A sexually sadistic killer is preying on the girls of St. Mary's school. Student Elizabeth witnessed one of the murders, but her hazy recollections of a knife-wielding figure in black does nothing to further the police's investigations. Why is the killer choosing these young women? And what does it have to do with a girl named Solange? Is the killer a priest? And why does he plunge a long knife into his victims' genitalia? All questions that will get answered – I promise!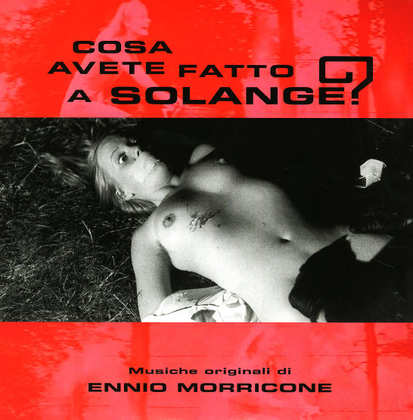 The film starts with a groovy title sequence of young girls on bikes, cycling through the wonderful British countryside. It then segues into an idyllic scene as a tiny rowboat makes its way gently down the Thames. Two lovers are lying down inside ad just as things start hotting up, the girl, Elizabeth, (Cristina Galbó) leaps up having seen what she thought was a glistening knife in the distance, held by a man in a dark cloak.
Enrico (Fabio Testi), the girl's teacher, is the girl's lover and it's clear that he doubts Elizabeth, thinking it's just a defence mechanism against his advances. But when he gets home and hears a radio bulletin describing a murder on the river of one of the girl's from his school he decides to stop by at the scene. Which is unfortunate because this, along with the fact that he dropped his pen close to the scene of the crime, makes him an obvious suspect. The fact that he is married and the is also Elizabeth's Italian teacher, makes it tough for him to offer up an alibi.
Most of the violent murders that ensue owe more to Hitchcock than slaher-films with most of the violence implied. But it is no less potent for that – arguably more so. It's certainly not for the light-hearted, with several more murders taking place, all equally cold and brutal.
It's a complex film that has a 'hero' at its centre who seems unworthy of our sympathy – a cheat, a liar, an abuser of authority – and yet, knowing his innocence, we sympathise with his journey to justice.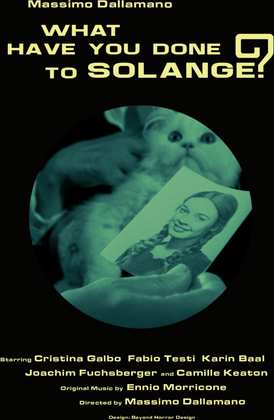 The film also contains occasional nudity, far more shocking in 1972 I'm sure than it seems today, although some of the more prurient voyeuristic scenes of some of the girls changing, with a salivating middle-aged tutor watching through a hole in the painted over glass door are fairly nauseating , even today.
Filmed in the early seventies (a shot of a newspaper reveals a late 1971 date) it certainly has a seventies vibe but for many that's no bad thing. Despite having that slightly soft, grainy look favoured at the time, the 2K restoration looks great – no noticeable signs of wear and tear and a good, detailed high definition image throughout.
The Blu-Ray offers up the film in its original aspect ratio (2.35:1) and that's what I watched for this review. An anamorphic DVD ships with the pack too but I haven't seen that so can't comment but I'm guessing it will have been mastered from the same source.
I elected English for the audio as I understood that the film was shot in English originally, although clearly re-dubbed. It was fine, if imperfect, but a brief look at the Italian showed that that we certainly not lip synch perfect either so you can take your pick.
As an Arrow release, it comes with a plethora of extra features too – often as much fun as the main feature.
First up are the interviews, three in total, and all bringing a different perspective to the film.
The first is a very recent interview with actress Karin Baal who played Enrico's long suffering wife in the film (and also a primary suspect as the killer but I won't spoil that here). It's quite a laugh because she just seems repulsed by the film, calling it pornographic (it isn't) and sleazy (it could be I suppose). Very amusing and so different from the usual gushing love-fest that featured interviews tend to be.
Then there's a 2006 interview with Fabio Testi (Enrico) tracing his career, from being a non-speaking stunt-man to a leading man who has made literally dozens of films, if not hundreds, for luminaries like Lucio Fulci and Enzo Castellari. He reflects on filming in the UK which was unusual for an Italian film at the time.
Finally, a 2006 interview with the film's Producer, Fulvio Lucisano, who talks about the challenges of making and distributing the film, including battles with the board of censors and some of the financial hardships endured by all involved to complete the film.
Next up is a brilliant appraisal of the film (as well as the two others that make up the so-called 'schoolgirls in peril' trilogy) entitled 'Innocence Lost' which runs for around 30 minutes. It takes the form of a video essay with Michael Mackenzie, a self-appointed genre expert and academic (whose hefty PHD thesis on Giallo cinema, 'Gender, genre and sociocultural change in the Giallo: 1970-1975', can be seen
here
). Whilst scholarly and certainly learned, comparing 'Solange' with similar genre films like 'What Have They Done to Your Daughters?', available from Shameless. Very good stuff and well worth a watch.
There's also a very entertaining and informative audio commentary from Kim Newman (always great value) and fellow film critic, Alan Jones whose enthusiasm for the film is positively infectious.
A trailer wraps up the disc extras but also worth mentioning is the usual reversible sleeve from Arrow (featuring original and newly commissioned artwork by Malleus) and a collector's booklet featuring a new article on the giallo scores of Ennio Morricone by Howard Hughes, alongside a Camille Keaton career retrospective from Art Ettinger, comprising interview excerpts with the Solange actress, all illustrated with original archive stills and posters. Unfortunately, the PR link to the booklet was dead by the time I got to it (sorry!) so I can't comment, although it sounds worthy.
Giallo fans will lap up this release without question, and rightly so, as will fans of Arrow. But it's also a great way to introduce yourself to the genre if you're curious. It's a fun film, albeit a dark one, with plenty of twists and turns and a dramatic ending which will stay with you for some time. Recommended.