Baccano! Limited Collector's Edition Blu-ray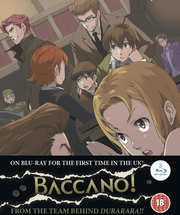 A life of crime can last forever...
Certificate: 15
Running Time: 600 mins
Retail Price: £49.99
Release Date: 16/11/2015
Content Type: TV Series
Synopsis:
Based on the Dengeki Novel Prize-winning story Baccano! by avant-garde novelist Ryohgo Narita (Durarara!!), the popular light novel series-turned critically acclaimed anime series has come back like gangbusters in High Definition Blu-ray format!

Hot off the "Roaring Twenties" and headfirst into the uncertain volatility of the "Dirty Thirties," criminal syndicates stormed into power by bootlegging alcohol during the Prohibition Era, but the most notorious "liquor" of all time is about to set off a violent chain reaction within the mafia underworld!

Each of the gritty stories in Baccano! involves an eclectic cast of innocent and not-so-innocent, turbulent characters in several unrelated plots intersecting and crossing each other as events spiral further and further out of control. Immortal alchemists, mafia-operated speakeasies, and many other elements of pulp fiction are brutally mashed together for a explosive massacre straight out of crime noir movies.
Special Features:
Contains all 16 episodes over 3 Blu-Rays, English dub & Japanese with subs in collector's packaging. A rigid case with a digipack to hold the 3 discs, plus a booklet.

Related Websites:
http://www.alltheanime.com/collections/baccano/products/baccano-collectors-edition-blu-ray

Video Tracks:
1.78:1 widescreen 1080p

Audio Tracks:
PCM 2.0 Stereo English
PCM 2.0 Stereo Japanese

Subtitle Tracks:
English

Directed By:
Takahiro Omori

Written By:
Noboru Takagi
Ryohgo Narita

Starring:
Masaya Onosaka
Sayaka Aoki
Akemi Kanda
Atsushi Imaruoka
Chiwa Saito
Daisuke Sakaguchi
Eri Yasui
Hiroyuki Yoshino
Kappei Yamaguchi
Keiji Fujiwara
Kinryuu Arimoto
Marina Inoue
Masakazu Morita
Mitsuru Miyamoto
Ryou Hirohashi
Sanae Kobayashi
Yu Kobayashi
Caitlin Glass
J. Michael Tatum
Brina Palencia
Bryan Massey
Carrie Savage
Chris Patton
Colleen Clinkenbeard
Ian Sinclair
Jad Saxton
Jerry Jewell
Joel McDonald
Maxey Whitehead
Monica Rial
R Bruce Elliott
Sean Hennigan
Todd Haberkorn

Music From:
Makoto Yoshimori
Yuki Kajiura

Director of Photography:
Yoshihiro Sekiya

Editor:
Kazuhiko Seki

Distributor:
All-the-Anime