Dragon Inn [Masters of Cinema]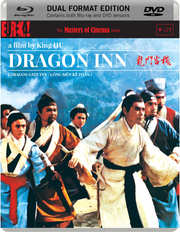 A forerunner of the modern Chinese martial arts film...
Certificate: 12
Running Time: 111 mins
Retail Price: £19.99
Release Date: 2015
Content Type: Movie
Synopsis:
A quintessential entryway into the highly stylized, tightly choreographed wuxia genre of martial arts cinema, Dragon Inn was a global breakthrough for the form's greatest practitioner, King Hu. Its influence remains incalculable, from its annihilation of traditional expectations of what kind of role an actress should inhabit (also chipped away at by Hu's previous masterpiece Come Drink with Me), to the formation of many of the genre's archetypes - such as the Eunuch, the Swordswoman, and the Family of Murdered Loyal Officials - that are still recognizable in the martial arts films of today.

It's the middle of the Ming Dynasty. The powerful eunuch Cao (Pai Ying) has killed the Loyal Minister Yu, and Yu's children are exiled to the border, whereupon Cao undertakes efforts to massacre the remnants of the family. As Yu's children take refuge in the Dragon Gate Inn, Xiao the righteous swordsman (Shih Jun) and the surviving loyalists of Minister Yu engage in a series of battles to the death against the forces of the blood thirsty eunuch.

After having returned to the spotlight in 2003 as the backdrop for Tsai Ming-liang's modern classic Good Bye Dragon Inn, Hu's film is again resurrected by way of the dazzling 2014 4K restoration presented here, so that a new generation may revel in some of the most astonishing action sequences ever committed to film: Vincente Minnelli and Gene Kelly in a dance of death, pointing forward to the modern films of Tsui Hark and Johnnie To. The Masters of Cinema Series is proud to present Dragon Inn for the first time in the UK in a Dual Format special edition.
Special Features:
Archival newsreel footage from the film's première
Trailer
Hostel Forces, a new video essay by critic David Cairns
36-PAGE BOOKLET featuring vintage writing on the film by critic Tony Rayns; a testimonial about King Hu by Tsui Hark; an analysis of Hu's style by Edmond Wong; the eight characteristics of "the inn" in King Hu's films and archival images

Video Tracks:
2.35:1 widescreen 1080p

Audio Tracks:
PCM 1.0 mono Mandarin

Subtitle Tracks:
English

Directed By:
King Hu

Written By:
King Hu

Starring:
Lingfeng Shangguan
Chun Shih
Ying Bai
Feng Hsu
Chien Tsao
Han Hsieh

Music From:
Lan-Ping Chow
Ta Chiang Wu

Director of Photography:
Hui-Ying Hua

Editor:
Hung Min Chen

Production Designer:
Chih Liang Chou

Producer:
L.S. Chang

Executive Producer:
Jung-Feng Sha

Distributor:
Eureka Entertainment