Hellraiser: The Scarlet Box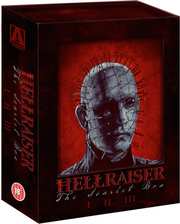 Certificate: 18
Running Time: 330 Mins
Retail Price:
Release Date: 26/10/2015
Content Type: Movie
Synopsis:
IT WILL TEAR YOUR SOUL APART

Stephen King was once quoted as saying: "I have seen the future of horror… his name is Clive Barker." That future became reality when, in 1987, Barker unleashed his directorial debut Hellraiser – launching a hit franchise and creating an instant horror icon in the formidable figure of Pinhead.

Barker's original Hellraiser, based on his novella The Hellbound Heart, follows Kirsty Cotton (Ashley Laurence) as she comes head-to-head with the Cenobites – demonic beings from another realm who are intent on reclaiming the soul of her deviant Uncle Frank.

Picking up immediately after the events of the original Hellraiser, Hellbound: Hellraiser II finds Kirsty detained at a psychiatric institute and under the care of Phillip Channard, a doctor who abuses his position to realise his own dark aims. In Hellraiser III: Hell on Earth, a reporter investigating a mysterious death at a nightclub finds herself in the way of Pinhead and the Cenobites, who plan to bring their horrifying world into our own.

Coming at a time when the genre was degenerating into self-parody, Hellraiser offered a fiercely unique vision that approached its horrors with a far greater degree of seriousness than many of its contemporaries.. Along with its sequels, the Barker-produced Hellbound and Hell on Earth, Arrow Video is proud to present some of the most terrifyingly original films in the history of horror in brand new 2K transfers.
Special Features:
Special Features
4-DISC LIMITED EDITION CONTENTS
· Brand new 2K restorations of Hellraiser, Hellbound: Hellraiser II, and Hellraiser III: Hell on Earth
· Uncompressed PCM Stereo 2.0 and Lossless DTS-HD MA 5.1 sound for Hellraiser and Hellbound: Hellraiser II
· DTS-HD MA 2.0 sound for Hellraiser III: Hell on Earth
· English subtitles for the deaf and hard of hearing for all three films
· Limited Edition bonus disc
· Exclusive 200-page hardback book with new writing from Clive Barker archivists Phil and Sarah Stokes
· 20-page booklet featuring never-before-seen original Hellraiser concept art
· Limited Edition packaging with new artwork from Gilles Vranckx
· Set of 5 exclusive art cards
· Fold-out reversible poster

DISC 1 – HELLRAISER
· Brand new 2K restoration approved by director of photography Robin Vidgeon
· Audio commentary with writer/director Clive Barker
· Audio commentary with Barker and actress Ashley Laurence
· Leviathan: The Story of Hellraiser – brand new version of the definitive documentary on the making of Hellraiser, featuring interviews with key cast and crew members
· Being Frank: Sean Chapman on Hellraiser – actor Sean Chapman talks candidly about playing the character of Frank Cotton in Barker's original
· Soundtrack Hell: The Story of the Abandoned Coil Score – Coil member Stephen Thrower on the Hellraiser score that almost was
· Hellraiser: Resurrection – vintage featurette including interviews with Clive Barker, actors Doug Bradley and Ashley Laurence, special make-up effects artist Bob Keen and others
· Under the Skin: Doug Bradley on Hellraiser
· Original EPK featuring on-set interviews with cast and crew
· Draft Screenplays [BD-ROM content]
· Trailers and TV Spots
· Image Gallery

DISC 2 – HELLBOUND: HELLRAISER II
· Brand new 2K restoration approved by director of photography Robin Vidgeon
· Audio Commentary with director Tony Randel and writer Peter Atkins
· Audio Commentary with Randel, Atkins and actress Ashley Laurence
· Leviathan: The Story of Hellbound: Hellraiser II – brand new version of the definitive documentary on the making of Hellbound, featuring interviews with key cast and crew members
· Being Frank: Sean Chapman on Hellbound – actor Sean Chapman talks about reprising the role of Frank Cotton in the first Hellraiser sequel
· Surgeon Scene – the home video world premiere of this legendary, neverbefore-seen excised sequence from Hellbound, sourced from a VHS workprint
· Lost in the Labyrinth – vintage featurette including interviews with Barker, Randel, Keen, Atkins and others
· Under the Skin: Doug Bradley on Hellbound: Hellraiser II
· On-set interview with Clive Barker
· On-set interviews with cast and crew
· Behind-the-Scenes Footage
· Rare and unseen storyboards
· Draft Screenplay [BD-ROM content]
· Trailers and TV Spots
· Image Gallery

DISC 3 – HELLRAISER III: HELL ON EARTH
· Brand new 2K restoration of the Original Theatrical Version [93 mins]
· Alternate Unrated Version [97 mins]
· Brand new audio commentary with writer Peter Atkins
· Audio commentary with director Anthony Hickox and Doug Bradley
· Hell on Earth: The Story of Hellraiser III – making-of documentary featuring interviews with Atkins, Keen and actor Ken Carpenter
· Time with Terri – brand new interview with actress Paula Marshall
· Under the Skin: Doug Bradley on Hellraiser III: Hell on Earth
· Raising Hell on Earth – archival interview with Hickox
· On-set interviews with Barker and Bradley
· Never-before-seen Hellraiser III SFX dailies
· Theatrical Trailer
· Image Gallery
· Hellraiser III comic book adaptation [Disc gallery]

DISC 4 – THE CLIVE BARKER LEGACY – LIMITED EDITION EXCLUSIVE
· Clive Barker short films Salomé and The Forbidden
· Books of Blood & Beyond: The Literary Works of Clive Barker – horror author David Gatward provides a tour through Barker's written work, from the first Books of Blood to the recent The Scarlet Gospels
· Hellraiser: Evolutions – a brand new documentary looking at the evolution of the hit horror franchise and its enduring legacy, featuring interviews with Scott Derrickson (director, Hellraiser: Inferno), Rick Bota (director, Hellraiser: Hellseeker, Deader and Hellworld), Stuart Gordon (director, Re-Animator, From Beyond) and others
· The Hellraiser Chronicles: A Question of Faith – short film

200-PAGE BOOK – 'DAMNATION GAMES' – LIMITED EDITION EXCLUSIVE
· Exclusive 200-page hardback book with new writing on Hellraiser and the Barker universe from Barker archivists Phil and Sarah Stokes – including chapters looking at Barker's early work, the genesis and production of the first 3 films in the Hellraiser series and much more, all illustrated with stills and rare material from the Barker archive

Related Websites:
http://www.arrowfilms.co.uk/hellraiser-the-scarlet-box-limited-edition-trilogy/