Review for The Man Who Could Cheat Death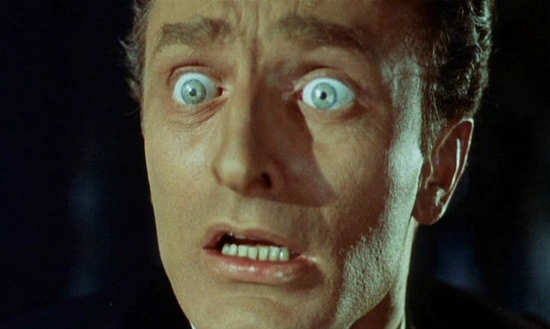 How strange that this should pass me by until now. It's from Hammer Horror's initial heyday, following the success of The Curse of Frankenstein, Dracula and The Mummy. Looking to further capitalise on their new-found international success, Hammer optioned this re-make of a lesser-known Paramount feature, 'The Man in Half Moon Street' which was based on a Barré Lyndon stage play. Whilst it shares much in common with 'Dr. Jeckyll and Mr. Hyde' and 'The Picture of Dorien Grey' (much more obvious choices you would have thought) it is nonetheless a lot of Hammer-Horror-ish fun.
Peter Cushing is nowhere to be seen (despite being an obvious choice for the lead) and Christopher Lee is reduced to a supporting role as a rather righteous and stuffy young doctor and this may, in part, account for its reduced status in the classic canon. I'd seen poster art for the film, and a couple of stills (in my much thumbed Denis Gifford Horror book from the early seventies) but never seen the film until now. In a way, I'm glad I hadn't as it was a great opportunity to see it for the first time in glorious HD in its original aspect ratio.
Directed by Terence Fisher and penned by screenwriter Jimmy Sangster, its pedigree is certainly sound and the casting of Anton Diffring in the lead, as Dr. Georges Bonnet, is also fairly inspired. Better known as a Nazi officer in literally dozens of war movies, his Germanic intensity works well here as he plays a complex character who is seemingly both a brilliant scientist and a gifted artist.
Set in 1890's Paris (with suitably sumptuous interior settings typical of early Hammer) the film opens with the great man unveiling his latest work – a female bust of a young model, actually very revealing for the time with its detailed portrayal of, well, the female bust. (This caused trouble with censors at the time and indeed there are rumoured to be hotter continental versions of the film that showed the actress completely topless).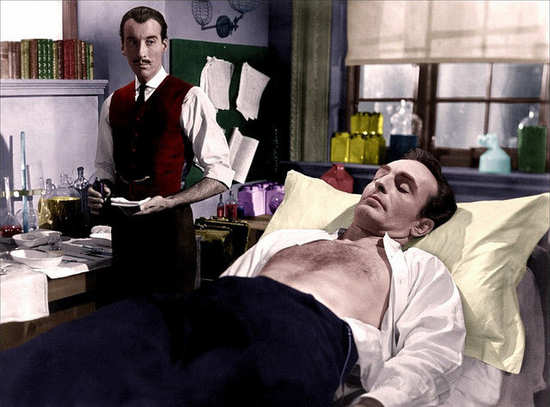 As he makes the reveal, a previous model, the beautiful Janine Du Bois (Hazel Court, who previously starred in 'The Curse of Frankenstein') appears, accompanied by a handsome young doctor (Christopher Lee). She is in love with the mysterious Georges Bonnet and she believes that he is in love with her. But what she doesn't know (but we do…) is that George is a lot older than he pretends to be. About 100 years older to be precise. He has found a formula which keeps him young although it does involve drinking a steaming green liquid (held in a safe) at regular intervals. He also realises that he needs an operation if the years aren't going to suddenly catch up with him.
And just to add to the mounting skeletons in the cupboard – why are his models disappearing? And what goes into the gooey green stuff he drinks anyway? If he doesn't get his regular green fix his eyes go weird, he gains a green hue and becomes positively homicidal. Scary stuff!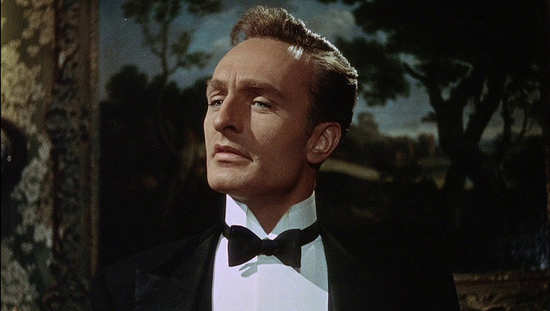 Hazel Court looks delightful and in one infamous scene, where she poses semi-naked for the great sculptor to complete her bust, it's little wonder that the uptight British censors of the day demanded some cuts.
When his medical colleague, Ludwig Weiss (Arnold Marle) turns up to do the operation, it transpires that he has lost the use of his right arm so they will need to enlist the help of another doctor. Who might that be? Cue Christopher Lee.
The disc looks great (this is a Eureka edition after all) and, despite some intrinsic graininess which I suspect was part of the original print, it probably won't get a better release for some time.
There are also a couple of really great, super-informative interviews on the disc. The first from Kim Newman who is always great value and never more so than when discussing Hammer. The second interview is with the equally good value Jonathan Rigby, something of a self-proclaimed expert on British films, with encyclopaedic knowledge of Ealing and Hammer films in particular. Both interviews are informative and fun and there's no doubting either the love these critics have of Hammer, nor their considerable expertise. They're both remarkably articulate, barely pausing for breath which means their interviews rattle along nicely.
It also ships with a full colour booklet featuring new writing by author Marcus Hearn, author of The Hammer Story: The Authorised History of Hammer Films.
A very welcome release of a little-seen film and one that you'll want to add to your collection, even if it's just for the fantastic cover art!