Review for Robbery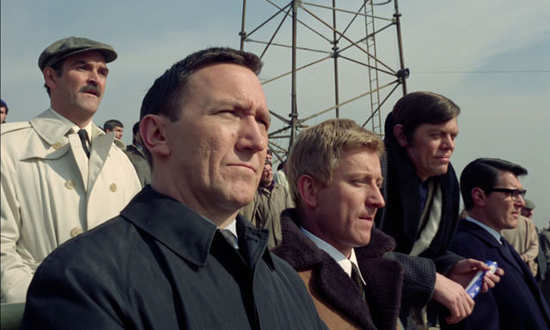 Britain has always been fascinated by the so-called 'Great British Train Robbery' , a heist in 1963 when a highly organised gang stopped and robbed a mail train and got away with £2.6 million, worth at least £50 million in today's money. The general public may well have warmed to the sheer audacity of the heist, where no 'shooters' were deployed on the orders of their leader, Bruce Reynolds, had a driver not been beaten over the head with a metal bar, leaving him severely disabled for the remainder of his life.
Whilst 'Robbery' isn't an accurate fictionalised account of that, the parallels are manifold and it's clearly intended as a film version of that story.
Originally released in 1967, four years after the real robbery, this is the first time since its release in cinemas that you can see the film in its correct 1.66:1 aspect ratio, as well as with a sparkling 2K transfer and clean-up from the original negatives. Until now, the best you could hope for was a dodgy pan and scan transfer in 4:3.
The film stars Stanley Baker in one of his better roles as a suave, super-restrained, almost military-minded crime boss who is determined to end his career with one, super-large job that will set him up for life. He assembles a gang of specialists around him (with Frank Finlay and Barry Foster among them) all under the watchful eye of a detective (James Booth) whose instincts are telling him that something big is being planned.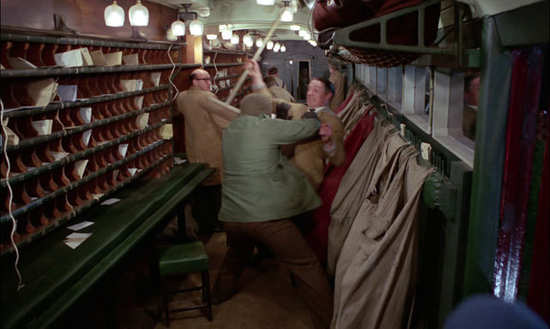 Co-produced by Stanley Baker, the film proved to be a perfect vehicle for his steady, often emotionless style, only giving away any tensions by the slightest twitch of an eye, allowing Baker to exercise his brilliant big-screen abilities.
Directed by multiple-Oscar-nominated Peter Yates, The film does a great job at building and maintaining tension. The lead up to the heist is perhaps a little long but be reassured that once the heist begins the tension never lets up till the film's close so well worth persisting.
The dialogue is superb (winning a WGGB Award for Best British Screenplay), with some really top-notch acting by the entire ensemble, most of whom you'll recognise from ITC shows of the day as well as numerous British films.
The best scenes are the robbery itself of course, superbly stage-managed and seeming very real with fantastic camera-work and editing throughout. Curiously, very little music is used during that sequence which somehow adds to the tension.
As a viewer you get some sense of the complexities involved in such a heist and the expertise required to effectively pull it off, audaciously stopping a train and relieving it of the equivalent of £50 million. Of course it just couldn't happen today – the police would be notified within seconds but these were the days before GPS, mobile phones or any real-time tracking.
The film has previously been released on DVD in a 1.33:1 (4:3 pan and scan) transfer, but has been scanned to 2K resolution from the 35mm original negative and restored in its correct theatrical aspect ratio (1.66:1).The restoration involved grain management, both automated and manual removal of film dirt and damage, and correction of major instability, warping and density fluctuations. The image has also been fully colour corrected.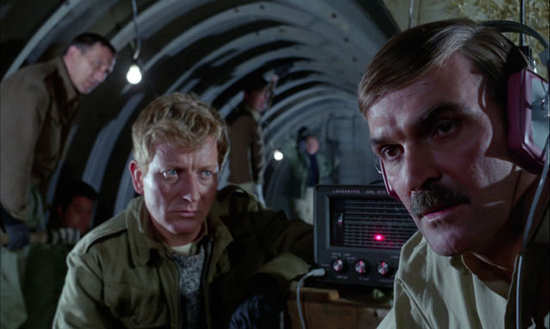 While conforming, it was found that a ten second interior shot of the police car during the opening chase sequence had been cut from the DVD release. This has been re-instated for this restoration. The original 35mm magnetic audio elements were unfortunately in a very poor condition and unable to be used due to deterioration, so the existing mono soundtrack has been restored but this is perfectly good.
The disc also ships with a surprisingly generous array of related features, not least a complete second movie; the much lesser 'The Great Train Robbery', a German film about the heist which suffers from pretty poor audio but which is a surprising and welcome extra to compare and contrast with 'Robbery'. 'Robbery' wins any competition as to which is the better film hands down of course.
There is a brand new contemporary interview with Michael Deeley recorded exclusively for this release which traces the history of the film and how it came about – a fairly untypical film for editor turned Producer Deeley.
Also included are all the rushes from a 1972 interview with Stanley Baker (shot on 16mm for the Cinema TV series) which is great fun. There's always a twinkle in his eye as he puffs away on cigars and recounts his film career.
A surprisingly lengthy featurette is included (some 42 minutes) entitled 'Waiting for the Signal: The Making of Robbery' which is a brand-new documentary featuring interviews with cast and crew and is a superb and informative addition to the set.
A brief 'Behind-the-scenes footage – archive news footage of the filming at Market Harborough' is included; again very ropey 16mm rushes from a TV news cast.
Finally, it ships with an image gallery which includes an array of posters, lobby cards, memorabilia and production stills and (in PDF form if you can access these on a Blu-Ray) an original campaign guide, exhibitors' manual and flyers.
I understand that it also ships with a 32 page booklet by film historian Sheldon Hall though I haven't seen this myself.
This is simply a great package of a well-above average thriller and well worth adding to your collection. Network have done a simply stunning job with this, pulling out the stops to make it the definitive edition.