Highlander: Immortal Edition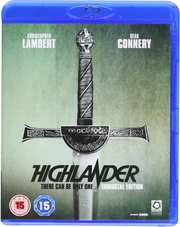 There can be only one
Certificate: 15
Running Time: 117 mins
Retail Price: £24.99
Release Date: 2009
Content Type: Movie
Synopsis:
He fought his first battle on the Scottish Highlands in 1536. He will fight his greatest battle on the streets of New York City in 1986. His name is Connor MacLeod. He is immortal.

Conner McLeod survives a wound that should kill him in a clan battle in the Scottish Highlands in 1536, and is banished from his village. Years later Macleod is met by Juan Sanchez Villa-Lobos Ramirez, a swordsman who teaches Macleod the truth about himself; he is immortal, one of a race of many who can only die when the head is cut from the body. When one immortal takes the head of another, the loser's power is absorbed into the winner. Ramirez teaches Macleod the ways of the sword, until he is killed by gravest foe, the evil Kurgan who lusts for the ultimate power of the immortals, "The Prize"; enough power to rule the earth forever. Connor must fight his way through the centuries until the time of the Gathering, when the few immortals who have survived the ages will come together to fight until only one remains.

In New York City the final fight is about to begin, and in the end, there can be only one.
Special Features:
Feature Commentary
Trailer
Deleted Scenes
Christopher Lambert Interview
Highlander Documentary

Video Tracks:
1.85:1 widescreen 1080p

Audio Tracks:
DTS-HD MA 2.0 Surround English
DTS-HD MA 2.0 Mono Spanish
DTS-HD MA 2.0 Surround Italian
DTS-HD MA 2.0 Stereo Portuguese
DTS-HD MA 5.1 Surround English

Subtitle Tracks:
English
German
French
Spanish
Italian
Portuguese
Dutch
Swedish
Norwegian
Finnish
Danish
Japanese

Directed By:
Russell Mulcahy

Written By:
Larry Ferguson
Peter Bellwood
Gregory Widen

Starring:
Alan North
Beatie Edney
Sean Connery
Clancy Brown
Roxanne Hart
Christopher Lambert

Casting By:
Michael McLean
Diane Dimeo

Music From:
Queen

Director of Photography:
Gerry Fisher

Editor:
Peter Honess

Production Designer:
Allan Cameron

Producer:
John H. Starke
William N. Panzer
Harold Moskovitz
Eva Monley
Peter S. Davis

Executive Producer:
E. C. Monell

Distributor:
Optimum Home Entertainment