Wooden Crosses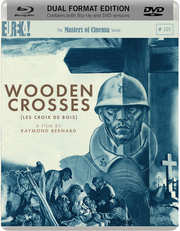 Les Croix De Bois
Certificate: PG
Running Time: 115 Mins
Retail Price: £19.99
Release Date: 30/03/2015
Content Type: Movie
Synopsis:
Eureka! Entertainment have announced the release of WOODEN CROSSES [LES CROIX DE BOIS], from Raymond Bernard, the director of the epic and definitive French screen adaptation of Les misérables. Alongside All Quiet on the Western Front and Paths of Glory, Wooden Crosses is perhaps the greatest depiction of World War I ever put on screen. Presented from a dazzling new restoration carried out by Pathé in 2014 to mark the 100 years since the start of the war, Wooden Crosses is released in a Dual Format (Blu-ray and DVD edition) as part of the Masters of Cinema Series on 30 March 2015.
Special Features:
• New HD 1080p presentation of the film from Pathé's astonishing 2014 restoration

• Optional English subtitles

• Video interview with historian Marc Ferro and film historian Laurent Veray

• A short documentary on the new restoration

• Wooden Crosses: A Sonic Adventure, documentary exploring early sound design

• Archival interview with Roland Dorgelès

• Archival interview with Raymond Bernard

• Vintage 1914 newsreels

• Documentary piece on early 20th century poster artist Adrien Barrère

• The Absent Battle, the Omnipresent War, a collection of photography from WWI taken by André Schnellbach who served with Dorgelès in the 39th

• Booklet featuring a new and exclusive interview by film critic Emmanuel Burdeau, and rare archival material.

Video Tracks:
1.19:1 OAR Black & White

Audio Tracks:
Mono French

Subtitle Tracks:
English

Directed By:
Raymond Bernard

Written By:
Raymond Bernard
Roland Dorgelès ... (novel)
André Lang

Starring:
Pierre Blanchar
Gabriel Gabrio
Charles Vanel |

Director of Photography:
Jules Kruger
René Ribault

Editor:
Lucienne Grumberg

Production Designer:
Jean Perrier

Distributor:
Eureka Masters of Cinema