Man of the West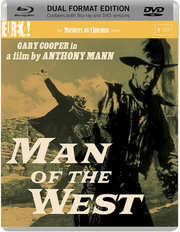 Certificate: 12
Running Time: 100 Mins
Retail Price: £17.99
Release Date: 23/03/2015
Content Type: Movie
Synopsis:
The pinnacle in the brilliant career of director Anthony Mann, Man of the West has earned a reputation as one of the finest westerns — and one of the finest films, full stop — produced in the late studio era.

Ex-outlaw Link Jones (Gary Cooper) boards a train to Fort Worth to hire a schoolteacher for his town when he's knocked unconscious and robbed — by a gang of outlaws associated with his own uncle (Lee J. Cobb) whom he abandoned years earlier in his bid to go straight. Soon after, and in order to protect the life of the woman he'd earmarked for schoolteacher, saloon singer Billie Ellis (Julie London), Link rejoins the gang for one last hold-up…

Jean-Luc Godard wrote of Man of the West: "I have seen nothing so completely new since — why not? — Griffith… With Anthony Mann, one rediscovers the western , as one discovers arithmetic in an elementary maths class. Which is to say that Man of the West is the most intelligent of films, and at the same time the most simple." The Masters of Cinema Series is proud to present Man of the West in a special Dual Format edition that presents the film on Blu-ray for the first time in the UK.
Special Features:
• 44-PAGE BOOKLET with writing by Jean-Luc Godard, a score of rare archival imagery, and more!

Video Tracks:
2.35:1 OAR

Audio Tracks:
English 2.0

Subtitle Tracks:
English

Directed By:
Anthony Mann

Written By:
Will C. Brown (novel), Reginald Rose (screenplay)

Starring:
Gary Cooper
Lee J. Cobb
Julie London

Soundtrack By:
Leigh Harline

Director of Photography:
Ernest Haller

Editor:
Richard V. Heermance

Costume Designer:
Bert Henrikson

Production Designer:
William Maldonado

Visual Effects:
Jack Erickson

Producer:
Walter Mirisch

Distributor:
Eureka