Review for Naruto - Shippuden Movie Pentalogy
The Pre-Review Rant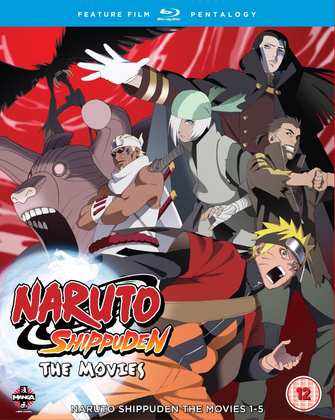 There's no avoiding the Two-Tailed Beast in the room, so let's get this almighty whinge out of the way first. Manga Entertainment are out of their gourd with the release strategy for Naruto Shippuden Movie 5. That's as polite as I can put it. If you've been collecting the movies and the series, and let's face it, at this point, the fifth movie spin-off from a TV series way past 400 episodes in length is only going to appeal to committed collectors, then to add this film to your collection, the easiest way to do so in the UK is to get the DVD. But this is the 21st Century, I hear you exclaim, movies should be in HD!
There is a Blu-ray release of the fifth Naruto Shippuden movie, but you're going to have to buy the first four Blu-ray movies again with it. It's only available as part of a five movie collection. There is no individual Blu-ray release. If you decide at this point, 400 episodes and 8 movies in to try Naruto by starting in the middle, with a pack of spin-off movies, then this set is for you. If you've been collecting on DVD all this time, and have now decided to upgrade the lot to Blu-ray, then this set is for you. If you can manage to find a mug to buy the first four Blu-rays, and let's face it, by this point even Computer Exchange will be giving only peanuts for them, and you can re-buy this collection, then it's for you. Everyone else, please assume the position, and prepare to give thanks for what you are about to receive. And when the next movie comes out, prepare to do it all again, for the inevitable six movie collection exclusive Blu-ray.
I have this conspiracy theory, that the Naruto Shippuden movie Blu-rays are a pain for Manga. There is a risk of ever depleting returns the further you go in to a long running series, movie 5 will earn less than movie 3 and so on. I get the feeling that Manga are deliberately engineering a failure for this fifth movie on Blu-ray so that when it comes time for the sixth, they can turn around and say it's DVD only, because movie 5 didn't sell enough on Blu. There is an alternative of course, although you didn't hear it from me. When it comes to Naruto, Manga use discs authored by Australia's Madman Entertainment, and sure enough, there is a single disc Blu-ray release of Naruto Shippuden Movie 5 in Australia. It's the same disc as this one, Region B compatible. You have to pay postage of course, and it's just over the customs limit, but it still works out a smidge cheaper than the current best discount for this movie collection. You have the guilt of flying the thing halfway around the planet, but you do get just the disc you need, instead of that plus four discs you don't.
Actually, that's a real good question. How much oil is used in manufacturing one disc and flying it from Australia to the UK, compared to how much oil is used in manufacturing five discs and flying them from Poland (where the Technicolor plant that Manga uses for their discs is) to the UK? Even better idea; buy Manga's pentalogy, then get your first four Blu-rays, mail them to Manga, with a 'please recycle' note on them. Let them deal with the consequences of their marketing decisions.
Introduction
You can see that this has riled me beyond what most would consider rational, the true definition of a first world problem, one that doesn't even affect me personally, since I was sent just the check disc for the fifth movie to review. I don't have to find a use for four redundant check discs. Actually, since this is a pentalogy of Naruto Shippuden movies, I'll throw in a few links here to get you caught up with the first four films.
Naruto Shippuden: The Movie 1 & 2 Double
Naruto Shippuden Movie 3: The Will of Fire
Naruto Shippuden: The Movie 4 – The Lost Tower
However, this review will concentrate solely on the fifth film, Naruto Shippuden: The Movie 5 – Blood Prison, and as stated it's also available singly on DVD (and DVD Pentalogy if you really want to go there).
Naruto Uzumaki has been sentenced to Blood Prison in Hozuki Castle. That is what happens when you try to assassinate the Raikage of the Cloud Ninja. Of course Naruto vociferously maintains his innocence, but as a matter of diplomacy, and especially since other reports of Naruto's crimes have been piling up, the Hokage decides to acquiesce to having him imprisoned, while she promises that the Leaf ninja will work to prove his innocence. Naruto would much rather prove his innocence himself, as well as pounding on whoever's trying to frame him, but he has his hands full in Blood Prison, a facility for holding ninja that no one has ever escaped from.
For one thing, he's restrained by the Warden Lord Mui's Celestial Prison jutsu, which seals away his powers, and inflicts pain if he tries to escape. But there is something nefarious going on in Blood Prison, especially as it's rumoured to hold the Box of Ultimate Bliss, which will grant any one wish. For the Hidden Grass ninja whose responsibility it is to run the prison, that wish could make them all powerful in the ninja world. But to open the box, they need a whole lot of chakra. Naruto has a whole lot of chakra...
And remember to keep watching for the post-credits sting.
Picture
The fifth movie gets a 1.85:1 widescreen transfer at 1080p resolution on a BD 25 disc. It's clear, sharp and colourful throughout, and as usual for the big-budget movie spin-off, the quality of the animation really does shine, especially for the bigger action sequences. The problem here might be with the darker scenes, and give that Naruto is spending most of his time in prison; there are a lot of darker scenes, lit by flickering candlelight. It's here that you will find the perennial problem of digital banding.
Sound
You have the choice between DTS-HD MA 5.1 Surround English and Japanese, with translated English subtitles for the Japanese audio. There is no signs only track, and there are one or two points in the film where signs are necessary. I went with the Japanese audio, and was happy with the surround effects, especially during the action sequences. However I did feel on occasion that the effects and the music did overpower the dialogue. Speaking of the music, it has nice evocative feel to it, reminding me of the music from nu-Battlestar Galactica, particularly in its final seasons. The subtitles are timed accurately and are free of typographical error.
Extras
The disc presents its contents with an animated menu, and there's more than the usual collection of extras too.
We don't often get the bonus shorts with Naruto movies, but we get one here, Chunin Exam on Fire! Naruto vs. Konohamaru! which lasts 13:36. It's a fun piece which sees genin Naruto try once more to get promoted to Chunin, and coming up against his disciple/rival at the first hurdle. Again stay tuned after the credits for a little more fun.
The Interview with Juno Takeuchi (voice of Naruto) lasts 2:56, and is a brief bit of fluff.
Message from Masashi Kishimoto, the creator of the manga is a text page where he talks about the film.
You get 3 minutes of the movie's trailers, without subtitles.
There are five slideshow art galleries offering production art, key art, and chibi art for the movie.
Finally, following an Australian anti-piracy thank you, you get trailers for Puella Magi Madoka Magica, Eden of the East Movie 2, Fullmetal Alchemist Brotherhood OVA, and Bleach the Movie 3.
Conclusion
I was pleasantly surprised by Blood Prison. I've come to expect variations on a theme when it comes to the Naruto spin off movies, with the creators thus far sticking to a tried and trusted formula, with just the odd distinction here and there. There's always a guest star, a young protagonist that Naruto winds up helping, against a villain of previously unseen, and never to be seen again ninja powers, and said guest star will have something in their past for Naruto to relate to. And when the movie is done and dusted, it will all be forgotten, never to be referenced again. Those movies fit seamlessly into the ongoing Naruto storyline only because they have nothing at all to do with that storyline.
Then along comes Blood Prison, and it does something completely different from the usual Naruto movie. What's more, with its set up, it very much fits into the Naruto storyline around the point where we are now with the series releases, with Naruto getting to know Killer Bee, the Cloud ninja playing a greater part, and the war with Akatsuki on the horizon. It may not be part of the manga storyline, but there's nowhere else it could fit in.
It also ditches the 'helping a guest star' formula for something new, a story which obviously doesn't come from the production line, and offers something we haven't seen before, taking the series protagonist out of his comfort zone and shaking up the status quo. As given the title of the film, placing Naruto in prison is certainly a storyline we haven't seen before, and he has the added impediment of having his powers sealed away, with punishment automatically inflicted if he transgresses the rules. On top of that, when the film starts, it looks, despite their offers of support, that he's been hung out to dry by his friends and the people of his village. Certainly, given that we stay only with Naruto for the duration of the film, it certainly increases his apparent isolation.
For much of the film it plays like a ninja Cool Hand Look cum The Great Escape, with Naruto butting heads with the prison authority, despite having his powers sealed, and continuously looking for a way to escape. It's only once he gets to know some of the inmates, and understand the power structure in the prison that he starts to realise that there is more going on here than meets the eye. Also, when it comes to the guest stars in this film, in a reversal of the usual Naruto movie convention, they are there to help him out, not vice versa, although it isn't always clear whether they can be trusted. On top of that, when comparisons are made to Naruto's personality and circumstances, he isn't the one making them; it's someone else empathising with him instead.
The biggest reversal though comes in the film's ending, which for a change lacks the triumphant tone of the other Naruto movie spin-offs, but instead delivers something more melancholy and bittersweet. Perhaps given the more ominous direction the canon storyline is heading at this point it is more appropriate, but I found it refreshing to see something new in a Naruto movie, and it's telling that a shonen action series tie-in can still be moving and evocative.
I've been waiting eight movies for a Naruto feature to do something different, to take chances with its character and storyline, to finally get creative, but with Blood Prison that effort really pays off. It's not as radical a departure as Memories of Nobody was from Bleach, and neither is it in the same class as that movie when it comes to making a lasting impression, but Naruto Shippuden Movie 5 – Blood Prison is the best Naruto movie to date. It's just a crying shame that Manga's release strategy for this title means that few people are going to see it at its best.