Review for Blanche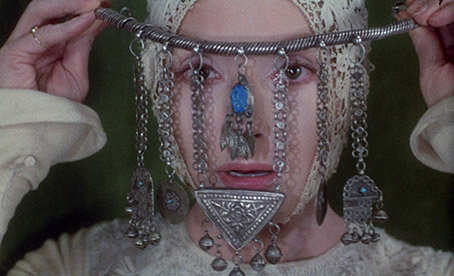 Although I found 'Blanche' to be the least interesting of the recent spate of Borowczyk releases from Arrow Academy, it comes packed with must-have extra features and is still a fine film in its own right.
Borowczyk poured much of his own money, as well as loads of other people's, into this extravagant looking medieval drama which, it can be easily argued, brings to life the many paintings and illustrations that are our only source of knowledge for much of the period.
This is a brand new restoration from the best available prints and it looks superb. For Borowczyk completists, this is the very first release of the film since a VHS version was put out some thirty years ago. That was rated 12 and this disc has a rating of 18 but this has nothing to do with Blanche itself, but rather one of the extra features which shows Borowczyk talking about films like 'The Beast' and 'Immoral Tales' which include illustrative footage.
Blanche was Borowczyk's third feature (if you count the animated 'Mr. & Mrs. Kabal's Theatre' as his first) and followed his dystopian vision, 'Goto, Island of Love', to which it bears very little resemblance. The still camera locked in wide-shot is used often here too but not exclusively and there are a number of more experimental sequences which may owe more to Borowczyk's experience as a stop-frame animator – such as a fight scene where an axe being buried into the centre of a forehead was filmed backwards and reversed to get the effect he's looking for. As one old colleague comments on one of the accompanying featurettes, Borowczyk has more of these tricks up his sleeve than did Méliès himself!
Everything continues to be presented as very flat, almost without shadows and with pastel colours, all of which make the film appear very painterly. As ususal, Borowczyk was his own art director and props designer (actually making many of the props used in the film with his own hands) and was obsessed with getting the details right. For Borowczyk, the small details were important.
But despite the stagy, overly stylized and painterly appearance of 'Blanche', this is merely the stage for a very decent drama, based on Juliusz Słowacki's Mazepa.
Blanche (played by Borowczyk's wife Ligia Branice) is young, pretty and innocent. She is married to a much older man, an overweight and wheezing portrayal by Michel Simon in one of the last roles of his long and sitinguished career). He is convinced that she's hiding a younger man in her bedchamber and she denies it vehemently. Which is what she believes.
Add to this the complexity that comes from her mutual attraction to her own stepson, who is much more her age. And then the King arrives at a guest of her master too.
It all unfolds like a less funny 'The Princess Bride' and fairly rattles along. For me though, medieval costume drama is never a first choice for viewing and maybe this prejudice affected my enjoyment of 'Blanche'. It was well-done and looked great. Just not quite my scene.
However, once I accessed the extras features things got interesting again.
•
Introduction by Schalcken the Painter director Leslie Megahey
– a brief introduction by a Director who attributes his love of medieval drama to 'Blanche' and who was clearly heavily influenced by it. I like these introductions and wished I'd watched it before the feature as the enthusiasm for the film is often infectious.
•
Ballad of Imprisonment
, a documentary about the film featuring producer Dominique Duvergé-Ségrétin, assistant director André Heinrich, camera operator Noël Véry and assistant Patrice Leconte. I found this 'making of' almost more interesting that the feature itself. It's clear that Borowczyk was extremely charismatic and enigmatic – sometimes it's hard to tell whether the comments by those that worked with and for him are compliments or not!
•
Obscure Pleasures: A Portrait of Walerian Borowczyk:
a newly edited archival interview in which Borowczyk discusses painting, cinema and sex. This is compelling viewing if you're a fan of the man and very revealing. It also runs for the best part of an hour and is, in my view, reason enough to get hold of this disc. Fantastic!
•
Gunpoint
, a documentary short by Peter Graham produced and edited by Borowczyk in 1972.
Unpleasant viewing as pheasants are reared in captivity only to be let loose into the wild to give shotgun-toting French toffs something to have a go at. Very slight in the sense that Borowcyk did little more than a bit of the camerawork (among three others) and some co-editing. Also included is
Behind Enemy Lines: Making Gunpoint
(5:16) where we hear Peter Graham's rationale for the film – a dislike of hunters.
•
Reversible sleeve
featuring original poster designs - I didn't get a sleeved copy to review so can't comment on this but generally I applaud Arrow's approach to sleeves.
• Collector's booklet
– Once again, I didn't see this booklet though I did download a PDF copy of the 250 paged tome that comes with the excellent 'Boro' limited edition box-set which sold out before it was even released. Maybe the Blanche section of that was what comprised this – in which case well worth having!
'Blanche' may well be the least 'exciting' of the Borowczyk Arrow releases. But it's a fine film and has a host of extra features that you really don't want to be without including an excellent 60 minute interview with the man himself.